Amazon's Second HQ Attracts 238 Bids From Cities Eager to 'Give Away the Farm'
In the race to shower Amazon with economic development cash, the only winning move is not to play-as San Antonio has decided to do.
Amazon announced today that 238 North American cities have submitted applications to be the lucky location that will get to shower the online retail behemoth with billions of dollars' worth of incentives.
The cities are trying to land the $5 billion investment and estimated 50,000 jobs that would come with hosting Amazon's second headquarters. As Reason's Christian Britschgi has noted, New Jersey Gov. Chris Christie (no stranger to humiliating himself in the game of politics) offered $7 billion in tax incentives to Amazon if the company set up shop in the Garden State. Local officials in Georgia have offered to let the company incorporate its own city. Tuscon even sent Amazon's CEO a 21-foot cactus, because why the hell not?
Amazon isn't releasing the names of the cities behind the 238 bids, but the company says they came from "54 states, provinces, districts and territories around North America." According to a map published by the company, the U.S. bids have come from 43 states and Washington, D.C. So congrats to the cities of Arkansas, Hawaii, Montana, North Dakota, South Dakota, Vermont, and Wyoming—the only places to resist the urge to prostrate themselves before the gods of economic development.
Sure, Amazon is great. It's a powerhouse of a company that has given anyone with an internet connection and a mailing address access to products they never knew they wanted but suddenly can't live without. It has laid waste to awful, soul-destroying indoor shopping malls, and it plans to deliver your stuff faster than ever in the near future. Hooray for Amazon.
But Amazon knows it is great. It knows, too, that the leaders of most American cities would sell their children for the chance to land 50,000 new jobs and all the tax revenue that comes with them. That's the kind of deal that pays for every government program they've ever wanted. That's the kind of deal that could be a springboard to higher office. Amazon can pretty much ask for the moon, and officials will line up with baskets full of other people's money and promise to throw a lasso around it.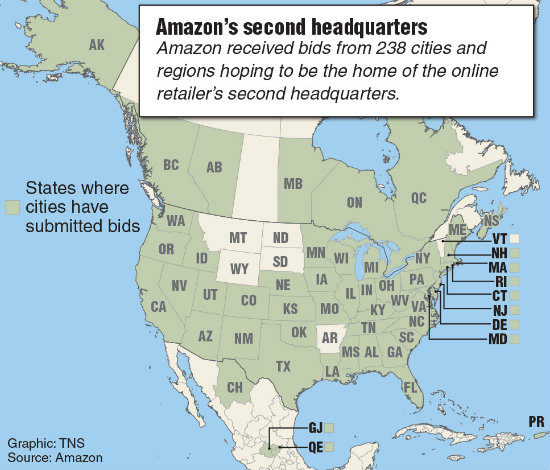 The sheer number of the bids is staggering, not so much because of how many places want Amazon's second headquarters but because a good percentage of the bidding cities surely have no chance whatsoever of winning.
Amazon has been very clear about what it wants from a winning bid. It wants a metro area with more than a million people, with the actual site located within 30 miles of the population center and within 45 minutes of an international airport. It wants enough space to eventually build up to 8 million square feet of office space.
There are only so many places in America that fit that description—and even if you assume that every suburb within every major metropolitan area on the continent submitted a bid, it's still hard to fathom that there would be 238 of them. Gary, Indiana (population: 47,000) reportedly put together a bid. Sure, it's technically in the Chicago metro area, but come on. Upstate New York is lovely to visit in the autumn, but Syracuse (population: 143,000) is not a prime contender for Amazon's new HQ, no matter how hard local officials try to convince themselves that it is.
Gary and Syracuse—and other small or midsized cities that have experienced a drop in population and a surge in poverty—need something more than a pie-in-the-sky bid for a massive infusion of new jobs. There's no doubt that a major company like Amazon would revitalize a place like that, but there's nothing about Amazon's request (which also asks for "a stable and business-friendly environment" and "a community where our employees will enjoy living") that suggests their applications will get even a cursory glance.
That officials in places like that think it's worth their time and their city's resources to even bid for Amazon tells you something about the economic development mind set in many parts of America. You don't get a properous, thriving city by winning a single competition and being rewarded with a gargantuan number of new jobs. A properous, thriving city isn't something that can be won at all. Civic officials have to create the right environment for enterprises to start, grow, or relocate there. Among other things, that means not showing favoritism by granting special tax breaks or corporate welfare.
That's what officials in San Antonio decided to do when Amazon put out its call. Their city meets pretty much all of the requirements Amazon has outlined, but the South Texas metropolis is not amoung the 238 bids.
"We have a competitive toolkit of incentives, but blindly giving away the farm isn't our style," San Antonio Mayor Ron Nirenberg wrote in an open letter to Amazon CEO Jeff Bezos last week. Jenna Saucedo-Herrera, president and CEO of the San Antonio Economic Development Foundation, said the city's decision "serves as a testament to our dedication to be good stewards of the economic incentives San Antonio has to offer businesses."
If I were Bezos, that's the kind of place where I'd want to have my new headquarters.