Rick Perry, Coal, and Crony Capitalism
"There is no free market in the energy industry," says the secretary of energy.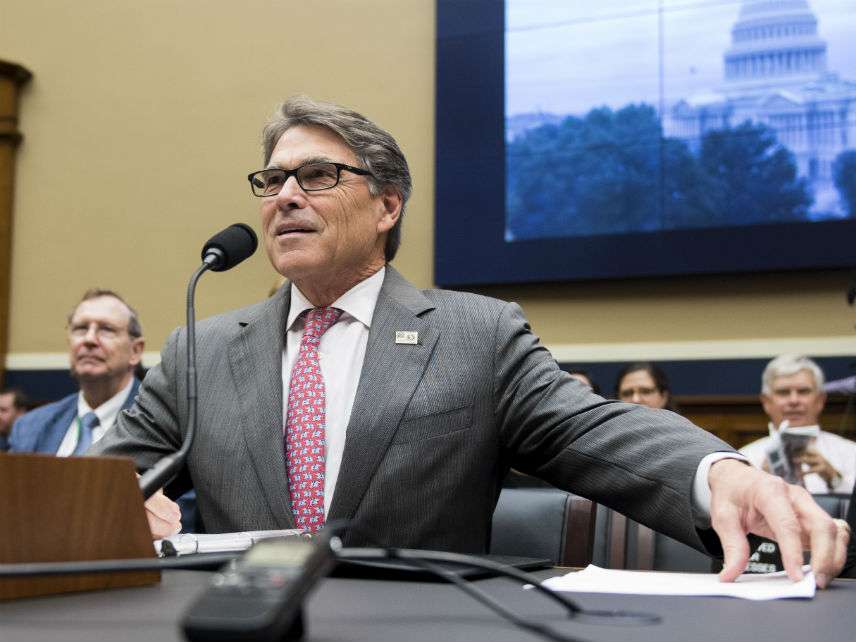 Secretary of Energy Rick Perry has ordered the Federal Energy Regulatory Commission (FERC) to save the coal mining industry by massively subsidizing conventional coal-fired electricity generation plants. That's not the way he put it, of course. But Perry's Notice of Proposed Rulemaking on Grid Resiliency amounts to that, argues Steve Huntoon*, former president of the Energy Bar Association.
In "Cash for Clunkers Redux," an article for RTO Insider, Huntoon makes the case that the Trump administration is engaged here in pure crony capitalism, using the excuse that subsidies to uneconomic coal and nuclear power plants are needed to stabilize the electric power grid.
If Perry's policy is enacted, Huntoon predicts that federal subsidies would bring some 71 gigawatts of recently retired power generation back from the dead. He doesn't expect the subsidies to stop there. Piling subsidies on top of already uneconomic power plants will drive down the price of electricity, which in turn will force formerly profitable power onto the dole. Eventually it'll be subsidies all the way down. Huntoon calculates that such subsidies for conventional generation could eventually rise to as much as $88 billion a year, forever. (For comparison, the Institute for Energy Research estimated that federal renewable energy subsidies amounted to $13.2 billion in 2013.)
Would requiring newly subsidized power plants to maintain 90-day supplies of coal and nuclear fuel really increase grid resiliency? The DOE cited the power outages in that occurred during the 2014 polar vortex, which froze the mid-Atlantic states. Yet Huntoon notes that the generation emergencies in question aggregated just 20 hours."What is magic about 90 days (other than being tailored to the average coal plant stockpile)?" he asks.
Furthermore, Huntoon points out, "Here's a fun fact you won't find in [Perry's proposed rulemaking]: Baseload (combined cycle) natural gas plants average lower forced outage rates (4.29%) than baseload coal plants (7.71%), and have about the same as nuclear plants (3.51%). It's these overall forced outage rates that matter—not a single metric like fuel supply on site." Baseload coal plants are more unreliable than other types of power generators.
Disturbingly, it appears that FERC Chairman Neil Chatterjee is receptive to Perry's proposal.
"There is no free market in the energy industry," Perry declared in a recent speech. Over at the R Street Institute, a free-market think thank, energy analyst William Murray countered:
The truth is that free and unfettered price discovery in electricity markets is the most important element in grid resiliency. Perry is involved in a subterfuge, a deception that even someone of his legitimate political skills has trouble pulling off. The administration is in the position of being forced to come up with creative ways to fulfill promises made directly by President Donald Trump to coal mine owners during the election campaign, even at the cost of free markets—a supposed core belief among Republicans and conservatives of all strips.
As I argued when the Secretary of Energy unveiled his subsidy proposal: "Maintaining grid resilience is a real issue, but there is more than a whiff of crony capitalism about Perry's initiative to establish capacity payments for conventional power generators. Better to roll back market distortions than to pile new distortions upon the old."
**Disclosure: I am proud to say that Steve Huntoon has been my friend ever since we met at the University of Virginia as undergraduates. In addition, I was a mid-level bureaucrat at the Federal Energy Regulatory Commission for three years in the late 1970s and early 1980s.*