Trump Kicks Iran Deal Decisions Over to Congress
The president wants to appear to be doing something about the Iran deal.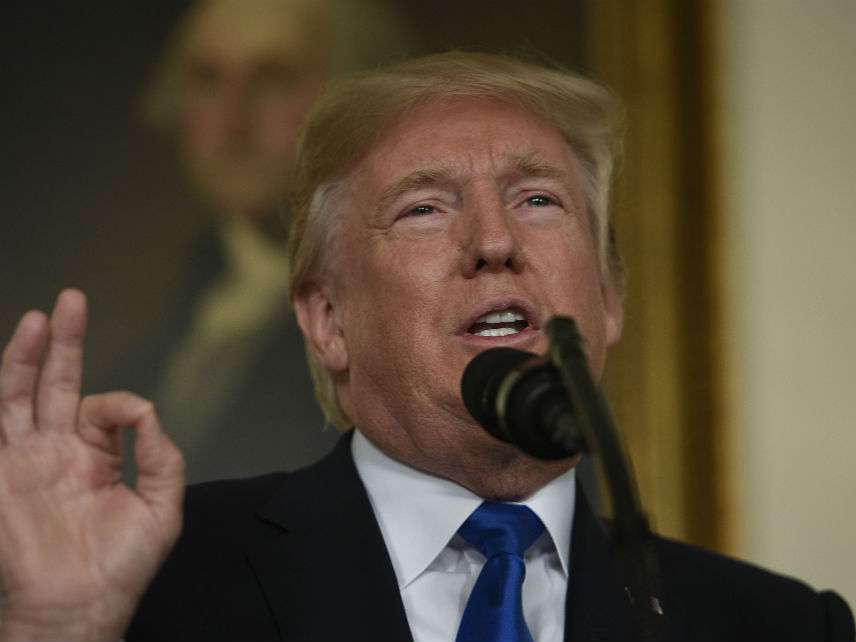 President Donald Trump announced today that he would be "decertifying" the Iran deal.
He did not announce his intention to exit the deal (although he stressed that the deal gave him that authority, which is true), but rather called on Congress and America's allies to improve it. He highlighted what he sees as deficiencies in its enforcement mechanisms and with its power to restrain Iran's missile programs. He hinted that he would withdraw from the deal if it wasn't changed.
"Congress has already begun the work to address these problems," Trump insisted. "Key House and Senate leaders are drafting legislation that would amend the Iran Nuclear Agreement Review Act to strengthen enforcement, prevent Iran from developing an…intercontinental ballistic missile, and make all restrictions on Iran's nuclear activity permanent under U.S. law."
Trump's move essentially keeps the Iran deal a domestic issue for now, relying on Congress to act.
The appeal to allies, in spite of Trump's claim that he had consulted them extensively, is a nonstarter. The leaders of Germany, France, and the United Kingdom released a joint statement reiterating their commitment to the existing deal and expressing concern about Trump's decision. They did say they shared some of his concerns, opening the door for some minor changes that could placate Trump while keeping the deal intact.
If the U.S. does exit the deal, it would not collapse. The U.S. could reimpose sanctions unilaterally, but they would not be joined by their allies, nor by China and Russia, the other two parties to the Iran talks.
Iran's President Hassan Rouhani correctly noted this, describing the U.S. as increasingly "isolated."
The Daily Beast reported this week that National Security Advisor H.R. McMaster told Democrats he wanted the Iran agreement "out of sight and out of mind." Today's decision comports with that.
Much of the uncertainty over the Iran deal could have been avoided had it been treated as a treaty. While it would have been harder to get such a deal through, it would also be far more secure. Trump's behavior should make clear why treaties are preferable to "executive agreements" that rely on the whimsy and political calculations of whoever happens to be president at the time.