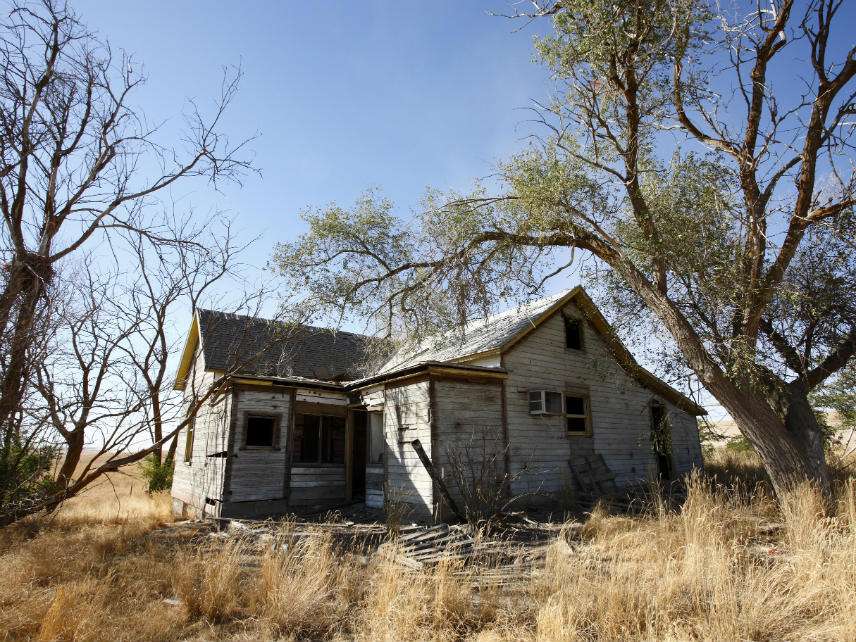 The Navajo Housing Authority (NHA) brags on its website that it is "the largest Indian housing authority in the country", managing 8,500 housing units across Navajo nation in the southwestern American states of Utah, Arizona, and New Mexico.
The NHA is also probably the most wasteful and scandal-ridden governmental entity in the United States today.
Multiple media reports, governmental audits, and one investigation by the Office of Senator John McCain (R – Ariz.) describe an agency that has received over $1.6 billion from the Department of Housing and Urban Development's Indian Housing Block Grant (IHBG) program, while delivering projects over-budget, years-delayed, or unfinished.
According the NHA's 2011 estimates, the authority needs to build some 34,000 homes and significantly repair another 34,000 to address the Navajo reservation's chronic housing problems, something it says will cost nearly $9 billion.
Since 1998, NHA has received an average of $95.6 million a year from HUD to address these needs. Over the past decade, NHA has spent $803 million of program funds, and built 1,010 housing units in that time.
That works out to about $723,000 for each new housing unit, or about the median home price in ultra-expensive Seattle. The median home price on the Navajo reservation community of Keyenta, Arizona is $67,000.
To top it all off, the NHA now has to pay back some $26 million to HUD for ten housing developments that it promised to build, but never completed, according to a settlement reached in September and first reported by AZCentral Wednesday.
"The settlement follows years of costly and time-consuming litigation," said HUD spokesperson Elena Gaona in a statement to Reason, saying that the $26 million was the "largest enforcement action" ever taken against a recipient of IHBG funds.
In 2012 NHA received $215 million from HUD to build 17 housing projects. By 2013, the NHA had spent $66 million completing seven of the projects. The other ten projects were chronically underfunded by NHA, receiving less than 40 percent of the money that had been earmarked for them. The NHA, under certain restrictions, can keep block grant funds that it does not spend in a single year.
After seeing the lack of progress, HUD that year demanded NHA give back $96 million, setting off a long and contentious court battle between the housing authority and its federal paymaster. The two eventually agreed to a $26 million settlement.
"The agreement will allow HUD and Navajo Housing Authority staff and members to focus on meeting the housing needs of Navajo families," Gaona says. It's a pretty rosy prognosis, given how frequently NHA has failed to meet those housing needs in the past.
Investigations of NHA reveal where much of the federal money wound up.
In 2002, the NHA had spent $4.4 million on a housing complex for the future staff of a school that never opened. In 2008 they spent $2 million renovating the complex in the hopes of renting it out to low income tenants. No one ever moved in.
Another $2.8 million went to building a woman's shelter in 1999. After completion, the shelter stood empty for nearly 18 years, despite receiving up to $1 million in yearly grants and contributions. When reporters from the Arizona Republic visited the site as part of a 2016 story on NHA, they found a homeless woman sleeping outside the completed but empty shelter.
Then there is the Bluestone Development project, described by the McCain investigation as "a bigger disaster than originally thought." Bluestone was a planned 200-unit community in Houck, Arizona. The project was initially estimated to cost $60 million and be completed by 2016. Since then, costs have risen to $125 million, and the first 30 units are not expected to be completed until 2018.
The McCain investigation also found considerable good old-fashioned executive abuse of discretionary funds, including travel per diems of $355 and taxpayer underwritten professional development trips to Las Vegas and Hawaii.
"If NHA were a business, it would have defaulted years ago," said the authority's own vice-president, Johnathan Nez back in June.
Indeed, the taxpayer-funded NHA has experienced very few consequences for its record of fraud, waste, and abuse. The leadership of NHA resigned in June 2017, following the publication of McCain's investigation, but little else has changed.
The NHA still receives annual appropriations of around $80 million from HUD, the most of any Native American tribe.
The $26 million that NHA has had to pay back in its recent settlement with HUD will go into the general IHBG fund, and will be reapportioned in 2018. When asked by Reason if NHA would be eligible to receive some of that $26 million in 2018, HUD spokesperson Gaona said yes.
Even if NHA were a better managed organization (it's hard to imagine it being more poorly managed), the root problems of housing on reservations would still remain says Chris Edwards, of the Cato Institute.
Says Edwards, "there is very little economic development on many reservations because of federal rules and regulations and the fact that Indian reservations don't have property rights."
One estimate puts the percentage of privately-held reservation land at 5 percent of total reservation land. The other 95 percent is held in trust by the federal government, and is managed either by tribal bureaucracies or individuals.
According to Edwards, this trust land cannot generally be leased, mortgaged, or transferred without approval from the Bureau of Indian Affairs. Thanks to this trust status, most tribal land cannot be easily developed or used as collateral for loans.
Reservations are cut off from normal market forces that build housing and maintain housing for the rest of the country, Edwards says. The long-term solution, he tells Reason, is moving to "a system of property rights on reservations which will generate economic development on reservations, so that the Indians can generate their own incomes and tax revenues for their own housing programs or anything else they want."
Without crucial property rights, tribal citizens on the Navajo reservation will continue to depend on the serially inept NHA and an ennabling HUD to meet their increasingly dire housing needs.