Movie Review: Blade Runner 2049
Ryan Gosling meets Harrison Ford in one of the movies' most famous dystopias.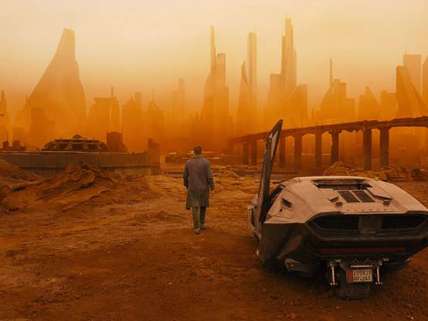 Denis Villeneuve's Blade Runner 2049 isn't so much a sequel to Ridley Scott's original film, released in 1982; it's more of a hazy memory. Gone are the neo-1940s noir stylings and the drifting melancholy of that great Vangelis score. In their place we have a more dialed-down costume design: fleece-collar coats and simple straight skirts, t-shirts and dusty boots. (There's also a subtle nod to Joanna Cassidy's runaway stripper in the original Blade Runner when we meet a woman in a see-through vinyl raincoat.) As for the wild electro score, by Benjamin Wallfisch (It) and Hans Zimmer (every movie now being made), it's a new impetus for the phrase "Jesus Christ that's loud!"
In other words, Villeneuve (Arrival) has made a Blade Runner that's very much his own. The music radically alters the mood of this film, naturally; and most of the dressing effort has been applied to the spectacular sets, captured with customary artistry by the many-times-Oscar-robbed cinematographer Roger Deakins.
In fact, since the main character here—a new Blade Runner played by Ryan Gosling, stepping into the old Harrison Ford narrative slot—is an emotionally vacant Replicant himself, the most thrilling thing in the picture is Dennis Gassner's production design, from the gleaming lair of screw-loose mogul Niander Wallace (Jared Leto) to the polluted wastes of bombed-out San Diego and the baked flats of a lifeless Las Vegas (now filled, for reasons best-known to Villeneuve, with giant erotic statuary).
There's also more of a plot this time out—a relatively straight detective story, and a good one. Warner Bros. would prefer that you know very little about it before actually seeing the movie, and I agree that's best. However, a broad outline can be attempted.
By now, everyone must know that Replicants are synthetic beings created to serve as slave labor on Earth's off-world colonies. Whenever these manufactured creatures start getting out of line—sneaking back to the home planet, for example—specialized detectives called Blade Runners are dispatched to hunt them down and terminate them. This movie is once again set in a future Los Angeles, 30 years after the first film, and its action is launched when the Replicant Blade Runner K (Gosling) is presented with a box of mysterious bones, the existence of which—for reasons that will have to remain mysterious, I'm afraid—must not get out to the public.
Assigned by his LAPD boss (Robin Wright) to investigate, K soon makes his way to the industrial lair of Replicant manufacturer Wallace (successor to the first film's Dr. Eldon Tyrell, last seen having his eyeballs crushed by the late Replicant Roy Batty). Wallace has a nefarious plan, naturally, and we can see that it bears heavily on K's investigation. But the loopy mogul isn't a lot of help, really, nor is his snarling assistant, Luv (Sylvia Hoeks), who is frankly hostile (and, as it turns out, very dangerous).
K is approached by a devious hooker (Mackenzie Davis, of Halt and Catch Fire), but proceeds back to his apartment, where he's attended by his live-in hologram Joi (Ana de Armas), who longs to be real, and would be altogether lovable if she were. Joi also plays K an album by Frank Sinatra, and makes a point of explaining that it was originally released on Reprise Records. This is very cute: the Reprise catalogue is owned by Warner Bros. Records, which explains why Sinatra, too, is able to make a holographic appearance; and when we hear Elvis Presley later on, and see an Elvis impersonator, we might note that rights to his music are now owned by Sony, Warner's co-distributor of this film. Even far in the future, as you may have feared, there's still product placement.
Back out on the road K comes upon an abandoned casino, in which he encounters—whoa!—long-missing Rick Deckard (Harrison Ford), the original Blade Runner of the first movie. There's a big burst of action here (but then there's quite a lot of action throughout the film). Then comes an even bigger burst of action—very elaborate, and quite exciting—and then, finally, we get a solution to the mystery (which I regret to say is a bit of a letdown).
Apart from the ending, there's not a lot to complain about in this movie. The script, by Michael Green and original Blade Runner co-writer Hampton Fancher, is cleanly wrought (although when Leto uttered the line "You do not know what pain is yet," I wondered if it had been re-purposed from Hellraiser). Villeneuve proves himself a true master of strange atmospheres, and he also brings off the most fantastical sci-fi sex scene…probably ever.
But the movie is two hours and 43 minutes long; it feels slow (possibly by design: in a promo video for the film, Villeneuve recalls telling Gosling to "walk slower"), and toward the end, it begins to drag. It's a dazzling piece of work, but as the minutes and then hours click by you may feel as if you're trapped at a dinner party with a brilliant polymath who's exhausting you with his non-stop genius. Why won't he shut up while we're still impressed?