Sheriff Who Ordered Aggressive Pat Downs of Students in Pointless Drug Raid Indicted for Sexual Battery
900 searched, no drugs found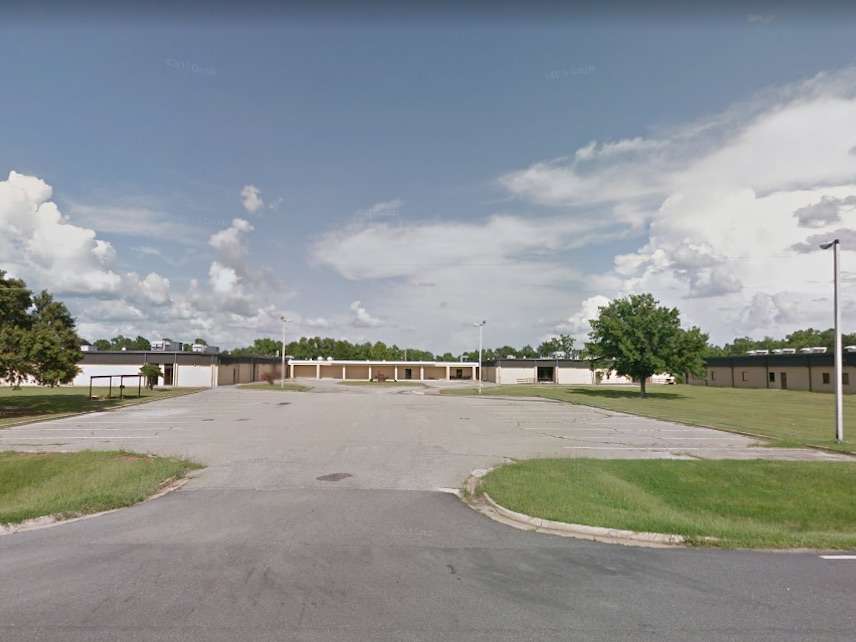 The Georgia sheriff who authorized intrusive pat downs for hundreds of students at Worth County High School earlier this year was indicted for sexual battery, false imprisonment, and violating his oath of office.
Authorities will issue a warrant for Jeff Hobby's arrest later this week, according to The Atlanta Journal-Constitution.
Two deputies were also indicted. It is alleged that they groped male and female students, touching them inappropriately during the completely pointless search. No drugs were found on any of the 900 boys and girls subjected to the pat downs.
Reason's Brian Doherty wrote up the details of the students' lawsuit:
According to the suit's account of events, all the students "were confined either to their first-period classrooms, to the hallways immediately outside their classrooms, or to the gym" and their "cell phones were seized so that they could not reach their parents….During the lockdown and mass search, Defendants restricted students' access to restrooms. Some students were not permitted to go to the restroom for the entire four-hour lockdown period."

The suit claims that the deputies "inserted fingers inside girls' bras, and pulled up girls' bras, touching and partially exposing their bare breasts," "touched girls' underwear by placing hands inside the waistbands of their pants or reaching up their dresses," "touched girls' vaginal areas through their underwear," and "cupped or groped boys' genitals and touched their buttocks through their pants."

The suit alleges that a female deputy, Brandi Whiddon, searched a 16-year-old plaintiff—known in the suit as K.A.—by taking "one of K.A.'s arms, plac[ing] it higher up on the wall, and kick[ing] her legs to open them wider. Whiddon pulled the front of K.A.'s bra away from her body by the underwire and flipped it up. Whiddon also looked down the back and front of K.A.'s dress. Whiddon slid her hands from one of K.A.'s ankles up to her pelvic area. Whiddon's hands went underneath K.A.'s dress as Whiddon felt up K.A.'s leg. Whiddon's hands stopped on and cupped K.A.'s vaginal area and buttocks. Whiddon then slid her hands down to the other ankle. Whiddon was wearing gloves, but did not change them before or after her search of K.A."

Another plaintiff, known by the initials J.E., told The Washington Post that during the search a male officer lined students up against a wall and "came up under my privates and then he grabbed my testicles twice….I wanted to turn around and tell him to stop touching me. I wanted it to be over and I just wanted to call my dad because I knew something wasn't right."
As Doherty noted, the school district did not join the lawsuit, but school officials agree with the students' version of events. The district superintendent has claimed that the searches were performed despite the school's objections.
Routine disrespect for students' privacy and due process rights is a major problem in the K-12 education system. A conviction in this case could send a message that young people cannot be abused by law enforcement officers merely because they set foot inside a school.