FDA Warning to Bakery: You Can't Say There's 'Love' in Your Granola
The government taking away your bakery because you listed "love" as an ingredient in your granola isn't very, well, lovable.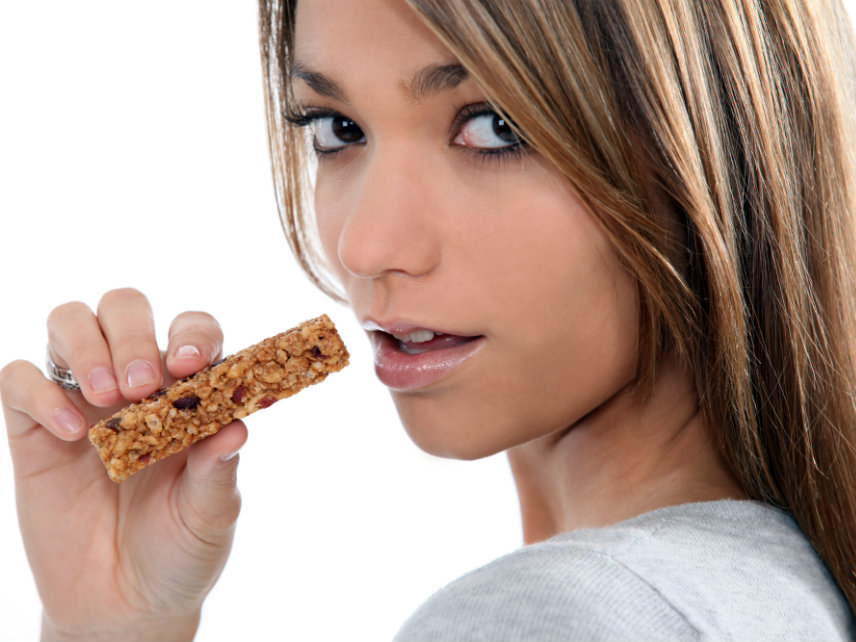 The Food and Drug Administration is responsible, its website reminds us, for "the safety and security of most our nation's food supply."
And it takes that responsibility seriously. Very seriously. So seriously that so much as a little joke on the label of a granola bar can trigger a legal warning.
The FDA just whacked Massachusetts-based Nashoba Brook Bakery for claiming that "love" was an ingredient in its granola. Seriously.
"Your Nashoba Granola label lists ingredient 'Love'. Ingredients required to be declared on the label or labeling of food must be listed by their common or usual name," the FDA wrote in an official warning letter sent to the bakery Tuesday. "'Love' is not a common or usual name of an ingredient, and is considered to be intervening material because it is not part of the common or usual name of the ingredient."
No shit.
Without "prompt action to correct the violations" identified in a recent inspection—it also cited the bakery for not accurately labeling sub-ingredients in its sourdough bread, for an employee wearing a nose ring while kneading dough (presumably not with his or her nose), and damaged floor and ceiling tiles—the FDA threatened to take regulatory actions "without further notice, including, without limitation, seizure and injunction."
The government taking away your bakery because you listed "love" as an ingredient in your granola isn't very lovable.
John Gates, CEO of Nashoba Brook Bakery, told Bloomberg the FDA's letter "just felt so George Orwell."
"I really like that we list 'love' in the granola," Gates said, according to Bloomberg. "Situations like that where the government is telling you you can't list 'love' as an ingredient, because it might be deceptive, just feels so silly."
Maybe, but once you let one bakery put "love" in its granola, where does it end? Birthday cakes layered with happiness? Macarons stuffed with mirth? One wonders how the republic would survive without a government agency regulating the level of bliss in our biscuits or the passion in our pastries.
Sadly, this is not the first time the FDA has gone after the labels on granola bars. In 2015, the administration filed a complaint against Kind LLC for using the word "healthy" on the packaging despite levels of saturated fat that were, under FDA rules, too high for such a description.
The use of "love" on an ingredients list is the most ridiculous complaint filed against Nashoba Brook Bakery, but the rest of the letter identifies several other instances where products were "misbranded," according to the FDA. Reading it gives you some sense of the headache-inducing regulations facing American businesses that want to do nothing more dangerous than make some bread.
2. Your Nashoba Granola product is misbranded within the meaning of Section 403(q) of the Act [21 U.S. C. 343(q)] because it fails to bear a nutrition facts label in accordance with 21 CFR 101.9. In addition to wholesaling this product, you also sell this product at your retail café using the same wholesale label.

3. Your Whole Wheat Bread (retail) product is misbranded within the meaning of section 403(g)(1) of the Act [21 U.S.C. 343(g)(1)] because it is a food for which a definition and standard of identity has been prescribed by regulation, but it fails to conform to such definition and standard. The label states "whole wheat" and "slow rise breads from . . . ." Therefore, it is represented as whole wheat bread for which a standard of identity exists under 21 CFR 136.180. Under the standard, the dough must be made exclusively from whole wheat flour. This product contains wheat flour and corn meal. Therefore, it does not meet the standard of identity for whole wheat bread.
It goes on like that for a while, but you get the point.
Suffice to say, if the FDA were required to list its ingredients, "common sense" would not be among them.