Congress Could Let All Patients Have the 'Right to Try' Without Going Through the FDA's Complicated Application Process
The FDA is slashing paperwork requirements for expanded access trials in response to state-level "right to try" laws. That's good, but it's not enough.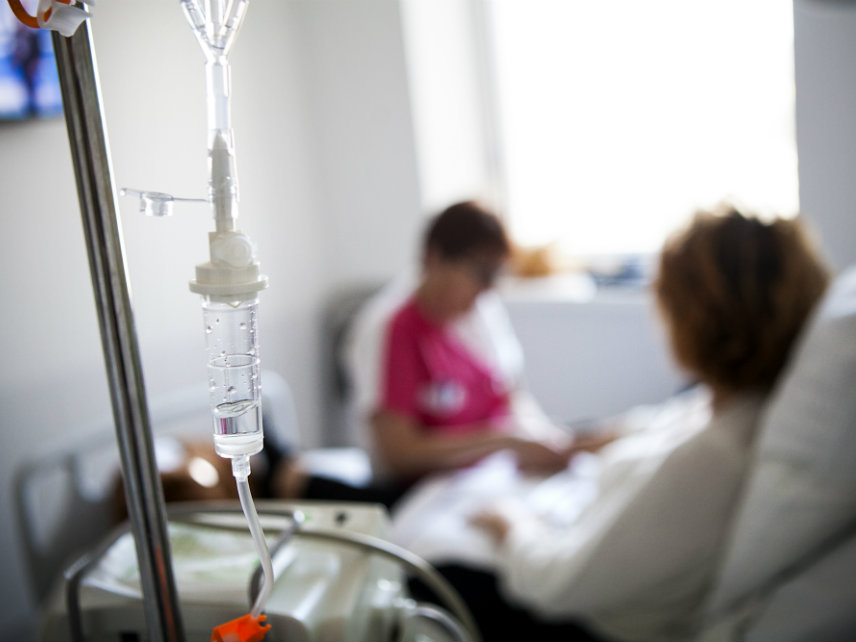 It is a rare thing to see Congress pass a law that increases personal freedom.
Yet that is exactly what it could do later this fall if the House follows the Senate's lead on a so-called "Right to Try" bill. The law would allow individuals with terminal illnesses, without having to first get permission from the Food and Drug Administration, to try drugs that have not been approved. Since 2012, 37 states have adopted "right to try" laws, giving patients to access experimental treatments that have cleared the first phase of the FDA's trials, with the permission of a doctor.
Passing a law at the federal level would be important for residents of those remaining 13 states, but would also help steer FDA policy, advocates say.
"Right to try is about the terminal patients who don't fit into a control group, who can't afford to travel or move to another country, and who simply want permission to seek the same treatments that other patients—sometimes patients in the same medical facility—are already receiving," says Naomi Lopez Bauman, director of healthcare policy for the Goldwater Institute, an Arizona-based free market think tank that has largely spearheaded the state-level Right to Try movement.
The U.S. Senate in August passed—by unanimous consent—Senate Bill 204, a right to try bill sponsored by Sen. Ron Johnson, R-Wis. That bill, and a similar proposal sponsored by Rep. Morgan Griffith, R-Va., were the subject of a hearing hosted Tuesday by the House Committee on Energy and Commerce. There is no immediate timetable for either bill to receive a vote on the House floor, and Tuesday's hearing made clear that right to try legislation faces more opposition in the lower chamber than it did in the Senate.
"The legislation being proposed could expose critically ill patients to greater harm," worries Rep. Frank Pallone, D-N.J., minority chairman of the committee. Other Democrats expressed similar worries, even while expressing sympathy for patients who are asking little more than for government to get out of the way during the final days of their lives. There are "very legitimate frustrations with the current system," for allowing patients access ot non-FDA-approved drugs, admitted Rep. Gene Green, D-Texas. But those problems are not a good reason to remove the FDA from the process, Green said.
Currently, the FDA runs a so-called "expanded access" program for terminally ill patients who cannot get into drug trials for various reasons. According to a Government Accountability Office report published in July, FDA had approved 99 percent of the 5,800 requests made from 2012 through 2015 by patients seeking access to the program.
Lack of access, then, is not the problem, but time is. Patients with terminal illnesses can wait as little as a few hours to as long as 30 days for the FDA to respond to a request to try a new drug, according to the GAO, and that wait could ending any slim hope of finding a successful treatment. If you think dealing with bureaucrats is awful when you're standing in line at the DMV or applying for a passport, imagine having to go through that same process when your life is on the line.
Under Scott Gottlieb, the newly appointed commissioner of the FDA, the administration has moved to slash the amount of paperwork necessary to get patients enrolled in expanded access programs. Earlier Tuesday, Gottlieb announced further reforms to streamline the experimental treatment review process for patients and doctors. The FDA "believes difficult decisions about individual treatment are best made by patients with the support and guidance of their treating physicians," Gottlieb told the committee Tuesday.
Those welcome changes do not accomplish as much as a federal right to try law, in part because the FDA's statistics are something of an illusion. Gottlieb says the FDA accepts 99 percent of all applicants, ignoring how many patients don't bother going through the process in the first place.
About 500,000 Americans die of cancer each year, but the FDA receives only 1,200 applications from all terminally ill patients for its expanded access programs. The gap suggests a large number of patients who aren't asking for access to experimental drugs because they either don't know about the FDA's programs or don't care to navigate the system.
If nothing else, the recent groundswell of support for state-level right to try laws suggests the status quo isn't working for many patients.
Advocates for right to try also point out that the FDA has only gotten its act together because of pressure applied by the widespread adoption of right to try laws in the states. It wasn't until last year that the FDA announced it was creating a web portal to help guide patients through the expanded access application process. The website is only now being rolled out for public use.
"Shorter forms and hand-holding bureaucrats don't fix the system's fundamental flaw," Christina Sandefur, vice president of the Goldwater Institute, told Reason via email in response to Gottlieb's comments Tuesday. "It requires dying patients who have exhausted all government-approved options to beg the government for permission to obtain treatment to save their lives."