Trump on Las Vegas Shooting: "An Act of Pure Evil"
The president offered condolences, federal law enforcement assistance.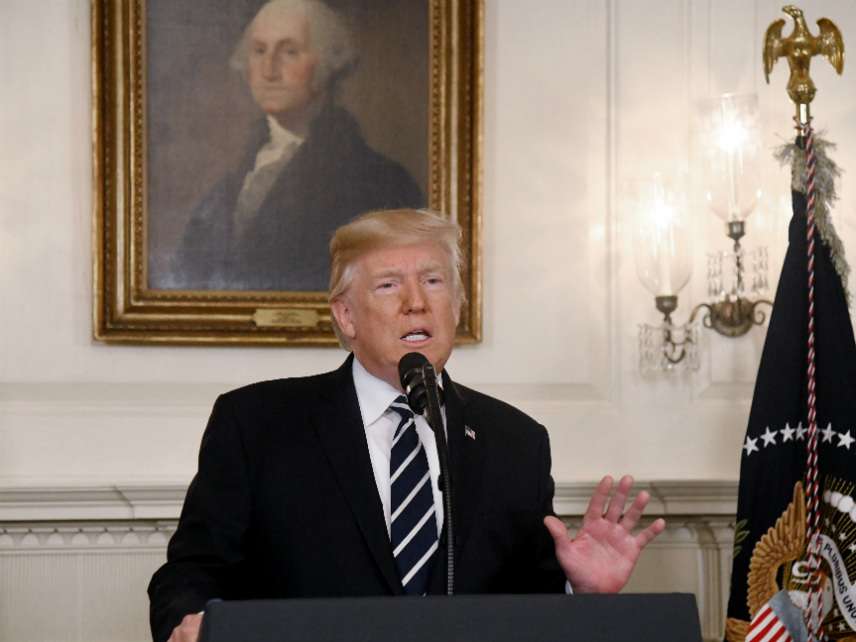 President Donald Trump addressed the nation Monday morning about the deadly mass shooting in Las Vegas that has left over 50 dead and over 400 wounded.
"We are joined together today in sadness shock and grief," said the Ppesident from the diplomatic reception room in the White House. "For the families of the victims, we are praying for you, we are here for you, and we ask God to see you through these dark moment."
The president had already issued a tweet early this morning expressing his sympathies for the victims and families of the shooting, something he called in his speech "an act of pure evil."
My warmest condolences and sympathies to the victims and families of the terrible Las Vegas shooting. God bless you!

— Donald J. Trump (@realDonaldTrump) October 2, 2017
Reason's Eric Boehm has a roundup of things we know so far about the shooting, and the shooter, identified as 64-year-old Mesquite, Nevada, resident Stephen Paddock.
The president said very little about any federal efforts being undertaken in regard to the shooting, adding only that the Department of Justice and the Department of Homeland Security were working closely with local law enforcement.
CNN is reporting that Attorney General Jeff Sessions met with FBI Director Christopher Wray about the shooting this morning, and issued a statement saying that he and the DOJ would "do everything in our power to get justice for you and your loved ones."
Trump took time to thank the Las Vegas Metro police, saying their rapid response "shows what true professionalism looks like."
The president will visit Las Vegas on Wednesday, where he plans to meet with local law enforcement.
The rest of Trump's speech consisted of a call for Americans to come together in the wake of the shooting.
"Our unity cannot be shattered by evil. Our bonds cannot be shattered by violence."
Vice President Mike Pence weighed in over social media, calling the shooting a "cowardly act of terror"
Our hearts and prayers are with the victims & the people of Edmonton & we condemn the cowardly terror attacks that occurred late last night.

— Vice President Pence (@VP) October 1, 2017
Nevada's two senators likewise responded to the shooting over social media. Republican Dean Heller called the shooting a "Senseless, horrifying act of violence" and offered condolences to the victims and praise to first responders. Democrat Cortez Matso said much the same, tweeting she will "continue to monitor the situation."
Senseless, horrifying act of violence in Las Vegas tonight. Praying for all the victims & those impacted by the tragedy.

— Dean Heller (@SenDeanHeller) October 2, 2017

Praying for all those affected by this senseless tragedy. Thank you to all the first responders. I will continue to monitor the situation.

— Senator Cortez Masto (@SenCortezMasto) October 2, 2017
Failed presidential candidate Hillary Clinton also issued remarks over Twitter, in which she said it was time to "put politics aside" and stand up to the National Rifle Association.
Our grief isn't enough. We can and must put politics aside, stand up to the NRA, and work together to try to stop this from happening again.

— Hillary Clinton (@HillaryClinton) October 2, 2017
More information will come out as the investigation proceeds. Reason's Nick Gillespie has some wise words on not jumping to conclusions or politcizing a tragedy while so much is still unknown.