Las Vegas Shooter Stephen Paddock: What We Know So Far (Update: Explosives Found At Shooter's Home)
No clear motive or explanation is readily available for the worst mass shooting in U.S. history, which left 58 dead and more than 500 injured.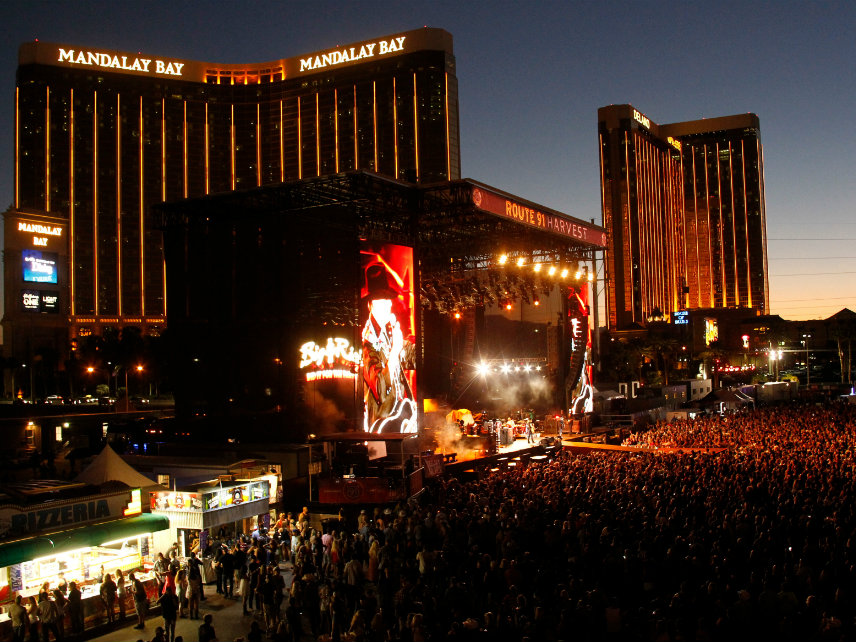 Update: During a press conference Monday afternoon, Las Vegas Metropolitan Police Department Sheriff Joseph Lombardo said police searching the Mesquite, Nev., home of Stephen Paddock found 18 more guns, explosives, thousands of rounds of ammo, and "some electronic devices."
Police found 18 more guns, explosives and several thousand rounds of ammo in killer's home https://t.co/BjA3KkWIaE https://t.co/di5RSr65em

— CNN (@CNN) October 2, 2017
It's not clear at this time whether Paddock was attempting to build an explosive device or whether the material in his home was unconnected to the attack carried out on Sunday night. Having several thousand rounds of ammo is not all that unreasonable when you consider that Paddock owned, apparently, more than 30 guns (reports vary on how many were found in the hotel room, ranging from 15 to 20).
As of 3 p.m. local time, the official body count from the gun massacre sits at 59 killed, 527 injured, authorities said.
—
Stephen Paddock—the man who, police say, opened fire from the 32nd floor of the Las Vegas Mandalay Bay hotel into a crowd of more than 22,000 concert-goers Sunday night, killed at least 58 people, and ended his bloody assault by taking his own life—lived about an hour from Las Vegas, worked as an accountant, and enjoyed playing poker.
Those details are relatively easy to ascertain. Much harder, it seems, is finding a motive for the Paddock's final night, when he committed the worst mass shooting in American history, apparently acting alone.
Police said Monday afternoon that Paddock used at least one automatic weapon to carry out his attack, along with as many as a dozen other weapons found in his hotel room, The Wall Street Journal reported. More than an hour elapsed from when the shooting began to when a Las Vegas Metropolitan Police Department SWAT team broke down Paddock's hotel room door, finding him dead.
"It was like a war zone. People were just dropping to the ground and running," said Joseph Ostunio, an attendee at the concert who spoke to CNN on Monday.
But even after police raided Paddock's home in Mesquite, Nevada, where they found more weapons but no explosives or indications of why the 64-year-old decided to carry out such an attack, and even after the shooter's brother gave several interviews to media, there is little indication of a motive or explanation.
"What's unique for us is the gunman, the shooter, and the person with him, we in the Mesquite Police Department have not had any contact with these people in the past. We haven't had any traffic stops, any law enforcement contact, no arrests or nothing," said Quinn Averett, a spokesman for the Mesquite Police Department, according to CNN. In Las Vegas, the only official record of Paddock had to do with a citation issued years ago and settled in typical fashion. "We had no knowledge of this individual," LVMPD Sheriff Joseph Lombardo told CNN. "I don't know how it could have been prevented."
Media reports and police statements Monday stitched together a story of a well-off retiree who would play $100-per-hand blackjack at Las Vegas casinos and had purchased a $369,000 home in January 2015. NBC News reported that Paddock gambled more than $10,000 per day, and in some cases as much as $30,000 daily, at Las Vegas casinos, citing an unnamed source with access to casino records. It was not clear whether those transactions were wins or losses.
Public records indicate that Paddock had a hunting license, was a pilot, and had a lawsuit against a casino years ago.
Eric Paddock, the shooter's brother, told media camped at his house in Orlando, Florida that he was "dumbfounded" by the news and did not know his brother owned automatic weapons.
"I couldn't be more dumbfounded"—brother of #LasVegas gunman, Stephen Paddock, speaks of shock https://t.co/riGzMAsOTZ pic.twitter.com/of2jYfbhTv

— BBC Breaking News (@BBCBreaking) October 2, 2017
A woman who lived at the same Mesquite, Nevada, address as Paddock was sought by police earlier Monday, according to multiple media reports. Police now say she is not considered an accomplice, and that she was out of the country at the time of the shooting.
Paddock owned a second home in the Dallas suburb of Mesquite, Texas, The Washington Post reported.
The Islamic State took credit for the attack in social media posts Monday, claiming that Paddock had converted to Islam several months ago. There was no confirmation of that claim as of Monday afternoon, and the U.S. Department of Homeland Security called the attack a "lone wolf" incident and a spokesman for the FBI in Las Vegas said there was no evidence of a connection "to an international terrorist group," according to the Associated Press.
Patrick Benjamin Paddock, the shooter's father, was a bank robber and prison escapee who once made the FBI's "Most Wanted" list. Patrick Paddock was arrested on July 28, 1960, in Las Vegas, where he had fled after the bank robbery in Phoenix. Paddock later escaped from prison, and lived in Oregon, where he ran a bingo parlor under an assumed name. He died in 1998.