Hate or Hoax? When It Comes to Campus Bias Incidents, We Usually Have No Idea
A confusing report from BuzzFeed suggests perpetrators are seldom caught and true motivations are often unknown.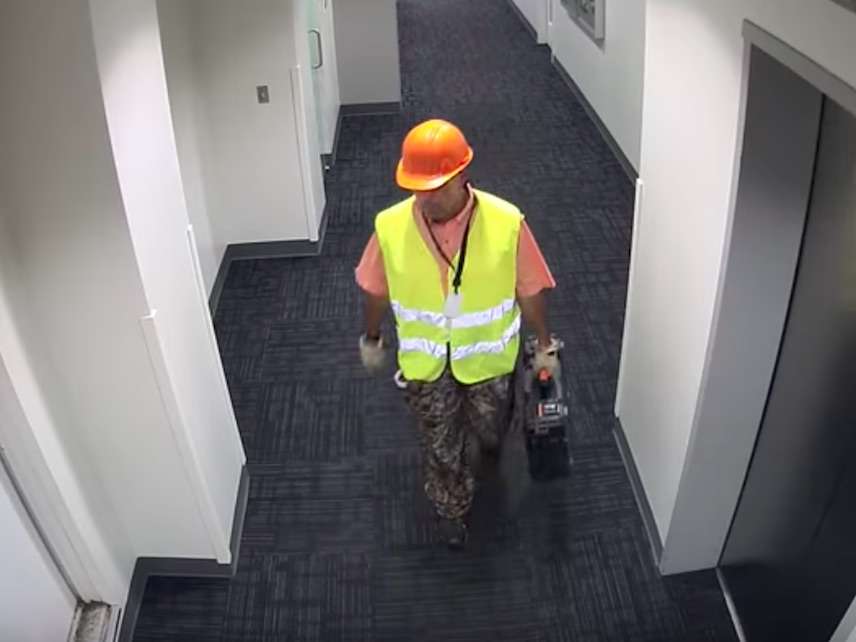 At American University this week, a man entered several campus buildings and posted racist fliers on bulletin boards. Attached to the fliers were pieces of cotton—reminders that black people were once slaves.
It's a disturbing incident. Campus police are investigating, and they have identified a suspect in what they are calling a "property-defacement" bias incident: a white, middle-aged man wearing construction gear and carrying a tool box.
That makes this case fairly unique. When someone commits an apparent act of bigotry at a university, he or she usually gets away with it. We often don't know who is posting the racist flyer, hanging the noose, writing the anti-gay slur. And we also don't know why.
These are important details to keep in mind as we consider a BuzzFeed investigation on the purported wave of hate that has struck college campuses in the wake of Donald Trump's election to the presidency. The piece, provocatively titled "Imagine Being Surrounded By People Who Hate You And Want To See You Dead," reports that "in the first comprehensive review of hate speech at higher education institutions since the 2016 election, BuzzFeed News has confirmed 154 total incidents at more than 120 campuses across the country. More than a third of the incidents cited Trump's name or slogans; more than two-thirds promoted white supremacist groups or ideology."
These incidents were reported to Documenting Hate, a ProPublica database of hate crimes and other bias incidents. BuzzFeed reviewed 400 of them, and was able to verify that 154 happened. According to BuzzFeed's descriptions of the incidents they chose to highlight, they include conduct that is probably criminal, conduct that is probably not criminal but may violate university policy, and conduct that is certainly not criminal and is likely protected by the First Amendment, which supersedes campus speech codes. They count everything from a student at the University of Colorado yelling "go back to Mexico" at a Latina professor to fliers urging students to reject "anti-white propaganda."
Buried in the second half of the article is an interesting passage:
Colleges typically responded to bias incidents quickly and to the satisfaction of their students. Most students who spoke with BuzzFeed News for this story commended their school leaders for how they handled the situations. In nearly every case, university presidents sent off mass emails condemning the hate speech and asserting that officials were making efforts to track down the culprits. But perpetrators were caught in less than 5% of cases involving vandalism or threats. At least three investigations led college officials to conclude that a racist incident was a hoax.
So perpetrators are almost never caught, and in three of the reviewed cases, the incident was a hoax. Three is not a lot, but keep in mind that only 5 percent of the 154 cases were solved in the first place, which comes out to 7.7 cases. Here's the million-dollar question: Are the three hoax incidents included in that figure? I would think they have to be, since how could the authorities know they were hoaxes unless the perpetrator was caught? Assuming that's the case—I don't know how else to make sense of BuzzFeed's counting here—then 3 out of 7 or 8 of the "solved" cases were fakes, which is a stunningly high ratio of hoaxes to actual hatred.
Perhaps it's the case that out of 154 cases, just three were hoaxes. But then I'm not sure how anyone could confidently make that assertion, since the authorities have no idea who perpetrated the incident in the overwhelming majority of incidents.
I emailed all three authors of the BuzzFeed story for clarification on these numbers. They did not respond. That's a shame: If BuzzFeed is going to run the deliberately inflammatory headline "Imagine Being Surrounded By People Who Hate You And Want To See You Dead," its writers should be able to answer questions about whether the data support this nightmarish fantasy.
All we know is that some bias incidents—like the one at American University—are true cases of racism, and that some are hoaxes. (Many others are mere accidents.) If BuzzFeed writers inadvertently figured out something useful about the relative likelihood of each, it would be kind of them to spell that out more clearly.