California Wants to Ban All Gas-Powered Cars
Seriously.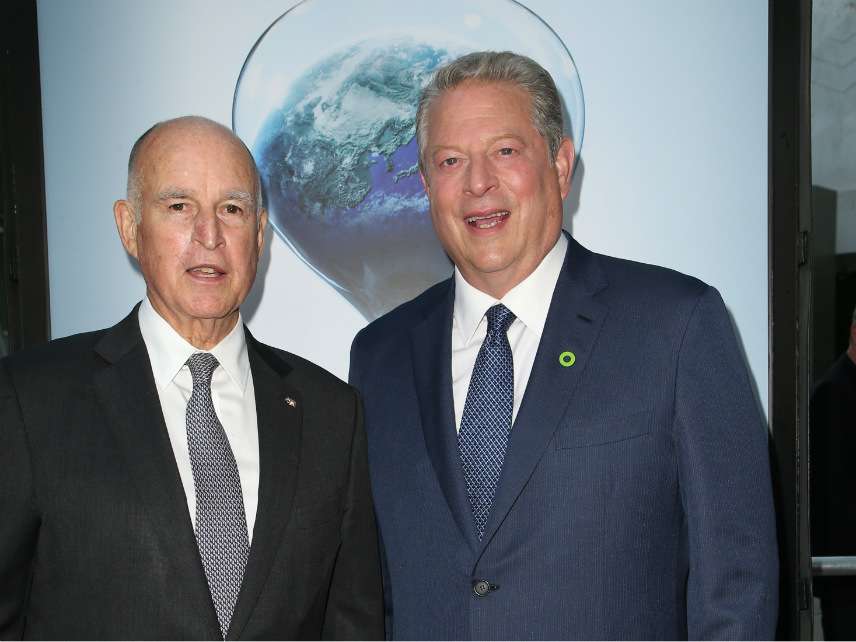 California Gov. Jerry Brown is reportedly considering a ban on all gas-powered cars.
No, seriously.
Mary Nichols, head of California's Air Resources Board, told Bloomberg News this week that Brown has been pestering her about getting a gas-car ban on the books.
"I've gotten messages from the governor asking, 'Why haven't we done something already?'" she said, adding that Brown is particularly worried that his planet-saving efforts might be outshined by those of other countries.
The United Kingdom and France have both said they will ban the sale of gas and diesel by 2040. Norway's transportation plan calls for all new passenger vehicles to be zero-emission by 2025. India wants to make the switch to electric by 2030.
But it's the People's Republic of China, currently drafting its own ill-defined ban on the production and sale of fossil-fuel-powered vehicles, that is giving Brown the most grief.
Says Nichols, "The governor has certainly indicated an interest in why China can do this and not California."
Apart from envying the autocratic powers of a communist dictatorship, Brown has not said what a ban on gas and diesel vehicles might look like. Nichols herself offers scant detail, other than saying that a complete ban on the sale of new combustion-powered vehicles could arrive as early as 2030 and that all combustion would have to be phased out by as early as 2040.
That's…optimistic. California currently has a goal of getting 1.5 million zero-emission vehicles (ZEVs) on the road by 2025, and the prospects of reaching even this far more modest goal are in question.
Despite generous subsidies, purchases of ZEVs still hover below 3 percent of new vehicles sales. Only 13,804 were sold in California in the first quarter of 2017, out of 506,745 in total new vehicle sales.
Only 300,000 "clean vehicles," of which roughly half are partially gas-powered hybrids, have been sold in California. Purely electric vehicles are about .4 percent of the nearly 35 million registered vehicles on the state's roads.
To achieve Brown's goals, he will have to compel 99.6 percent of California drivers to trade in their gas guzzlers for electric vehicles that they currently find too expensive or too impractical. And that doesn't even touch on the issue of providing enough charging stations for these vehicles, or of generating enough electricity to power those stations.
Nor does it cover the issue of affordability. Right now, electric cars are the domain of the well-to-do. A 2016 Berkeley study found that 83 percent of those making use of California's electric vehicle subsidy program made over $100,000.
Getting the rest of the state into these cars would require massive subsidies. Even then, many might end up going without personal transportation.
How any of these practical considerations might be addressed is unknown. Right now, the ban is still just talk. But it's talk that Brown and his subordinates are taking seriously.