Fake Scandal: 'DeVos Uses Private Jet for Work-Related Travel'
Real scandals: Tom Price charters five flights in a week and Steven Mnuchin wants a military plane for his honeymoon.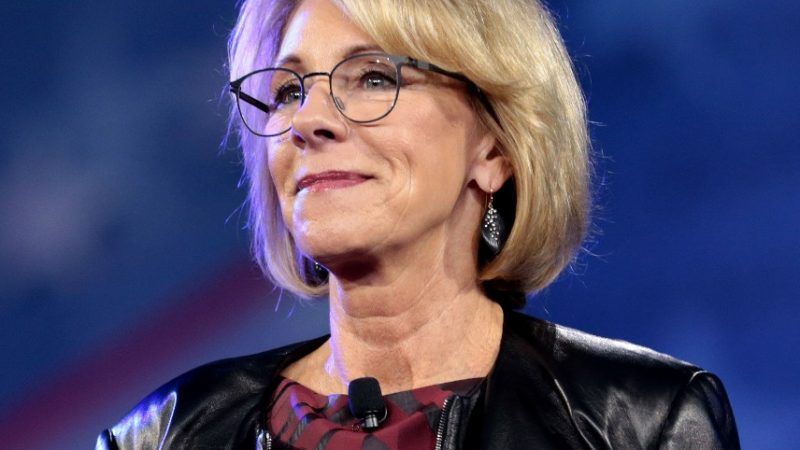 Today The Hill published a story about Education Secretary Betsy DeVos and then tweeted it out.
Here's the tweet:
DeVos uses private jet for work-related travel https://t.co/xvdnGmDo2c pic.twitter.com/f5kDumORJR

— The Hill (@thehill) September 21, 2017
I get it; stories about government officials abusing the public funds for travel are hot right now. After all, Treasury Secretary Steven Mnuchin was just caught trying to snag a military jet for his European honeymoon. And Health and Human Services (HHS) Secretary Tom Price is in trouble for chartering five flights last week alone. Rightly so.
But wait! Clicking on the Hill story yields some highly relevant info:
Education Department Press Secretary Liz Hill told the Associated Press on Thursday that DeVos travels completely on her own dime, accepting no government reimbursement for flights or other expenses.
Of course government officials have special needs, but they are too often used to justify status-oriented extravagance. In Mnuchin's case, the request for a government jet was initially claimed as a necessity for a member of the National Security Council. But as The New York Times dryly explained: "Treasury officials withdrew the request after finding an alternative way to communicate about government matters securely."
As for Price, an HHS spokesman said "when commercial aircraft cannot reasonably accommodate travel requirements, charter aircraft can be used for official travel." Which sounds sort of OK-ish until you realize one of those flights was from D.C. to Philadelphia. As Politico noted when it broke the story:
On one leg of the trip—a sprint from Dulles International Airport to Philadelphia International Airport, a distance of 135 miles—there was a commercial flight that departed at roughly the same time: Price's charter left Dulles at 8:27 a.m., and a United Airlines flight departed for Philadelphia at 8:22 a.m., according to airport records….

In addition, Amtrak ran four trains starting at 7 a.m. that left Washington's Union Station and arrived at Philadelphia's 30th Street Station no later than 9:58 a.m. The least-expensive ticket, on the 7:25 a.m. train, costs $72 when booked in advance. It is just a 125-mile drive from HHS headquarters in downtown Washington to the Mirmont Treatment Center outside of Philadelphia, where Price spoke. Google Maps estimates the drive as about 2½ hours. A one-way trip was estimated by travel planners to be about $30 in gasoline per SUV plus no more than $16 in tolls.
DeVos is lucky enough to be a very rich woman. But you needn't be wealthy to be a good steward of taxpayer money—luckily, domestic and international commercial flights are numerous, reliable, and relatively cheap (though not as numerous, reliable, and relatively cheap as they could be—read all about it in the next issue of Reason). Chartered jets from D.C. Philly are absurd, but so is trying to lump DeVos in with Price and Mnuchin.
After all, as The Hill reported:
During her time in office…DeVos has charged travel expenses to the government just once: $184 to the Department of Education for round-trip Amtrak ticket between D.C. and Philadelphia.