Better Relations with Russia Should be Welcomed, Not Feared
It's OK to seek better relations with foreign countries.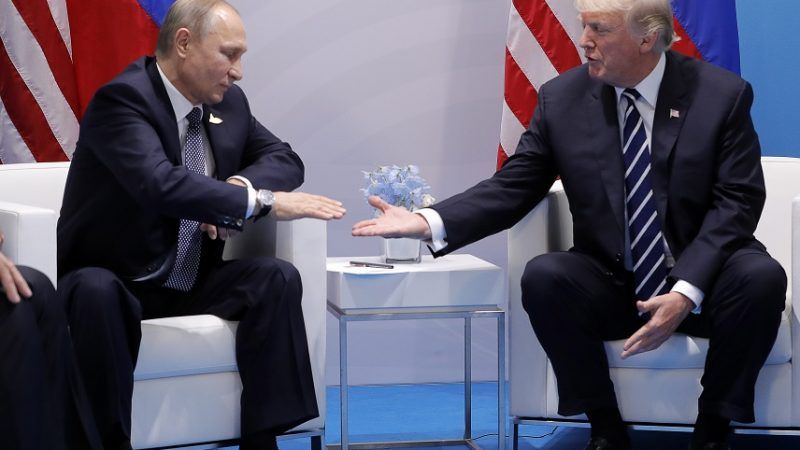 (Metzel Mikhail/ZUMA Press/Newscom)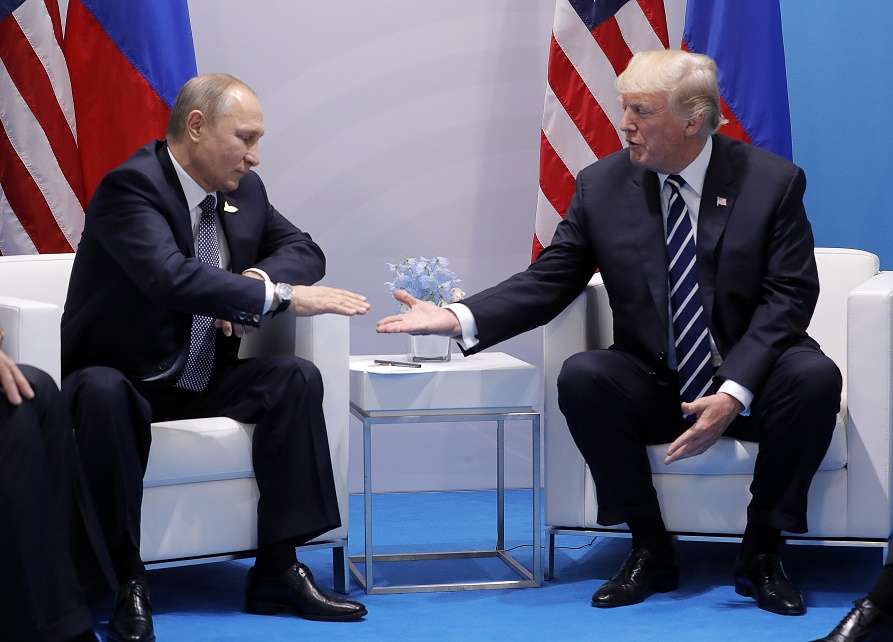 Did you hear the one about Moscow hoping to normalize relations with the United States? BuzzFeed has obtained a Russian document, composed in March, that laid out a proposal for "the wholesale restoration of diplomatic, military, and intelligence channels severed between the two countries after Russia's military interventions in Ukraine and Syria."
A spokesperson for the National Security Council suggested to BuzzFeed that "administration overtures" were not the chief reason the Russian government believed this normalization was possible. Buzzfeed's John Hudson disputes this: "Of course, Russian officials could simply have listened to Trump's extensive public remarks, which repeatedly touted the benefits of engagement with Moscow as recently as February," he writes, quoting the president saying he'd "love to be able to get along with Russia" at a press conference that month. (Hudson didn't include the end of the quote: "It's possible I won't be able to get along with Putin.")

A willingness to "seek friendship and good will with the nations of the world," as Trump put it in his inaugural address, and an "understanding that it is the right of all nations to put their own interests first," is an acknowledgement that poorly defined security interests have led the U.S. to all kinds of unnecessary stand-offs and escalations. Hudson alludes to Trump's "warm rhetoric," but expressing a desire for better relations with Russia is supposed to make diplomacy easier. There's nothing wrong with that.

In any event, obsessive coverage of the purported Russia-Trump conspiracies has poisoned the well for normalizing U.S.-Russian relations. The famously media-obsessed Trump has allowed media coverage of the Russia-Trump story to drive his own actions; among other things, that meant shooting himself in the foot by firing FBI Director James Comey, which invited Congress to appoint a special counsel to investigate Trump's Russia connections. Eventually he embraced veto-proof Russia sanctions that were helpful only as ammo for domestic political rhetoric. Now Washington and Moscow are locked into petty battles over over trivia like consulate parking spaces.
The sanctions Trump signed were initially so severe—barring American companies from participating in any energy venture in which any Russian entities had any stake—that even the European Union (EU) raised concerns. EU Commission President Jean-Claude Juncker insisted Europe was "fully committed to the Russia sanctions regime," but he worried about "unintended unilateral effects that impact the EU's energy security interests."
The European Union, for all its lofty rhetoric, does not have the capability to defend itself, relying instead on NATO, whose borders don't exactly match the EU's. Notably, NATO includes the United States, which bears the brunt of the aliance's costs. What Juncker wants—and what Trump challenged on the campaign trail but has largely come to accept as president—is for the United States to maintain European security guarantees.
Trump has pressed European allies to contribute more to NATO, and he was rebuffed. Juncker insisted Europe's spending on foreign aid counts toward the NATO commitment of spending 3 percent of GDP on defense. Outside of the U.S., most NATO countries spending above the minimum are on the EU's borders—countries like Poland and Lithuania, whose acute fear of invasion is rooted in their histories with Russia.
The U.S. ought to pursue normalized relations with Moscow. Washington has no national security interests in Ukraine, and the conflict there ought to be resolved between Russia and Ukraine and, if it so pressed, the European Union. All sides would be incentivized to talk through their problems if they didn't have the U.S. to lean on.