Bikini Baristas Sue City in the Name of Free Speech and Women's Rights
City worries bikini hot dog stands could be next.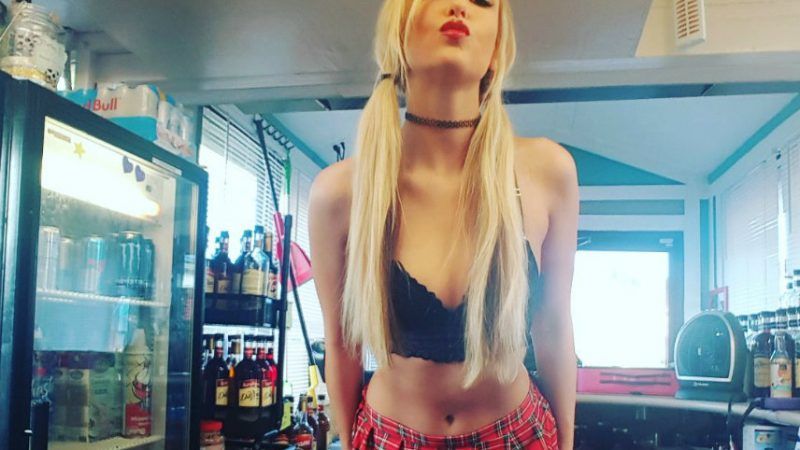 (Blendz Girls/Facebook (www.facebook.com/pg/Blendzgirls/))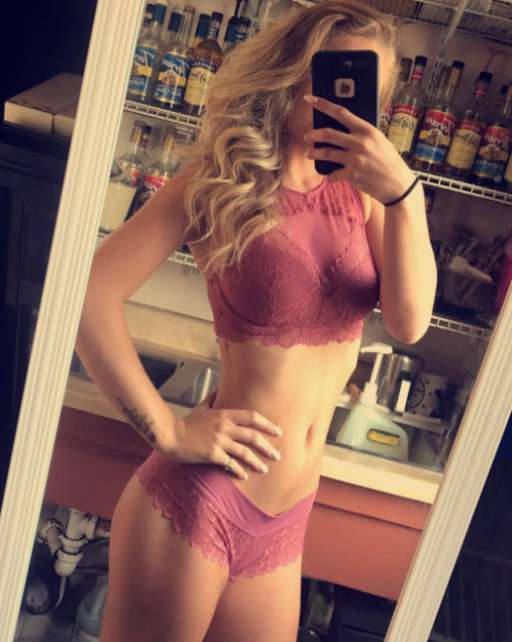 Bikini baristas in Washington state are suing a city over its ban on serving "quick service" food and drinks with bare shoulders, midriffs, or upper thighs. On Monday, a group of seven baristas and one coffee stand owner filed a federal lawsuit alleging a violation of their rights to free expression, privacy, due process, and equal protection.
"This is about women's rights," barista Natalie Bjerk told the Seattle Times.
She's right. The City of Everett isn't claiming that the regulations serve any food safety or public health purposes. According to Assistant City Attorney Ramsey Ramerman, the point of the dress code is to prevent unethical coffee stand owners from pressuring employees into showing too much skin, and to keep baristas from giving customers a peep show for extra cash.
Under a pair of August ordinances, employees at food trucks, drive-up coffee stands, and similar establishments are banned from being in bikinis, shorts, sheer clothing, or any other outfit that shows bare stomachs, shoulders, breasts, lower backs, or pubic areas, or the three inches of leg below the butt.
Employee violations can lead to fines for business owners, along with a requirement to register for a special license (which the city can deny) and a five-year probationary period. Subsequent employee violations during the probationary period can get the establishment's food-service license revoked. And if the owners are judged to have "facilitated" the "lewd conduct," they can be slapped with a $5,000 fine and a year in jail.
Essentially, Everett has created a crime similar to promoting prostitution—but for facilitating skimpy clothing.
"This is not about being offended by people wearing bikinis," said Ramerman. "Some of these stands had the characteristics of a poorly run strip club, and trying to enforce standards under [Everett's lewd-conduct] law was simply ineffective." He told KOMO News that "this business model is just fertile ground for…exploitation."
Liberty Ziska, an Everett bikini barista and one the plaintiffs in the new suit, disagrees. "I choose my own clothing at work, and for me, the message I send is freedom," she said in a statement.
Again, the rule is based on public morals, not public health: The City Council cited concerns about "barista stands with employees dressing in a manner that is closely and customarily associated with adult entertainment or adult situations." (Guess they've never heard of beaches?) "The minimalistic nature of the clothing…lends itself to criminal conduct," the council suggested; it could "have adverse impacts upon minors."
Police in the past have simply busted baristas found to be engaging in criminal conduct. But city officials note that bikinis "can be quickly and simply partially or fully removed or adjusted…in a manner that is not easy to detect unless someone is placed in the same proximity of the patron," making it difficult to find individual violations. Under the new rules, no lewd conduct is required, just a skirt that's a little too short.
Everett officials also warned that left unchecked, the bikini coffee stand aesthetic could soon spread to fast food restaurants, delis, and food trucks. As evidence, they noted that "in Florida in the 90s, the popularity of bikini hot dog stands lead to similar bikni type businesses when local authorities enacted dress requirements for hot dog stands." This generated "the same negative secondary effects," say city officials, giving as an example the fact that "a bikini hot dog vendor in New York was arrested for prostitution."
At a hearing on the proposed ordinance, and in the local paper, citizens of Everett have expressed anger at the bikini law.
"It's our bodies and it's our choice," said Emilija Powell, who works at Everett bikini barista chain Hillbilly Hotties.
The city wastes time on things like this while showing little concern for "the real problems that we face everyday," wrote Mike Hickey. "In honor of this fine piece of legislation that impacts only those who buy a cup of coffee to see a couple, I pronounce all members of the city council…boobs."
Susan Martin suggested that people who don't want to see someone serving coffee in a bikini should simply avoid bikini coffee stands. "Who the hell does it hurt if a young good-looking girl serves a cup of coffee while wearing a bikini?…What century are we living in now? There is nothing illegal about wearing a bikini. What's next? A dress code at the beach or on the river?"