The Freakout Over Politically Incorrect Punk
When the punk rock thought-police targeted the New York City band Agnostic Front.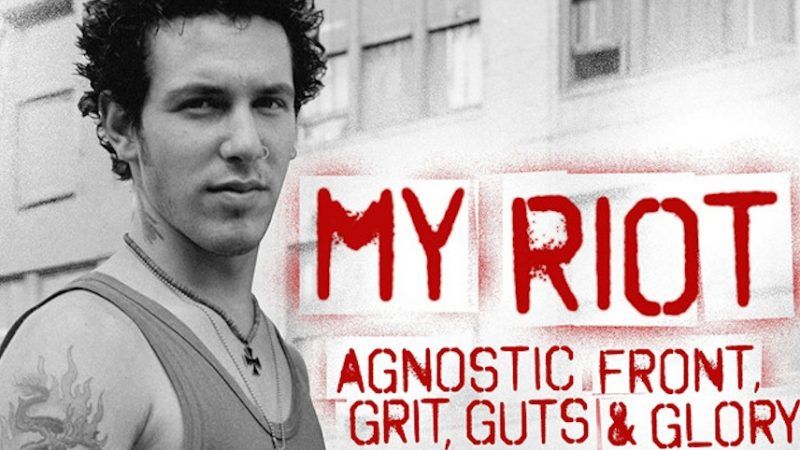 In September 1984, the widely read punk zine Maximum Rocknroll published its review of Victim in Pain, the debut album by the New York City band Agnostic Front.
"I'm approaching this band with caution," the reviewer warned. "Unfortunately, much of the narrow-mindedness, fanatical nationalism, and violence that has destroyed the New York punk scene seems to have revolved around AGNOSTIC FRONT."
The author of that review was Maximum Rocknroll founder and editor Tim Yohannan, a 40-something ex-Yippie who thought that punk music should march in lockstep with left-wing politics. As Ray Farrell, a punk veteran who worked at the independent record label SST (run by Black Flag guitarist Greg Ginn), told Steven Blush, author of American Hardcore: A Tribal History, "there was an ideological development at Maximum RockNRoll, making everything move towards a Socialist bent."
In effect, Yohannan appointed himself as the grand inquisitor of the punk rock thought police, scouring the scene for any signs of deviation from the left-wing script. "If it's just 'good sounding' music you want," he admonished readers in the March 1985 issue, "then punk is no alternative at all. For me, what makes punk different is the intelligence and commitment behind it."
Agnostic Front quickly became one of Yohannan's primary targets. As he asserted in one 1984 issue, "the N.Y. Skins apparently have embraced the British National Front's racist and nationalist attitudes." Yohannan rarely missed the opportunity to depict the band's members as the equivalent of goose-stepping goons.
Now one of those band members, Agnostic Front singer Roger Miret, is out with a gripping new memoir that tells his side of the story.
"A writer for this crappy but influential fanzine, Maximumrocknroll, started talking shit about us and calling us a bunch of fascist skinheads," Miret writes in My Riot: Agnostic Front, Grits, Guts & Glory (co-written with Jon Wiederhorn). "The crazy thing about Timmy calling me a fascist is that I was an immigrant Latino kid dating a Jewish girl, and she never accused me of being a Nazi sympathizer."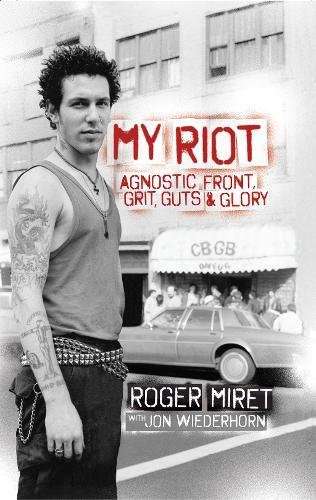 Born in Cuba in 1964, Miret came to the U.S. as a young child after his parents fled the Castro regime. He grew up rough in "the slums of New Jersey towns like Passaic and Paterson." From there he found his way to Manhattan, where the loud, fast sounds of bands like the Stimulators, the Bad Brains, and Reagan Youth were blaring out of clubs like Max's Kansas City, A7, and CBGB. After hanging around the scene for a couple of years, Miret joined Agnostic Front in 1983.
Agnostic Front has "never put down any other races or ethnicities," Miret writes in his memoir. "From the start we welcomed anyone who wanted to be a part of what we were doing. I was Cuban for Christ's sake—far from the image of the blond-haired, blue-eyed Aryan Übermensch." Miret has nothing but contempt for those "privileged, politically correct" punks that slandered his name.
Unlike some punk acts, Agnostic Front never offered any sort of coherent political message. But the band did sometimes express right-of-center views in their songs and interviews. Their 1986 track "Public Assistance," for example, was a harsh attack on the welfare state. Sample lyric: "Uncle Sam takes half my pay so you can live for free."
Miret didn't write those lyrics. He outsourced the job to Peter Steele, the leader of the Brooklyn metal act Carnivore, who would later go on to fame as the frontman for goth-rockers Type O Negative. But Miret stands firmly behind the sentiment. "I was a minority kid whose mom was on welfare and I saw all the time how other people in our neighborhood abused the system," he writes in My Riot. "Public assistance was designed to help people better their lives and move on, not to enable the families that used it. Those are the people the song was aimed at."
Miret and his bandmates also voiced support for President Ronald Reagan's foreign policy. "We have to stop Communist aggression," guitarist Vinnie Stigma told the zine Guillotine in a 1984 interview. "I think [Reagan] has guts," Miret later added. Statements like that definitely ruffled a few mohawks.
Did Agnostic Front sometimes promote conservative or right-wing opinions? Yes. But were they fascists? Nazis? Not unless those terms are drained of all meaning and used to smear any right-leaning point of view.
"To say Agnostic Front were a bunch of Nazis in a skinhead gang was ridiculous. I was there, and no one united NYHC [New York hardcore] like Roger Miret," Youth of Today guitarist John Porcelly once told the journalist Tony Rettman. "I used to tell Tim Yohannan what great guys [Agnostic Front] were. He would never believe me."
The freakout over Agnostic Front's politically incorrect punk came to a head when Miret, Stigma, and bassist Rob Kabula agreed to be interviewed for Maximum Rocknroll's January 1985 issue by punker Dave Scott.
Scott sent his questions by mail and the band mailed back their answers. But Yohannan thought the interview was too friendly, so he sent a batch of his own questions, focusing on the "disturbing aspects to these nice guys' philosophies" and "their admittedly nationalistic outlook." Miret, Stigma, and Kabula replied again.
Yohannan then edited the whole correspondence together, littering the Q&A with a final round of his own commentary. He literally gave himself the last word on his most contentious exchanges with the band.
It was an ugly and heavy-handed piece of work. Yohannan revealed his own intellectual insecurities by doing everything in his power to stack the deck in his favor. He clearly did not trust his own subscribers to read the original interviews and then make up their minds for themselves. Even left-wing punks were embarrassed by his performance.
Regrettably, echoes of Yohannan's approach can still be heard today. When Tony Rettman's great oral history, NYHC: New York Hardcore 1980–1990, was published in 2014, New Yorker critic Kelefa Sanneh took a cheap shot at Agnostic Front that came straight from the Maximum Rocknroll playbook. "Agnostic Front all but dared listeners to assume the worst, and Yohannan wasn't the only one who did," Sanneh wrote. "Agnostic Front shows attracted a certain number of white-power partisans, and the band occasionally had to pause, mid-set, to censure an audience member for Sieg-Heiling in the pit."
I've been attending punk, hardcore, and metal shows since the age of 12, and I've encountered white-power partisans in a variety of locations, including performances by the multi-racial ska punks the Mighty Mighty Bosstones; the multi-racial post-hardcore group Orange 9MM; the multi-racial rap-rockers Rage Against the Machine; and the multi-racial death metal outfit Suffocation. None of those bands "dared listeners to assume the worst," and yet the Nazi wannabes still showed up. The reason they showed up is because racist thugs don't care what band happens to be playing on a given night. They come out to cause trouble.
One particular experience comes to mind. Around 1994 the great New York City hardcore punk band Murphy's Law played a show in Tampa, Florida. Much like Agnostic Front, the members of Murphy's Law had had their names dragged through the mud by Maximum Rocknroll back in the 1980s.
I saw a whole lot of neo-Nazi boneheads at that show. What happened? The members of Murphy's Law got into a massive fight with the racists and sent several of them to the hospital. Then the band finished playing its set. In the pages of My Riot, Miret recounts similar anti-fascist exploits at Agnostic Front shows. New York hardcore may not have been sufficiently left-wing for the likes of Maximum Rocknroll, but that didn't stop New York hardcore musicians from being antifa before antifa was cool.
Today Agnostic Front's debut album is justly recognized as a genre landmark. When Victim in Pain turned 25 in 2009, The Village Voice said it "deserves to be ranked within a stage dive's distance of Velvet Underground and Ramones classics on any list of important and influential New York records."
Speaking of the Ramones, their guitarist, Johnny Ramone, liked to describe himself as a "Nixon Republican." According to the scolds at Maximum Rocknroll, that means Johnny fails the punk rock ideological purity test. But if a founding member and principal songwriter for one of the greatest punk bands of all time can't pass the test, doesn't that prove that the test itself is total bullshit?