Questioning College Rape Epidemic Could Get You Fired
Resident assistants at Fordham University at Rose Hill want no part of a skeptical narrative.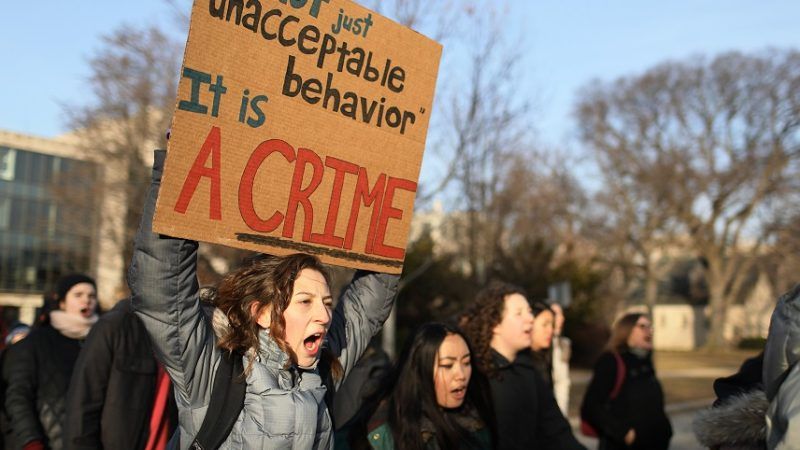 (Chris Walker/TNS/Newscom)
Christopher Rodgers is paying dearly for challenging the conviction among some of the students at Fordham University's Rose Hill campus that there is an epidemic of rape on America's college campuses.
The ironies are rich. Anastasia Coleman, Fordham's Title IX coordinator, is investigating Rodgers, her deputy Title IX coordinator and dean of students, after resident assistants (RAs) said they were brought to tears by a video questioning the basis for the claim that sexual assault is out of control in college. (Coleman has not responded to email requests for comment.)
Rodgers showed two videos during an RA training session Aug. 18 which he said represented competing political narratives about campus sexual assault. Representing the view of the left, Rodgers showed a trailer of The Hunting Ground, a problematic documentary that has come under heavy fire from Reason, Slate's Emily Yoffe and others.
When he showed a PragerU video, "Are 1 in 5 Women Raped in College?" that challenges the methodology of the Campus Sexual Assault (CSA) Study most frequently cited by rape epidemic believers, several of the RAs revolted.
One RA wrote that she found 10 women crying in the bathroom after the presentation, and that "it was inappropriate to be putting advocacy for victims in the context of political debate…politics has nothing to do with it."
RA Rowan Hornbeck, posted a scathing critique online. "Contextualizing advocacy for victims as a political agenda is backwards. By critiquing a documentary that exposed university coverups of improperly handled cases of sexual assault, Dean Rodgers is proving that he cares more about saving the reputation of the university rather than advocating for students." But what did Rodgers do wrong by presenting two competing narratives?
RA training was cancelled for the remainder of the day, although it has since resumed. Now, the offended RAs are calling for Rodgers' dismissal.
The methodology of both videos is problematic, warranting their showing for critique and discussion. But the students made no complaints about The Hunting Ground. As Reason's Robby Soave wrote, one of the documentary's central stories––the alleged sexual assault of Harvard student Kamilah Willingham––did not pass muster.
Willingham's story that her assailant, Brandon Winston, had drugged her, was false. She offered him cocaine, and they took it together. She alleged that a bloody condom found in the trash belonged to Winston, but DNA evidence ruled that out. There were huge inconsistencies in her story, which culminated in nineteen Harvard law professors denouncing the film for its shoddy representation of reality.
Another alleged victim, Erica Kinsman, claims she was given a spiked drink by her assailant. Toxicology reports refuted that––a crucial fact filmmakers left out.
A central premise suggests that serial predators run rampant on college campuses, but this claim rests on a 2002 study that wasn't actually about college students at all. Rape is not lurking in every alleyway, as The Hunting Ground would have you believe, nor is it as rare and overblown as PragerU claims.
The survey critiqued in the PragerU video was lambasted because it was anonymous, and no claims were verified. But part of the reason why assault data are unreliable is because they're hard to verify and report, and they're crimes that take place behind closed doors, away from witnesses.
The video also claims that "there's simply no evidence of a campus rape epidemic," but it's foolish to say college campuses aren't rife with sexual assault issues––when alcohol muddles one's ability to consent and hook-up culture is a given, bad situations result.
And sometimes, university administrations attempt to silence or strong-arm victims, presumably for public relations reasons. Despite a lack of balance, PragerU's video presents a useful perspective: that the statistics used by almost every major outlet and advocacy group wrongly simplify a very complicated story.
The existence of the videos is proof of how overly politicized rape on campus has become. When one-sided, victim-centric narratives are presented as immune to criticism, truth falls by the wayside. Similarly, stories downplaying the experiences of survivors don't present a full picture.
It's quite appropriate to show these videos during a training session for RAs who are being asked to guide students through difficult experiences, and should be expected to have the mental fortitude to handle tough topics.
Rather than call for Rodgers' dismissal, these Fordham students should be grateful he is willing to lead a conversation about the politicization of assault and how to separate truth from advocacy in these opposing narratives. That is, after all, the point of college––or at least it used to be.