Gun-Toting Lefties Show Up at Phoenix Rally, Too Bad the ACLU Probably Won't Be Defending Their Speech Rights
The John Brown Gun Club uses the Second Amendment to underline their First Amendment rights.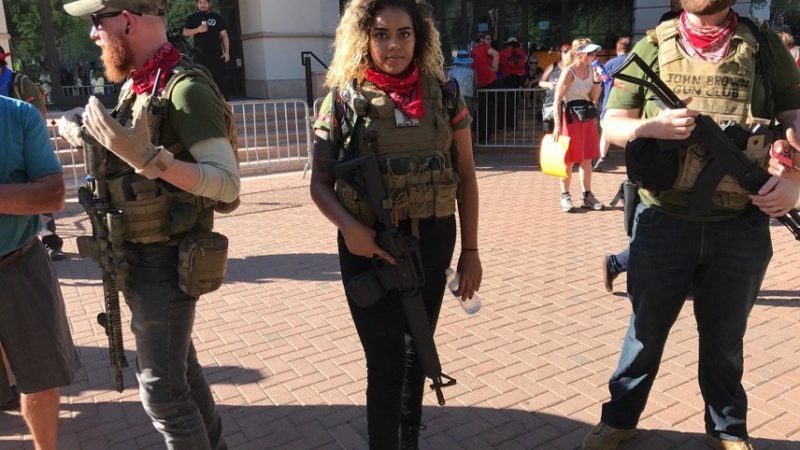 Last night in Phoenix, armed protesters stood outside of President Donald Trump's rally. In a time-honored American tradition, they employed their Second Amendment rights to help underscore and highlight their own First Amendment rights and those of their ideological brethren.
The twist, which really isn't much of a twist at all, is that they were lefties.
Members of the John Brown Gun Club. They told me they're in Phoenix to protect protesters from white nationalists pic.twitter.com/OGgT9qGuFE

— Simon Romero (@viaSimonRomero) August 22, 2017
I've been sticking up for the American Civil Liberties Union (ACLU) lately. Right before the events in Charlottesville, the group filed a lawsuit defending the speech rights of a group of clients that included Milo Yiannopoulos (and PETA!). They took a hit for spending money—much of which flowed into the group's coffers after they denounced Trump's immigration policy—on right-wing jerks. Then their role in helping the Charlottesville Unite the Right rally obtain permits drew negative notices, since some objected to the group spending money on Nazis. But the ACLU stood their ground, arguing—as they always have—that defending free speech means defending even the speech of those they otherwise strongly disagree with. And then, when it looked (to an outsider, at least) as if some of the anti-ACLU outrage was dying down, they suddenly caved.
They didn't give up completely, of course. The ACLU will certainly continue to do plenty the same vital work they always have defending free speech. But did soften their decadeslong near-absolutist position on free speech in a way that was almost a non-sequitur, with an exception for armed protesters. This is a weird line to draw, especially in response to Charlottesville, where the actual deadly weapon employed during the protests was a car, not a firearm. (The ACLU has long supported "moderate" gun control.)
National ACLU head Anthony Romero told The Wall Street Journal, "If a protest group insists, 'No, we want to be able to carry loaded firearms,' well, we don't have to represent them. They can find someone else." It is, of course, the ACLU's perfect right to spend their money however they like. But it's the wrong call from the perspective of their legal positioning to defend free speech. The move was likely a conciliatory gesture offered in response to backlash from local chapters, most notably in California, as well as resignations on the board of the Virginia ACLU chapter that initially assisted Unite the Right with permitting. "The events of Charlottesville require any judge, any police chief and any legal group to look at the facts of any white-supremacy protests with a much finer comb," Romero said.
But it's not just white supremacists who come to rallies armed. Far from it. In fact, right away a great case study has popped up in Phoenix, with a cluster of well-armed lefties who say they "won't fire the first shot" but that they are there to make sure their side gets heard. Members of the John Brown Gun Club (yes, that John Brown), which is affiliated with Redneck Revolt, were present in Charlottesville as well, both their speech and their accessories covered under the same laws and precedents that protected the white supremacists, neo-Nazis, and others gathered there. You know, the ones the ACLU was totally committed to defending until last week.
Romero also said the ACLU would consider each group on a case-by-case basis: "It's neither a blanket no or a blanket yes." So I guess there's a chance they'd defend the John Brown Gun Club's armed speech. But if the civil liberties group winds up backing off of supporting these lefty ladies and gents in their time of legal need in order to avoid having to help out their righty counterparts, the whole foundation of the ALCU's free speech defense is weakened.
The road to hell is paved with reasonable exceptions.