ACLU Sues Louisiana Parish for Alleged Bail Extortion Scheme
A civil rights lawsuit says a state judge and a private company are effectively holding defendants for ransom.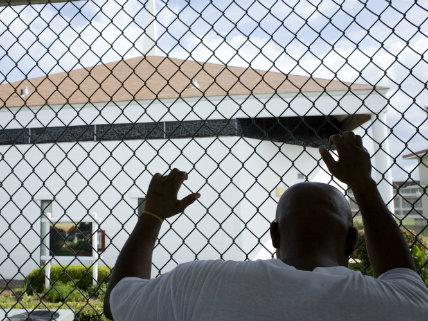 Henry Ayo, a resident of East Baton Rouge Parish in Louisiana, says that when he appeared before a judge via closed-circuit television for his bail hearing on August 8, 2016, the judge did not ask him about himself or his case before she set his bail. The judge then told Ayo that, upon his release, his pre-trial supervision would be handled by a private Baton Rouge company, Rehabilitation Home Incarceration (RHI).
It took Ayo's wife two months to gather up enough money to post his $8,000 bail, but when she did, RHI told her she would also have to pay the company another $525 before Ayo would be released, then another $225 a month while he was awaiting trial. According to a contract Ayo was required to sign, he could be sent back to jail for violating the agreement.
Ayo's story is one of several alleged in a federal class-action lawsuit filed by the American Civil Liberties Union (ACLU) and the Southern Poverty Law Center last night. The suit accuses RHI, Louisiana state judge Trudy White, and East Baton Rouge Parish of racketeering and extortion. According to the lawsuit, the bail scheme has forced hundreds of criminal defendants to pay RHI—a company with political connections to White—to be released from jail, "effectively holding them for ransom" and violating their Fourth and Fourteenth Amendment rights.
"This is predatory and illegal," Brandon Buskey, a senior staff attorney with the ACLU's Criminal Law Reform Project, said in a statement. "Rehabilitation Home Incarceration puts its own price on people's liberty and forces them to pay up, over and over again. Worse, this could not happen without the court and the jail enabling this scam, and ignoring the rights of those charged and presumed innocent."
The lawsuit is the latest in a string of legal actions across the country—in Georgia, Mississippi, Massachusetts, Alabama, Texas, Illinois, and California—challenging what civil libertarians say amount to debtors' prisons, where defendants are stuck behind bars simply because they cannot afford to pay.
According to the Louisiana lawsuit, defendants' monthly payments to RHI typically last 90 days but sometimes run indefinitely, until the resolution of their case. Defendants may also be billed for ankle bracelets and mandatory classes.
RHI is the only approved vendor for pre-trial supervision in White's court, the 19th Judicial District Court of Louisiana, although there is no formal contract between the court and RHI, the suit says. White has referred roughly 300 defendants to RHI over the last two years. The suit also says the sheriff and warden of East County Parish enforce a policy of not releasing arrestees without permission from RHI.
The owners of RHI—Cleve Dunn Sr. and his family—are politically connected to White, according to an investigation by the local TV channel WAFB. Cleve Dunn Jr. served as the chairperson of White's 2014 re-election campaign committee, and the campaign also paid Dunn Sr. for marketing services.
RHI did not respond to a request for comment. Judge White's office declined to comment.