Mr. Mercedes and Comrade Detective Breathe Life into Cop Genre Shows
From dark and disturbing to the gloriously absurd.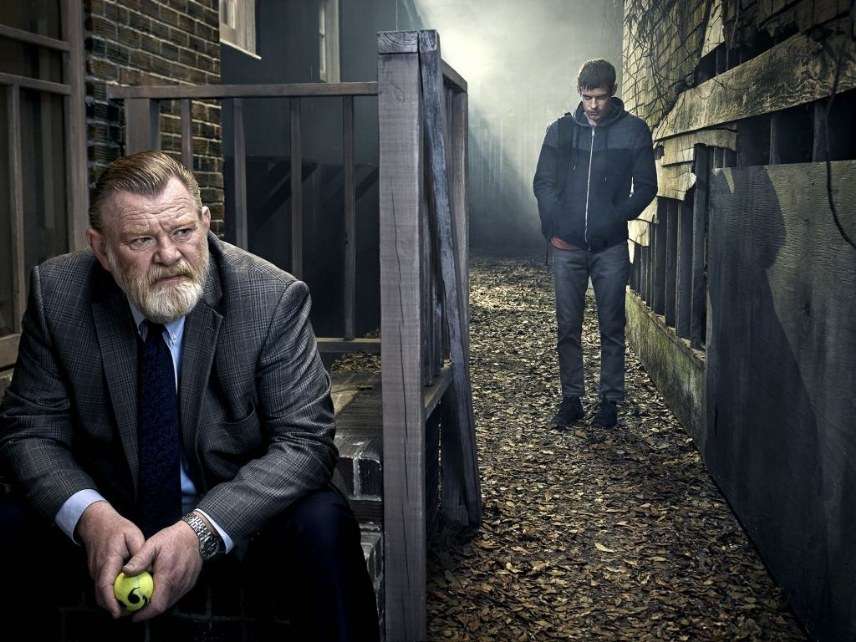 Comrade Detective. Available now on Amazon Prime.
Mr. Mercedes. AT&T's Audience channel. Wednesday, August 9, 9 p.m.
TV has been riffing on cops for close to seven decades now, going back to the days when half the Nielsen families in America gathered around their black-and-white tubes once a week to watch Dragnet's Joe Friday smack around all the usual suspects, and sometimes you wonder what's left to say. And then you see a couple of shows like Mr. Mercedes and Comrade Detective and you realize that even two decades of CSIs and Law & Orders can't kill this genre.
Both Mr. Mercedes, an adaptation of Stephen King's 2014 novel on AT&T's Audience channel—available only the company's ATT U-verse and DirecTV systems—and Amazon Prime's gloriously nutball Comrade Detective are reimaginations (or, in Comrade Detective's case, maybe a hallucination) of the genre's past.
Mr. Mercedes updates the much-honored hardboiled noir detectives of the 1940s. Comrade Detective, on the other hand, is a double-barreled satire of two forms that sharply declined in popularity at the end of the 1980s: the cop buddy show, and communism.
King in recent years has been interested in recreating the pulp detective fiction he read as kid, most notably in a trilogy of novels about a retired homicide cop named Bill Hodges who is haunted by a big case he failed to solve. Mr. Mercedes was the first of the three books, and Audience assembled a high-powered team to bring it to the screen. The show is written and produced by David E. Kelley, the creator of a long string of intelligent and entertaining legal dramas from L.A. Law to Boston Legal. The cast includes Brendan Gleeson (In Bruges), Mary Louise Parker (Weeds), and Kelly Lynch (Drugstore Cowboy).
Gleeson plays Hodges, whose national origin has been slightly tweaked (he's now said to have moved to the United States from Ireland as an adolescent, a concession to Gleeson's irrepressible accent) but otherwise remains King's sharply etched post-modern version of Sam Spade and Philip Marlowe.
His drinking isn't done in alluring dive bars but on the couch in front of his TV and ends not with him trading rounds of bons cynique with his fellow gumshoes but passed out behind a barricade of beer cans. His gut is huge, his prostate shot, and the closest thing in his life to a sultry blonde in his life is a matronly next-door neighbor who demands he gaze upon the nude selfie on her cell phone: "I'm your only option—you're not an attractive man!"
What awakens Hodges from the stupor of his life is a series of messages from the one who got away: a crazed motorist who rammed a stolen Mercedes into a crowd waiting in the parking lot for a job fair to open. Sixteen were killed, and many more maimed. But Hodges, the lead investigator on the case, never sniffed out even the faintest clue about the killer's identity or motive, and finally the cops chalked it up to a senseless incident of road rage.
Now, two years later, the killer is taunting Hodges with e-mailed slaughter-porn videos of the massacre. The detective has no idea where they're coming from, but we know: wormy little geek-on-demand computer tech Brady Heartsfield (Harry Treadaway, the wan Victor Frankenstein of Showtime's Penny Dreadful).
By day, Brady is bullied by the fascist manager of the big-box electronics store where he works; by night, he hides out from his predatory mother (played by Lynch) in the dim basement of the home they share, a lair suffused with oedipal musk and the eerie glow of a dozen computer monitors. (There is nothing faint about the echo of Norman Bates here.)
The tingle of the parking-lot carnage long gone, Brady is looking to kill again, but this time the murder weapon will be not a stolen car but the victim's own hand. The question is whether Hodges and his makeshift team of damaged assistants (including Parker as the jittery sister of one of Brady's victims and Moonlight's Jharrel Jerome as a neighborhood hacker) can stop him.
Kelley's shows have always been driven by his eccentric yet authentic characters, from the brittle post-feminist titular anti-heroine of Ally McBeal to the snaky, blow-dried divorce lawyer Arnie Becker in L.A. Law. Watching him work with characters devised by King is something like a religious experience, even if the church is Our Lady of Psychos and Degenerates. Even the bit players in Mr. Mercedes cannot be left unwatched for a moment; you never know when something querulous quirky or malificently malign is about to erupt.
But Kelley and his director Jack Bender (who worked on Lost as well as another King television adaptation, Under the Dome) are equally adept at the action sequences. The staging of the parking lot mayhem is a marvel of underlit suggestion and squishy sound effects that leverages a Grand Guignol impression from gore that's actually rather petit. That's the only thing small about Mr. Mercedes; this is big-time entertainment.
So, in its own deranged way, is Comrade Detective. Starting with one of those lost-masterpiece introductions like Robert Osborne used to deliver on Turner Classic Movies, Comrade Detective purports to be the restored version of a classic and long-lost Romanian cop show of the 1980s.
In fact, the whole thing is a goof; co-creators Brian Gatewood and Alessandro Tanaka shot a sort of Starsky & Hutch-style cop show in Romania with local actors, then dubbed in dialogue—horrendously—from people like Channing Tatum.
The result is a kind of Mad magazine parody of tough-guy 1980s cop shows crossed with a Marxist-Leninist version of Woody Allen's hilariously counterfeit Japanese spy thriller What's Up, Tiger Lily? From the opening monologue by one of the cops—"You don't become a great communist by going to meetings or memorizing the Manifesto, you do it on the streets, you do it with your fists, the rest is bullshit and you know it"—Comrade Detective is madly, almost indescribably, funny.
All the idiotic clichés of American TV cops are present and accounted for, but stood on their head, like the aging shift commander gazing at a crime scene and longing for the days before glasnost pussified everything. "There was a time when I'd line up everyone here against the wall and shoot them just on the chance that they were the killer," he laments. "The whole world has gone to shit."
Or the Joe Friday-esque moment when the cop imposes righteous moral judgment on an unrepentant drug dealer. "All your needs are taken care of!" he shouts. "Health care! Education! Food! And you want more!" Only to be met with the taunting retort: "Free market, motherfuckers! Only the strong survive." I've only seen two of the six episodes of Comrade Detective, but you just know that before the end, somebody's going to rob a food cooperative while wearing an Ayn Rand mask.