Rutgers Orders Freshmen to Add Microaggression to Their Course Lists
New research says such diversity programs can make campus less inclusive and more polarized.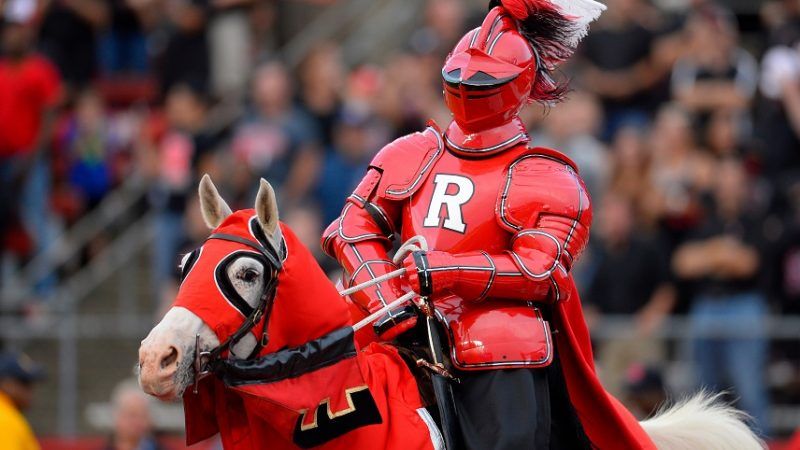 (Rich Kane/Icon SMI/Newscom)
As part of a $175 student orientation package, Rutgers University requires all incoming freshmen take a course on the "big impact" of microaggressions, because nothing says welcome to college like a mandatory seminar on safe spaces and offensive phrases.
Microaggressions, statements that are subtly offensive to a marginalized group, are nothing new to the social justice scene. Everything from saying "that's crazy" to "you throw like a girl" could be considered a microaggression.
The Language Matters Campaign, organized by the university's Center for Social Justice Education and LGBT Communities, teaches students about how to avoid hurting their peers intentionally or accidentally with their words.
The course consists of a Prezi presentation and some Youtube videos. It concludes by encouraging students to report an act of bias toward anyone because of their "race, religion, color, sex, age, sexual orientation, gender identity or expression, national origin, ancestry, disability, marital status, civil union status, domestic partnership status, atypical heredity or cellular blood trait, military service or veteran status."
It is a long list for new students to retain as they worry about which classes to take or how to pay for $400 textbooks. The Center for Social Justice Education, however, would prefer microaggressions be a student's top priority. Microaggressions, after all, can be detrimental to a person's health, according to the Prezi.
Microaggressions "can have a deep and negative impact on the experiences of your peers" and the Prezi even goes so far as to claim that "victims are affected physically, cognitively, emotionally, and behaviorally."
Tying words to physical harm is an emerging trend for both sides of the political spectrum. When words are considered violence, preventing them from being spoken sounds reasonable. Censorship, then, is the proper precaution to ensure a student's safety. Reporting an act of bias becomes a civic duty.
The problem with microaggressions is they are entirely subjective. One person's microaggression is another's rude joke. While one person might laugh at the joke, another might feel uncomfortable. It can be tricky figuring out where to draw the line. But that isn't an excuse to forbid speech because it may be offensive to someone.
Respected researchers have begun to poke holes in the social justice advocate argument that science is on the side of microaggression theory. Althea Nagai, a research fellow at the Center for Equal Opportunity specializing in statistical studies in social policy, cites many technical flaws in critical race theory and, in turn, microaggression theory.
"This one-way racial framework accounts for the serious technical shortcomings in critical race theory studies—biased interview questions, reliance on narrative and small numbers of respondents, problems of reliability, issues of replicability, and ignoring alternative explanations," Nagai argued in a National Association of Scholars article.
Many universities, Nagai says, have embraced social justice theories of inclusivity and microaggressions in order to avoid any implications of racial bias. Solutions to perceived problems, like diversity programs, may actually exacerbate them.
"There is nothing in the current research to show that such programs work. I suspect most fail to create greater feelings of inclusion," Nagai contends. "In other words, 'social justice' and diversity programs may actually backfire, creating less inclusion, more polarization, and more findings of unconscious racism."
Rutgers University should consider Nagai's findings and those of her peers before mandating microaggression training for incoming freshmen, or risk the fallout of social justice run amok.