Jeff Flake's Conscience Is Good for Libertarians—and the Country
The Arizona senator calls for limited government, takes clear aim at Trump's authoritarianism, GOP big-spending.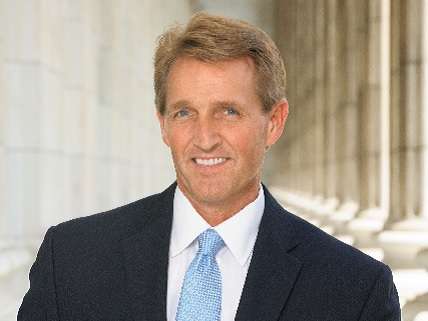 "We've been compromised…by forces…of populism and protectionism, isolationism, xenophobia," says Arizona Sen. Jeff Flake, about his own Republican Party.
In a new book that borrows a title from Barry Goldwater, an NPR interview, and a no-holds-barred column in Politico, Flake is making the case that the GOP and President Trump are dishonest and disinterested in limiting the size, scope, and spending of government.
He has impeccable credentials as a libertarian-leaning politician who once ran the free-market Goldwater Institute in Phoenix. Flake is a dedicated free-trader and defender of immigration who accompanied Reason on our trip to Cuba in 2016. Since arriving in Congress in 2001, he has passionately attacked the Cuba embargo as misguided, immoral, and ineffective: "We preach the gospel of contact and commerce and trade and travel, yet with Cuba we turn around and say, 'No, it's not going to work there.' It just seemed to be a glaring inconsistency in our foreign policy." An "unapologetic member of the Gang of Eight" that sound comprehensive immigration reform, he is one of the few remaining Republicans in high office to champion higher levels of legal immigration both as a humanitarian gesture and as a practical boon to the country.
Flake tells NPR that his discontent "is a long time in coming. I got here in Washington in 2001…. And we got [President George W. Bush's education overhaul law] No Child Left Behind, which was, I thought, big federal overreach into local education policy. And then we got the prescription drug benefit, which added about $7 trillion in unfunded liabilities. I didn't think that was a very conservative thing to do."
As important, Flake notes,
When we couldn't argue that we were the party of limited government anymore, then that forced us into issues like flag burning or trying to intervene in the Terri Schiavo case, things that we wouldn't have done otherwise if we would have been arguing about true principles of limited government or spending.
He says that conservatives need "to be honest with people" about the causes of economic dislocation. While Donald Trump and his fellow populists wail about Mexico and China, Flake stays grounded in reality. "We manufacture twice as much as we did in the 1980s with one-third fewer workers and those productivity gains will continue. Globalization has happened and the question is: Do we harness it for our benefit or are we left behind by it?"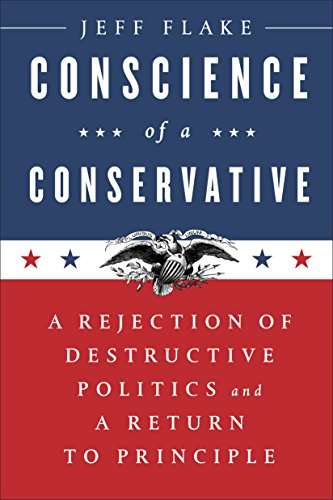 In his Politico piece, Flake ranges close to calling for Trump's impeachment, or at least official censure, writing that "unnerving silence in the face of an erratic executive branch is an abdication, and those in positions of leadership bear particular responsibility." Flake says that revelations about Russian attempts to influence the 2016 election and the president's bromance with Vladimir Putin were among the reasons he's channeling his inner Goldwater. Where should his party go from here?:
First, we shouldn't hesitate to speak out if the president "plays to the base" in ways that damage the Republican Party's ability to grow and speak to a larger audience. Second, Republicans need to take the long view when it comes to issues like free trade: Populist and protectionist policies might play well in the short term, but they handicap the country in the long term. Third, Republicans need to stand up for institutions and prerogatives, like the Senate filibuster, that have served us well for more than two centuries.
No wonder there have been whispers about Trump working to primary Flake, who is up for re-election in 2018.
You might not agree with Jeff Flake on everything, but it's good to see a principled free-market, open-borders Republican going public with his discontent, especially because he's got a strong record of calling out massive expansions of the government going back to his first days in Congress. We need more people like him in Washington, not just the handful we already know (Rand Paul, Mike Lee, Justin Amash, Thomas Massie…).
In 2008, at Reason's 40th anniversary gala in Los Angeles, soon after Barack Obama's and the Democrat's win over John McCain and the GOP Congress, Flake talked about how his party needed to get back to limited-government principles. Take a look: