Phoenix Taxpayers Lose $200 Million on Sale of Largest Hotel in Arizona
A city's sad foray into the hotel business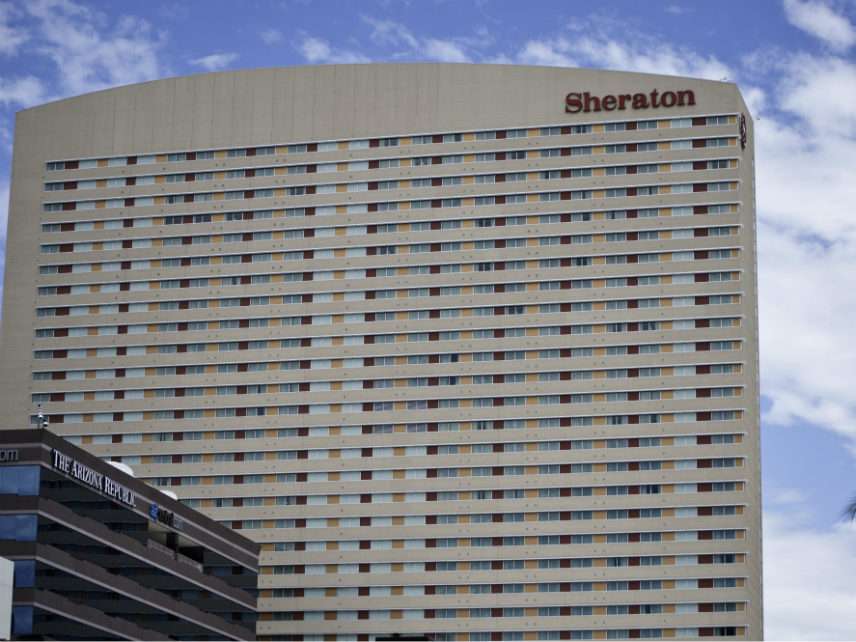 The City of Phoenix is really bad at running a hotel. It may be even worse at trying to sell a hotel.
This week the city government signed a letter of intent to sell its terminally unprofitable Sheraton Hotel to the Florida-based developer TLG Phoenix LLC for $255 million. It's good news that Phoenix is finally shedding this boondoggle, but thanks to the staggering debt the city has already incurred to build the hotel, along with several giveaways included in the preliminary deal, Phoenix taxpayers are facing a possible $200 million haircut from the sale.
"Those are monies that could have gone into core strategic functions like police, parks, public safety in general," says City Councilman Sal DiCiccio, a longtime opponent of Phoenix's foray into the hospitality business. "Instead it got diverted into the losing proposition of a hotel."
In 2005 the Downtown Phoenix Hotel Corporation, an arm of the Phoenix City government, borrowed $350 million to finance construction of the Sheraton.
The thinking among proponents, according to David Krietor of Downtown Phoenix Inc., a community development group that supported the project, was that the hotel—which at 1,000 rooms is the largest in Arizona—would drive tourism and economic development in the city's downtown.
"I think if you look at the transformation in downtown Phoenix, it's been remarkable," Krietor claims.
DiCiccio disagrees, saying that all the Sheraton project did was "create competition for private sector hotels that were already having a difficult time. All they did was provide more supply when there wasn't the demand." Hotel occupancy rates in downtown Phoenix fell precipitously after the Sheraton opened, from 58.9 percent in 2008 to 53.9 percent in 2009. It wasn't until 2013 that occupancy rates returned to 2008 levels.
And ever since the hotel opened, it has constantly operated at a loss, requiring roughly $47 million in direct subsidies from Phoenix taxpayers just to stay afloat.
In 2015 the Sheraton was so much in the red that it required another $305 million loan from Phoenix city government to refinance its debt. That allowed the hotel to break its first net profit in 2016, but it also had the effect of transferring $305 million in debt—over half of which was supposed to be paid down by hotel revenues—onto Phoenix taxpayers.
By the end of 2015 Phoenix was searching for a buyer. Last year it looked like TLG Phoenix was willing to purchase the hotel for $300 million. That deal fell through for unpublicized reasons, and the city started shopping for another buyer. Finding none, they went back to TLG, agreed to knock $45 million off their initial asking price, and handed over another $13 million in public funds earmarked for hotel renovation.
TLG Phoenix is also being promised a massive property tax abatement, which DiCiccio estimates will cost the city another $50 million. Added to the losses the city has already incurred, that means the government's forray into the hotel business has left taxpayers roughly $200 million behind.
What will the city do with the money it frees up after selling the hotel? The options currently on the table include renovating the Phoenix Suns' arena or, if Mayor Greg Stanton gets his way, constructing a new arena entirely.
That idea infuriates DiCiccio, who does not want to see Phoenix replace one cronyist, loss-making investment with another. "There is no good answer," he says of the Sheraton sale, "but making it worse does no one any benefit."