Apocalypse Abuse and 'Climate Doomism'
Climate scientists denounce a scaremongering story in New York magazine.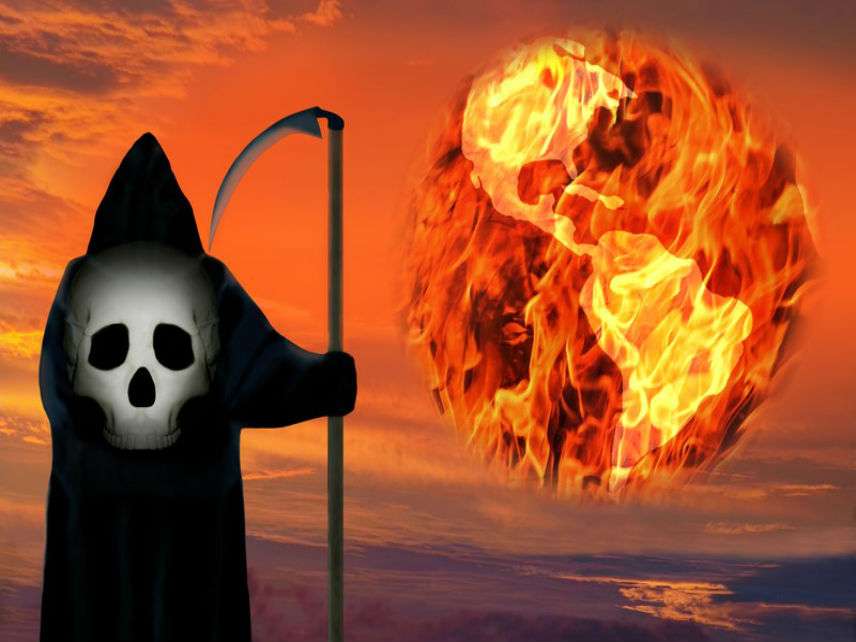 "There is a seduction in apocalyptic thinking. If one lives in the Last Days, one's actions, one's very life, take on historical meaning and no small measure of poignance," Eric Zencey wrote in 1988. "Apocalypticism fulfills a desire to escape the flow of real and ordinary time, to fix the flow of history into a single moment of overwhelming importance." Lawrence Buell has called apocalypse "the single most powerful master metaphor that the contemporary environmental imagination has at its disposal."
The seduction of apocalyptic thinking is on full and lurid display in David Wallace-Wells' article "The Uninhabitable Earth," published in New York magazine earlier this week. The subtitle says it all: "Famine, economic collapse, a sun that cooks us: What climate change could wreak—sooner than you think."
Wallace-Wells is engaging in "apocalypse abuse," a term I believe I first encountered in Edith Efron's magnificent and prescient book The Apocalyptics. As I wrote in my 1993 book Eco-Scam, "'apocalypse abusers' typically extrapolate only the most horrendous trends, while systematically ignoring any ameliorating or optimistic ones, offering worst-case scenarios in the guise of balanced presentations."
"It is, I promise, worse than you think," Wallace-Wells begins. "Indeed, absent a significant adjustment to how billions of humans conduct their lives, parts of the Earth will likely become close to uninhabitable, and other parts horrifically inhospitable, as soon as the end of this century." Instead of relying on more mainstream projections, Wallace-Wells cherry-picks the worst-case scenarios for melting glaciers, rising sea levels, temperature increases, crop failures, species extinctions, and more.
Reacting in a Facebook post, the Penn State climatologist Michael Mann—not a man who's known to underplay the dangers of man-made climate change—declared: "Extraordinary claims require extraordinary evidence. The article fails to produce it."
Mann followed up today with a Washington Post op-ed. Wallace-Wells, he writes, "paints an overly bleak picture, arguing that climate change could render the Earth uninhabitable by the end of this century." He cites several examples of how the New York piece misleads readers, including its misrepresentations about the dangers posed by methane trapped arctic permafrost and recent adjustments to satellite temperature records.
Mann is not alone in his criticisms. Another Washington Post article today, this one by Chris Mooney, cites a tweet from the University of Washington glaciologist Eric Steig: "What's written's actually beyond worst possible case. THIS is the 'alarmism' we get accused of. It's important to speak out against it."
Many climate scientists object to the article because they fear that such doomism will induce a sense of fatalism in the public and among policy makers. If the end is nigh, why not just sit back and enjoy our time before the apocalypse?
In 1989, the Stanford climatologist Stephen Schneider notoriously argued, "We have to offer up scary scenarios, make simplified, dramatic statements, and make little mention of any doubts we might have. This 'double ethical bind' we frequently find ourselves in cannot be solved by any formula. Each of us has to decide what the right balance is between being effective and being honest. I hope that means being both." Some climatologists evidently think that Wallace-Wells has gotten the balance badly wrong.
In Eco-Scam, I wrote that apocalypse abusers offer "lurid scenarios of a devastated earth, overrun by starving hordes of humanity, raped of its precious nonrenewable resources, poisoned by pesticides, pollution, and genetically engineered plagues, and baked by greenhouse warming. The new millenarians no longer expect a wrathful God to end the world in a rain of fire or overwhelming deluge. Instead humanity will die by its own hand." Wallace-Wells is just the latest in a long line.