Michigan's Pension Reforms Are Kind of a Big Deal
All that's missing is Gov. Rick Snyder's signature.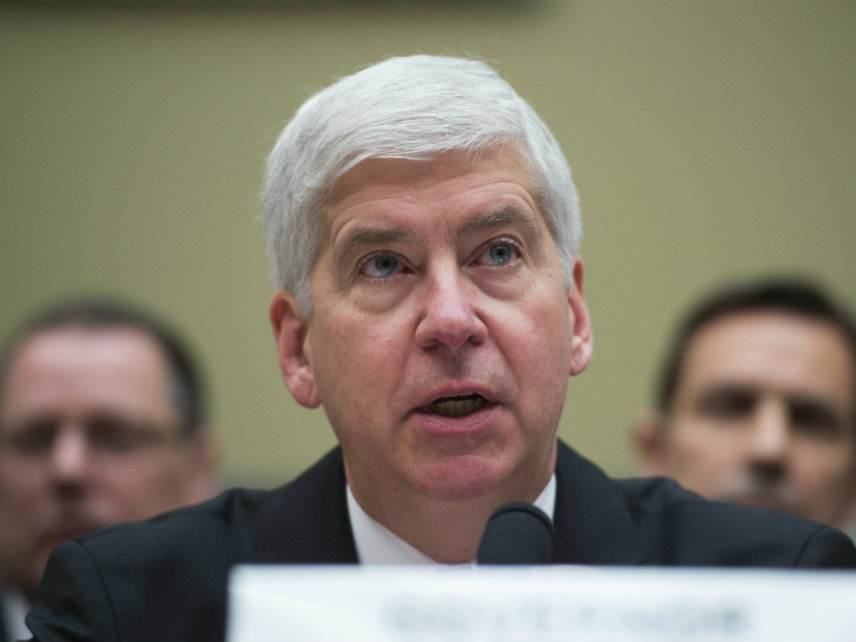 With a signature from Gov. Rick Snyder, Michigan will be home to some of the most robust pension reforms in the country.
The Michigan Public School Employee Retirement System has on hand about 60 cents for every dollar promised to current workers and retirees and faces more than $29 billion in unfunded liabilities thanks years of inadequate and flawed pension funding.
As in all defined benefit pension plans, Michigan taxpayers are on the hook for the shortfall.
The reforms on Snyder's desk won't save taxpayers from that burden, but they will shift future risk away and are designed to prevent the current crisis from getting worse or being repeated, advocates say.
Pension analysts from the Reason Foundation (which publishes this blog and advocated for passage of SB 401) say no other state in the country has embraced reforms that go as far as Michigan's.
Under Senate Bill 401, new hires will be enrolled in a 401(k)-style pension plan, giving those workers the chance to control their own retirement planning while removing the threat of future unfunded liabilities. That's similar to reforms signed into law earlier this month in Pennsylvania and in Florida earlier this year.
What makes the Michigan proposal unique is it allows future hires to choose a so-called "hybrid" pension system retaining some elements of the old system with a provision requiring pension system to be shuttered if the gap between the fund's liabilities and assets falls below 85 percent for two consecutive years.
The mixed approach, allowing teachers to choose between a traditional pension and a 401(k)-style retirement plan, could be a model for other states to follow as they grapple with similar pension troubles, according to the Reason Foundation.
That novel requirement should prevent the state from running up massive pension deficits in future years. Only 13 states enjoyed funding ratios above 85 percent in 2015, the most recent year for which complete data is available, according to the Pew Charitable Trusts. The average state-run pension fund is funded at only 72 percent, according to Pew, which tracks pension debt and advocates for reforms.
"It's a better system for new teachers. It's a better system for the taxpayer, and it offers predictability," state Sen. Phil Pavlov (R-St. Clair Shores), the bill's lead sponsor, told The Detroit News. "Hopefully going forward, we'll be able to drive more dollars into the classroom because of the reforms we're working on."
The bill cleared the state House by a narrow margin, 55-52, last week after passing the state Senate earlier in the month. Democrats were unanimously opposed to the bill in both chambers, with 13 Republicans joining them (six in the Senate; seven in the House) in opposition.
Opponents of the bill said it was an attack on secure retirements for Michigan teachers, but the current status of the state's pension fund is anything but secure. Thanks to years of underfunding and a reliance on unrealistic assumptions about future investment returns, Michigan's teachers' retirement system lacks the funds necessary to fulfill those retirement promises and is threatening to bankrupt school districts too. In 2002, school districts in the state spent about 12 percent of their budgets on retirement costs. Today, the average is more than 30 percent.
Paying down those obligations will take time—all current teachers and public school employees will remain enrolled in the current pension system and retirees will continue to collect benefits from it—but Snyder's signature would make a big difference in the state's long-term fiscal outlook.
"This reform limits the ability to promise benefits now and pay for them later," said James Hohman, assistant director of fiscal policy at the Mackinac Center, a free market think tank that supported the reforms. "Underfunded pensions have stretched governments thin and provide no value to residents."