'Get Out or We Will Kill You': Jewish Students Allege Censorship and Harassment in Campus Lawsuit
But the same lawsuit at San Francisco State University seeks to censor opponents as well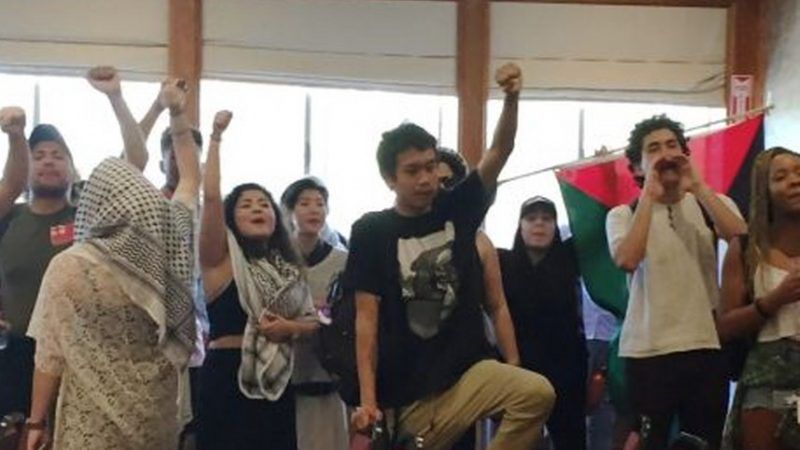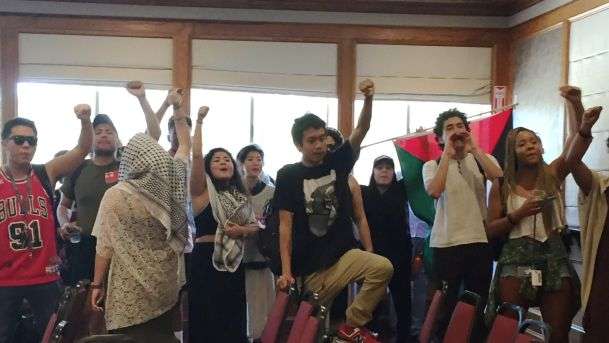 In a federal lawsuit filed last week, a group of Jewish plaintiffs allege that San Francisco State University has systematically turned a blind eye to—and in some instances actively facilitated—censorship and harassment of Jewish students and speakers on the public university's campus. The lawsuit points, in particular, to the 2016 disruption of a speech by Jerusalem Mayor Nir Barkat, numerous incidents of anti-Jewish and anti-Israel speech on campus, as well as an incident in which the Jewish student organization Hillel was allegedly banned from a student fair.
Opinions about the lawsuit fall along predictable dividing lines. The editorial board of J., the Jewish News of Northern California, praised the suit and argued that the protesters at the Nir Barkat event had "trampled the free speech rights of Jewish students." On the other hand, Dima Khalidi of Palestine Legal called the Barkat protest "political speech that is protected by the First Amendment" and said that "the complaint is going to fail."
Both sides have a point. The lawsuit raises real concerns about the treatment of Jewish students at SFSU. But the plaintiffs seem to want it both ways: Even as the suit contends that SFSU is violating the free speech rights of Jewish students, it also demands that the university censor protected speech by Palestinian students and their allies, citing anti-Jewish harassment.
As Justice Thurgood Marshall wrote, "the freedom to speak and freedom to hear are inseparable; they are two sides of the same coin." If, as the lawsuit alleges, SFSU officials told campus police to "stand down" while anti-Israel protesters disrupted Nir Barkat's speech, the university may indeed have violated students' First Amendment rights to invite and hear a speaker of their choosing.
Video footage of Barkat's attempt to speak at SFSU last year shows protesters engaging in loud, sustained chanting while students attending the speech huddle around a seated Barkat in an attempt to hear him. While protest is indeed protected by the First Amendment (as is a normal level of "booing" and brief interruptions from the audience), the right to protest does not extend to the right to be so vocally disruptive, for such a prolonged period of time, that the speaker cannot be heard.
And if, as the suit alleges, the university allowed the Hillel student group to be excluded from tabling at a university-sponsored fair because of the organization's viewpoint, that too could constitute a First Amendment violation at a public university like SFSU.
Moving from the First Amendment to the harassment claims, some of the speech cited by the plaintiffs may have crossed the line from protected speech into unprotected threats, such as counter-protesters allegedly yelling "get out or we will kill you" at Jewish students participating in a Hillel-sponsored peace rally.
Other parts of the lawsuit, however, point to examples of clearly protected speech and expression as grounds for the claim that a "hostile environment" exists for Jewish students on campus. In alleging that the university has been deliberately indifferent to a racially hostile environment, the plaintiffs point to examples of constitutionally protected political expression such as posters featuring a picture of a dead baby with the caption "Made in Israel—Palestinian Children Meat, Slaughtered According to Jewish Rites Under American License," as well as students holding placards proclaiming "my heroes have always killed colonizers" and "resistance is not terrorism" alongside portraits of Leila Khaled, the first female airplane hijacker. It is not difficult to see why such speech would offend many students, but asking a government institution like SFSU to police this kind of political rhetoric in the name of preventing a "hostile environment" is a prescription for both First Amendment violations and political side-choosing.
In short: it's complicated. If the truth of the allegations is proven in court, the plaintiffs have some very real grievances about some of the university's conduct and, certainly, about what J. refers to as the "selective outrage" when it comes to the university's response to Jewish students on campus versus other students who claim to feel silenced or threatened. But in other ways, the suit goes too far, citing constitutionally protected political speech and expression as examples of harassment.
This fight should never have had to go to court in the first place. A university campus should be a place where people who disagree about important issues can discuss their differences openly, not a place where opposing views are shouted down, threats are tossed across protest lines, and both sides work to suppress the speech of their opponents.