Disturbing Video Released of Fatal Police Shooting of Philando Castile
Seven seconds after Castile told a police officer he had a legal gun, he was shot seven times.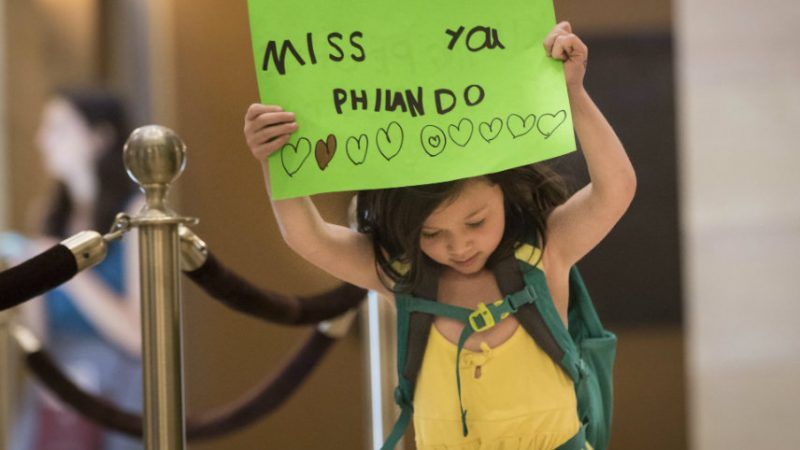 (Renee Jones Schneider/ZUMA Press/Newscom)
Seven seconds after Philando Castile informed a Minnesota police officer he had a firearm, the officer shot him seven times.
The Minnesota Departement of Public Safety released dash cam video on Tuesday from the fatal 2016 police shooting of Castile, which sparked protests and national coverage. The video shows the brief interaction between Castile and police officer Jeronimo Yanez after Castile was pulled over.
Castile, a licensed firearm owner, informs Yanez he has a gun. "Okay," Yanez says. "Don't reach for it then. Don't pull it out."
"I'm not pulling it out," Castile responds. His girlfriend, Diamond Reynolds, also says, "He's not pulling it out."
"Don't pull it out!" Yanez yells again, drawing his gun, reaching through the driver-side window and opening fire.

Watch the video:
As the video shows, it takes a full six minutes after Castile is shot before he is removed from the car and receives medical attention. By then, it is far too late.
Until Tuesday, the only public video of the incident was a Facebook livestream taken by Reynolds shortly after the shooting, as Castile, a cafeteria worker at a St. Paul elementary school, bled out in the car.
Yanez was acquitted of manslaughter charges from Castile's death last week. He has been fired from the St. Anthony Police Department. As Reason's Robby Soave wrote last year, Castile's death for the lawful exercise of his Second Amendment rights should be shocking and outrageous to all Americans:
In Minnesota, citizens are allowed to carry firearms if they have a permit to do so. Castile was merely exercising his Second Amendment rights. His decision to inform the officer about his weapon was courteous, but not legally required. Permit holders in Minnesota do not need to tell cops that they are carrying firearms unless specifically asked.

It seems fairly clearly, then, that Castile is in some sense a Second Amendment martyr: He was killed by a police officer because he was exercising his rights. We know, of course, that these kinds of things are more likely to happen to black Americans, regardless of whether they were doing anything wrong.
Also watch ReasonTV on the impact of live video on the Castile case and the debate over police reform: