Did Otto Warmbier Really Die Because North Korea Denied Him White Privilege?
A look back at what some analysts saw as the teachable moment from an indefensible arrest of an American student abroad.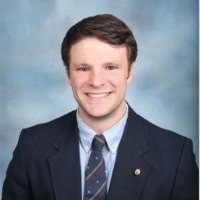 Otto Warmbier, a 22-year-old American student imprisoned by North Korea for over a year for attempting to steal a propaganda poster, has died after coming home to Ohio last week. He showed signs of severe brain damage though North Korean officials claimed he had contracted botulism during his imprisonment. His original sentence was 15 years of hard labor but he was released early due to his health. From the Cincinnati Enquirer:
He went on to the University of Virginia, and it was during college, in late 2015, that he traveled to North Korea with a Chinese-based tour group.

He was detained at the airport on Jan. 2, 2016, as the group was preparing to leave the country. He was charged with engaging in anti-state activity for allegedly trying to steal a poster from a hotel, and he was sentenced in March 2016 to 15 years of hard labor.

His family got only one letter from him after his televised trial. After that, they heard nothing until shortly before June 13, when he was finally flown home.
No official cause of death has been released yet.
A bit over a year ago, as Warmbier's sentence hit the news, some media outlets used it as a teachable moment, though the exact point was never all that clear. On Comedy Central's The Nightly Show, host Larry Wilmore opined that the lesson was "Frat Bro Privilege not valid in totalitarian dystopias."
"North Korea isn't a playground for college pranks, Kim Jong-un isn't a fictional character from a Seth Rogen movie, and Pyongyang isn't some game you play with Coors Light and Solo cups… It's just tough for me to have much sympathy for this guy and his crocodile tears."
Ebony magazine took things farther, insisting that the takeaway was not about frat-bro privilege but "white privilege." In a story reprinted from the site Kinfolk Kollective, the author LaSha argued:
I'm willing to bet my last dollar that he was aware of the political climate in that country, but privilege is a hell of a drug. The high of privilege told him that North Korea's history of making examples out of American citizens who dare challenge their rigid legal system in any way was no match for his alabaster American privilege. When you can watch a white man who entered a theatre and killed a dozen people come out unscathed, you start to believe you're invincible. When you see a white man taken to Burger King in a bulletproof vest after he killed nine people in a church, you learn that the world will always protect you….

What a mind-blowing moment it must be to realize after 21 years of being pedestaled by the world simply because your DNA coding produced the favorable phenotype that such favor is not absolute. What a bummer to realize that even the State Department with all its influence and power cannot assure your pardon. What a wake-up call it is to realize that your tears are met with indifference.

As I've said, living 15 years performing manual labor in North Korea is unimaginable, but so is going to a place I know I'm unwelcome and violating their laws.
I suppose there are many lessons Americans, foreigners, and even (or especially) North Koreans might draw from the grimly concluded saga of Otto Warmbier. But given his suffering at the hands of arguably the most-despotic regime left on the planet and what doctors called "extensive loss of brain tissue" resulting in his being in a "state of unresponsive wakefulness," talking about white privilege or fraternity hijinks gone seems wrong pretty far down the list. As with the shooting of Reps. Gabby Giffords and Steve Scalise, tragic and unpredictable events often seem to bring out the worst in people, especially when the go-to interpretive frame is highly political or ideological and devoid of empathy.
In 2015, Reason's Todd Krainin interviewed North Korean defector Yeonmi Park about her escape from that prison-state.