Unnamed Sources: Trump Now Being Investigated for Obstruction
Let's not overreact in any particular direction.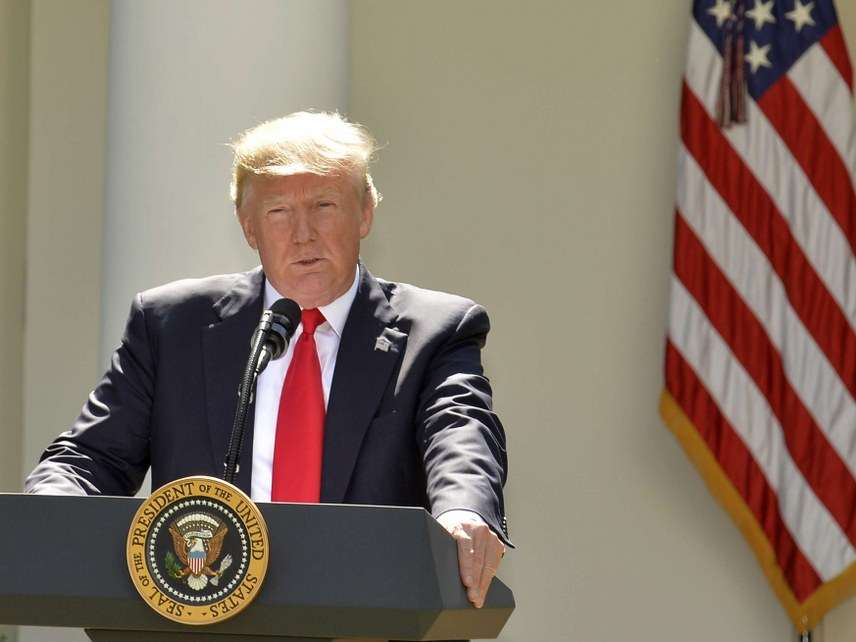 President Donald Trump insisted he wasn't being personally investigated over his campaign staff's possible ties to Russia, and he was right. Fired FBI Director James Comey said as such in his testimony last week.
Sources today tell the Washington Post that Trump now actually is being investigated over allegations of obstruction of justice over the circumstances of Comey's firing. From the Post:
The move by Special Counsel Robert S. Mueller III to investigate Trump's own conduct marks a major turning point in the nearly year-old FBI investigation, which until recently focused on Russian meddling during the presidential campaign and on whether there was any coordination between the Trump campaign and the Kremlin. Investigators have also been looking for any evidence of possible financial crimes among Trump associates, officials said.

Trump had received private assurances from former FBI Director James B. Comey starting in January that he was not personally under investigation. Officials say that changed shortly after Comey's firing.

Five people briefed on the requests, who spoke on condition of anonymity because they were not authorized to discuss the matter publicly, said Daniel Coats, the current director of national intelligence, Adm. Mike Rogers, head of the National Security Agency, and Rogers' recently departed deputy, Richard Ledgett, agreed to be interviewed by Mueller's investigators as early as this week. The investigation has been cloaked in secrecy and it's unclear how many others have been questioned by the FBI.
Some very quick thoughts:
It's all from unnamed sources. Nobody is going on the record confirming the investigation. This is all from leaks. But it's from five separate sources, according to the Washington Post. Nevertheless, leaks can sometimes be wrong or lying or floating trial balloons. (Remember Trump's anti-LGBT executive order that didn't happen?)
Investigation doesn't equal guilt. It should go without saying, but it's worth pointing out that the story does not say the FBI or Mueller thinks Trump's guilty. He's being investigated.
Even if they believe Trump obstructed justice, that doesn't prove any sort of collusion with Russia to influence the election results. Jacob Sullum noted on Monday that Trump's big mouth may get him in trouble with the law if he lies to federal agents about the contents of his discussions with Comey, and it's a completely separate matter from whether any sort of collusion with Russia ever even happened. The same holds true for the obstruction investigation. It's not the crime—it's the cover up. Except we still have no evidence of the initial crime.
Read more here.