Comey Tells Senate He Believes Trump Wanted to Stop Flynn/Russia Investigation
But is it obstruction? That's a tougher question.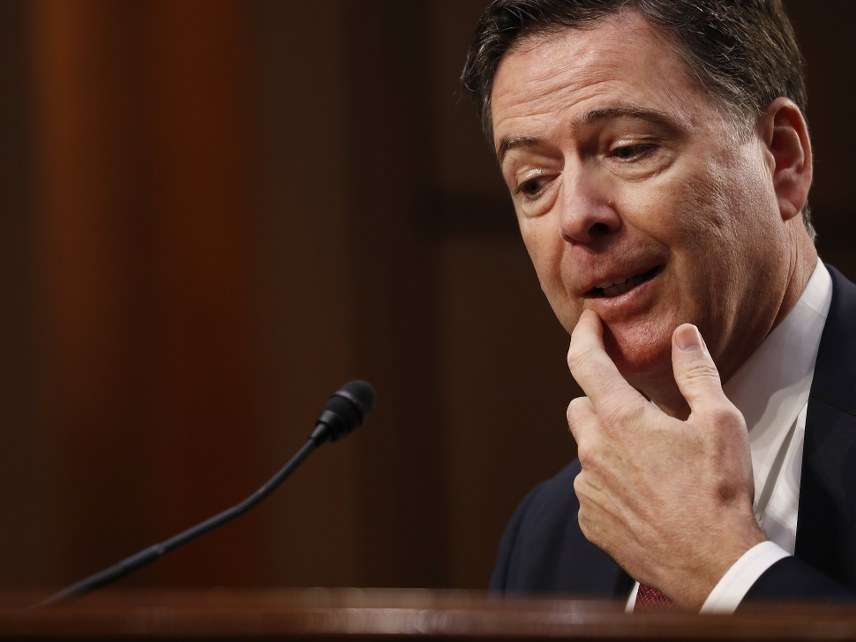 Fired FBI Director James Comey would not tell the Senate Intelligence Committee today that President Donald Trump obstructed justice when he said he "hoped" the investigation of former National Security Adviser Michael Flynn would end. But Comey clearly believed the president was trying to influence his decisions.
The three-hour open session did not provide the smoking gun Trump foes were looking for, but neither should it be easy for Trump supporters to wave away Comey's descriptions of Trump's behavior.
Much of today's hearing delved into the nooks and crannies of Comey's written testimony, which was made public yesterday. We learned more about Comey's motivations for coming forward: He said he was confused by the shifting explanations for why Trump fired him, and he said "the administration chose to defame [him] and more importantly the FBI" by claiming that the agency was in disarray and that Comey was a bad leader. In fact, Comey testified, Trump never suggested to him that his performance was anything but great. Comey said he believes he was fired for the way he handled the investigation into Russian influence.
We also learned that Comey himself, through an intermediary, was responsible for leaking the unclassified contents of his conversations with Trump to the media. In this way, he hoped to make it more likely that a special counsel would be appointed. (It worked!) Comey didn't go directly to the press, he said, to avoid a feeding frenzy.
But he also didn't go to Attorney General Jeff Sessions to explain what happened, believing that Sessions was going to end up recusing himself from the investigation, which did indeed happen. Comey also didn't directly tell Trump himself that his request was inappropriate, and he couldn't adequately explain why when asked by Sen. Marco Rubio. He said more than once he was "stunned" by Trump's request.
Comey affirmed that Trump is not under investigation and that there's no evidence at this time of any collusion between Trump's campaign and Russia to influence the election results. Comey took a moment to slap down as inaccurate a February New York Times story claiming Trump campaign staff were in conversations with Russian intelligence officials in the run-up to the election. To the extent that Trump was trying to influence him, Comey was left with the impression it was only to stop the Flynn investigation, not the overall investigation into Russian meddling.
Comey expressed absolute certainty that Russian officials attempted to meddle with the 2016 presidential election, and that the hack of the Democratic National Committee was a part of this effort. He was also sure that Russian hackers failed to change any votes after they were cast.
Comey has previously made two very famous, very controversial public statements about the investigation of Hillary Clinton's private email server that ended up coming back in this hearing. The first statement was that what Clinton did was reckless and irresponsible but not criminal. The second was that the case needed further review after it had already been closed when new evidence came to light right before the election. Comey has said he felt like he had to be public about what was happening with the investigation in part because of then–Attorney General Loretta Lynch's brief encounter with former President Bill Clinton: It was important, he explained, that this not be seen as influencing the FBI.
One seemingly minor—but new—detail from that investigation is worth noting. Comey testified today that he was told to describe the email mess with Clinton as a "matter" rather than an "investigation," even though it was in fact an investigation. In other words, he was asked to alter his messaging to match the language that Clinton's campaign was using. It's easy to see this detail being used to attack the idea that there was something particularly sinister or malign about Trump's own comments to Comey. Sen. James Risch (R-Idaho) asked Comey if such language—someone saying he "hoped" a case would be "let go"—had ever previously been used as evidence of obstruction of justice. Comey wasn't sure whether it had.
But then again, none of these other people using such language was Comey's boss, and then fired Comey, and blamed the firing on Comey's handling of the Clinton case, and then said a few days later that it actually had to do with Russia.
Comey declined to answer many questions about possible interactions between Trump's team and Russian officials, reserving those discussions for a classified hearing with the same Senate committee taking place this afternoon.
Ultimately, Comey offered a lot of reasons today to doubt the president's competence and his sense of responsibility. But whether Trump crossed the line into obstruction of justice is still up for debate.