George Clooney Leaves Free Market Solutions Out of Proposals to Fight World Poverty
Private enterprise helps global economic development in ways besides simple charity.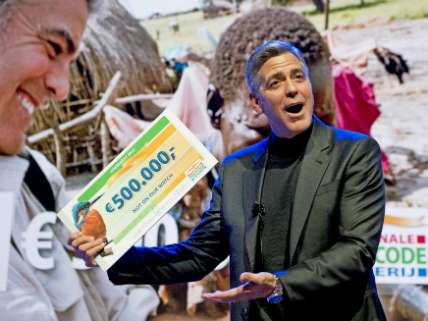 Actor and activist George Clooney took to the Wall Street Journal editorial page last week to propose unconventional solutions to global humanitarian crises. Clooney's "plan" has three basic components: Recognize those trying to implement change from the ground up, work to address corruption, and involve charitable behaviors from businesses.
The commentary, "Let the Private Sector Help Tackle the Migration Crisis," initially sounds compelling, but despite what is suggested by the headline, Clooney fails to discuss how the free market can solve problems.
His mention of the private sector as a humanitarian solution highlights the role of philanthropy, not free enterprise. Wealthy individuals (such as Clooney himself) donating time and money to the developing world is admirable, but does not have the same effect as entrepreneurship.
Consider the example of Azuri Technologies, which provides solar energy to households in Sub-Saharan Africa on a pay-as-you go basis. The company has sold 100,000 solar units since their launch in 2011. Solar can help the 600 million Africans who live without access to electricity, many of whom still rely on kerosene lamps.
Also take a look at the high-profile company Bridge International, which builds "schools-in-a-box"—standardized schools and curriculum with tuition less than $1 a day. While Bridge is often tainted by controversy, mostly from fights with teachers' unions and governments, their standardized model and use of technology address many shortcomings of public education in Africa and Asia. In Kenya, the World Bank estimates that 47.3 percent of public school teachers have failed to show up for work on a given day. At a Bridge school, the teacher absentee rate is less than 1 percent.
In comparison with the remarkable benefits of free enterprise, Clooney's strategy is much less impressive:
"We need to harness the power of business to advance humanitarian solutions. With ample resources and less bureaucracy, the private sector can play a much more important role in addressing famine, providing health care and education, and delivering clean water.

Business leaders increasingly want to incorporate humanitarian efforts into the work of their companies. The international yogurt manufacturer Chobani, for example, not only helps resettle refugees but also employs and educates them so they can enjoy a better life. This needs to become the norm, not the exception, for 21st-century businesses."
Chobani is, first and foremost, a producer of yogurt. Founder Hamdi Ulukaya then donates to benefit refugees in Europe and the Middle East and employs refugees in the U.S. By providing jobs, Ulukaya, may help settle some refugees. Yet by only including this business-first, charity-second approach in his plan, Clooney fails to fully harness the power of free enterprise.
In highlighting charity as part of his solution, Clooney seems to forget that customers' willingness to pay for products that improve their lives is not a Western phenomenon. In the developing world there are no perfect solutions. Yet free enterprise provides measurably better alternatives.
Tales of philanthropy are more glamorous than profit-seeking businesses, but also more rare. So, Mr. Clooney, if you desire to incorporate the private sector into your humanitarian solution, embrace its problem-solving ability, not just the generosity of a few of its members.