Wisconsin Ordinance Would Waste Tax Dollars on Public Art
Madison won't be the first town to do this.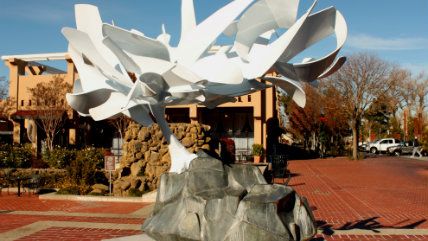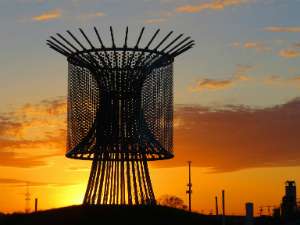 Madison, Wisconsin, might become the next town to subsidize godawful sculptures. The local government is considering an ordinance that would require the city to spend a percentage of a capital project's construction costs on public art.
Some 26 states and many more localities already fund items of dubious aesthetic value through these "percent-for-art" requirements, though the details vary from one jurisdiction to another. Madison's proposal is fairly typical, requiring one percent of the cost of any project with a $5 million or greater price tag to be spent on art. In Fort Worth, Texas, by contrast, the figure is 2 percent, leading recently to the city shelling out $1 million for a mystifying roundabout decoration.
Madison's ordinance would cost $364,000 were it implemented today. According to the proposal's backers, that $364,000 would buy a whole hell of a lot.
"Through the proper presentation of public art," the legislation reads, "places become destinations and enhance the visitor's understanding of the unique space and community they occupy." Funding public art would "promote cultural heritage and understanding, enhance the environment, contribute to economic development and increase civic involvement."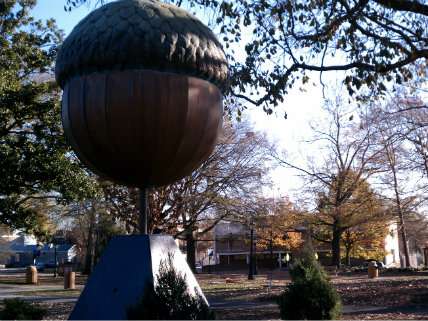 This lofty language is hardly unique. In Raleigh, North Carolina, the percent-for-art scheme purportedly "provides public places with civic distinction, as well as fostering meaningful connections between people and place." More specifically, Raleigh threw $20,000 at a giant metal acorn, which the city drops Time Square–style to ring in the new year. In Oregon, the state's program allegedly enhances the "quality of life for all Oregonians through the arts by stimulating creativity, leadership and economic vitality." For example, it spent $600,000 on art for a jail that never opened.
Given expenditures like that, some state and city governments are starting to back away from percent-for-art programs. Gov. Scott Walker eliminated Wisconsin's 30-year-old percent-for-art program in 2011 as part of a 66 percent reduction in public art spending. In 2015 Massachusetts Gov. Charlie Baker vetoed multiple bills that would have established such a system in his state. On the local level, Ann Arbor, Michigan, eliminated its percent-for-art program. In the seven years it had been in place, the program had diverted $2.2 million from road, sewage, and parks projects.
Yet Madison seems likely to move ahead with its ordinance, which has the support of the mayor. Madison Public Arts Administrator Karin Wolf insists the spending will be "strategic," telling the Wisconsin State Journal: "We can't afford not to keep investing in a well-designed, attractive city."