Cleveland Will Be Paying for Renovations to King James' Castle Until 2034
Long after Lebron James and the 2016 NBA championship are a distant memory.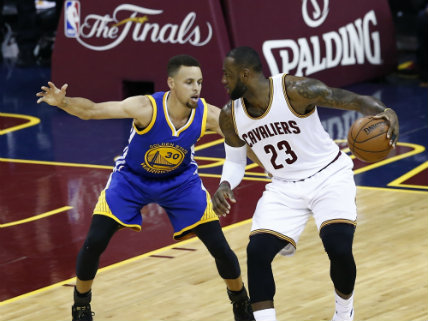 Led by one of the game's all-time greatest players and just four wins away from back-to-back league championships, there's no doubt that the Cleveland Cavaliers are basketball royalty.
Taxpayers in northern Ohio—thrilled though they might be about the team's on-court exploits—might find themselves feeling more like peasants, the kind who get yoked into service for a $140 million renovation of "King" (Lebron) James' castle. After the Cavs broke a 52-year championship drought by rallying to defeat the Golden State Warriors in last year's National Basketball Association championship series (a rematch of which begins this week), team owner Dan Gilbert wasted little time in turning that goodwill into political capital, locking taxpayers into a stadium deal that they will be paying off long after James' career and the 2016 championship team are a hazy memory.
Last month, Cleveland Mayor Frank Jackson signed off on the city's deal to renovate Quicken Loans Arena, where the Cavaliers play. Though the project carries a $140 million price tag that supposedly is split evenly between the team and the taxpayers, the final cost will end up being almost twice that total.
As Cleveland.com explains, Cuyahoga County will borrow the $140 million upfront by issuing bonds, but paying off those loans will take until 2034 and will end up costing an estimated $244 million. The city is piggybacking an extra $38.5 million into the bonds to pay for future sports stadium projects, bringing the final total to more than $282 million, paid over 17 years.
While the Cavs will pay $122 million of the total, Cleveland will pay $132 million through a combination of higher taxes on tickets to events at the arena and hotel tax revenue. Another $16 million will come from the county, and the final $12 million comes from higher taxes on tickets to "future Cavs playoff games" and an increased sales tax on merchandise, food, and alcohol sold at the arena.
As stadium financing deals go, this is far from the worst one out there. Most of the new taxes will apply only to people who go to games and other events at Quicken Loans Arena, which is better than asking the general public to foot the bill. Sure, your ticket will cost most and your beer and popcorn will be marked up to an even more unbelievable level, but you will have opted in to paying those higher fees by going to the arena.
Still, it's hard to understand why the city feels the need to lavish corporate welfare on a team that's currently in the midst of an unparalleled run of success both on the court and in the board room. After winning the first championship in team history last year, the Cavs' are estimated to be worth $1.3 billion, according to Forbes' Magazine. That makes them the 11th most valuable team in the NBA, which is no small feat, considering the top 10 teams hail from much larger markets, like Los Angeles, New York, Chicago, and Houston.
Surely the Cavs—and Gilbert, the owner, who bought the team in 2005 for $375 million, about a quarter of what it's worth today—could have afforded to pay a larger share of the renovations, had city and county officials pushed for that.
Celebrate now, Cleveland. Back-to-back-to-back trips to the NBA Finals don't happen too often. Bask in the glory of James' transcendent abilities as the game's top superstar while you've got him. The bill will be coming due for years to come.