Trump Pope Pics Worth 1,000 Words, Fox Retracts Seth Rich Story, Congress Looks Into Sex Trafficking by U.S. Contractors: A.M. Links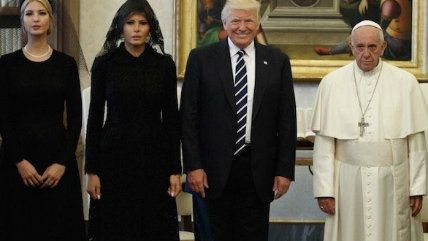 (Alessia Giuliani/CPP / Polaris/Newscom)
Alessia Giuliani/CPP / Polaris/Newscom

President Trump's Wednesday morning meeting with the Pope seems to have happened without major incident, though the photos are a treat.

Fox News is backing down on allegations that former DNC staffer Seth Rich was murdered for leaking documents to Wikileaks, retracting a May 16 story that suggested as much. "The article was not initially subjected to the high degree of editorial scrutiny we require for all our reporting. Upon appropriate review, the article was found not to meet those standards and has since been removed," a Tuesday statement from Fox News said. "We will continue to investigate this story and will provide updates as warranted."
Melania Trump may have rebuffed her husband's attempt at hand-holding, and the media is on it!
There's budding momentum to ban light, filtered cigarettes—because if people are going to smoke, they should have to do it in the least safe or pleasant way possible (xoxo, Government).
A congressional panel is demanding documents and testimony from a U.S. defense contractor accused of facilitating sex trafficking in Iraq.
Follow us on Facebook and Twitter, and don't forget to sign up for Reason's daily updates for more content.