Trump Budget: The Return of Rosy Scenario?
Congressional Budget Office projections vs. Office of Management and Budget projections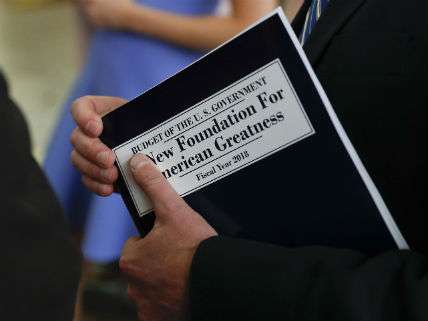 When Mick Mulvaney introduced the Trump administration's new budget, he rejected the Congressional Budget Office (CBO) projection that economic growth is likely to hover around 1.9 percent. "That assumes a pessimism about America, about the economy, about its culture, that we're simply refusing to accept," declared Mulvaney, who directs the Office of Management and Budget (OMB). "We believe that we can get to [3%] growth and we don't believe that's fanciful."
As it happens, the CBO periodically publishes an analysis comparing its projections, those of the OMB, and those made by the 50 economists surveyed for Blue Chip consensus. The latest analysis of the CBO's forecasting record was issued in February, 2015.
In general, all three measures tend to track one another. Between 1982 and 2012—the year for which we have the latest figures—the CBO's two-year forecasts of annual GDP growth rates were about 0.2 percent lower than what actually occurred; OMB's were 0.1 percent higher; and the Blue Chip consensus 0.1 percent lower. Looking at 5-year forecasts of real GDP growth, the CBO has been 0.1 percent higher than actual growth, OMB has been 0.4 percent higher, and the Blue Chip consensus was right on the money.
When large errors do show up in the CBO forecasts, they tend to reflect the difficulty of predicting recessions and booms, changes in productivity trends, and changes in oil prices.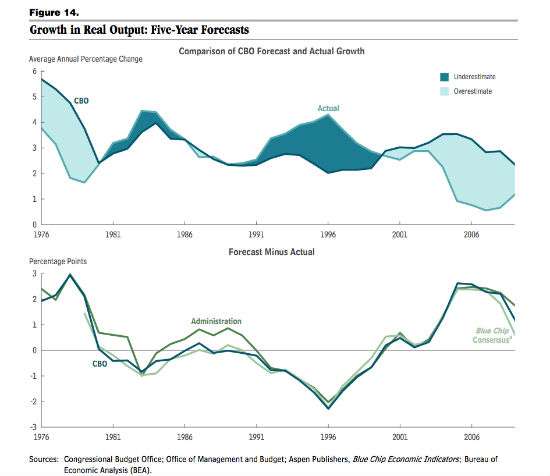 The CBO's 5-year forecast record suggests that Mulvaney has succumbed to the "rosy scenario."