Don't Be Terrorized: U.K. Edition
Keep calm and carry on.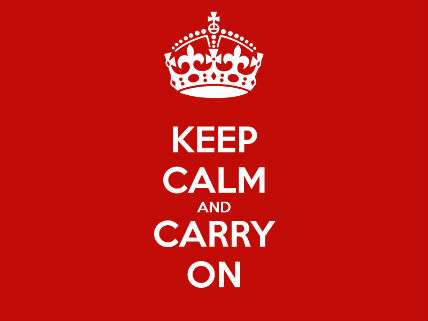 First, condolences to those who lost friends and family last night as a result of the terrorist bombing in Manchester, U.K. According to the latest reports, at least 22 people are dead and 59 were injured in attack. The brutal thugs who run ISIS are claiming credit for the murders.
The British government defines terrorism as "the use of violence for political ends," including "any use of violence for the purpose of putting the public, or any section of the public, in fear." While it's hard not to be fearful in the aftermath of an attack, especially in our era of wall-to-wall media coverage, knowing just how severe a threat terrorism poses to people's safety might help keep that fear at bay.
According to The Telegraph's comprehensive analysis, 90 people died in Britain between 2000 and 2015 as a result of terrorism. The Telegraph notes that more than 1,000 people were killed by terrorists in the U.K. during the prior 15-year period—basically a reduction of 90 percent. That decline can be attributed to the abatement of IRA terrorism after the Good Friday Agreement in 1998 and the inclusion of 271 deaths from the Libyan bombing of Pan Am Flight 103 over Lockerbie in 1988.

Given that the U.K.'s population is 65 million, that means that the chance of being killed by a terrorist between 2000 and 2015 was less than 1 in 700,000. For perspective, in those same 15 years 42,000 Britons died in automobile accidents. Indeed, more Britons die annually from drowning in their bathtubs. Even if ISIS' current campaign marks a riskier period for Britain, it will have a long way to go before terror deaths exceed the rates experienced by the U.K. during the last 30 years of the 20th century.

Of course, most of us do not fear car crashes and bathtub drownings as such; they are everyday background risks that barely register in the media. The malevolent intentions that motivate murders, and especially those caused by terrorist bombings and vehicle rampages, heighten our sense of vulnerability even if a risk is objectively small.
But with risks this low, those of us who live in western democracies should continue to forthrightly live our lives as though terrorism doesn't exist. We ultimately vanquish terrorism when we refuse to be terrorized.
Again, condolences for the lost lives and best wishes for the speedy convalesence of those injured by the attack in Manchester.
Bonus link: "September 11: Remembering the Lives and Liberties Lost 15 Years Ago."