Colgate University's 'Active Shooter' Situation Was Actually Just a Black Kid with a Glue Gun
Racism, or anti-gun paranoia?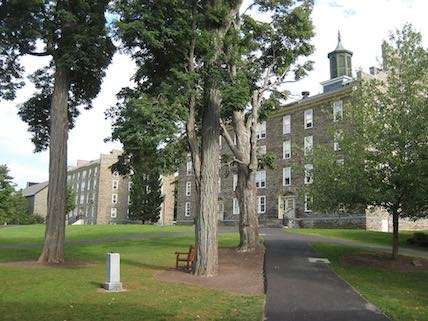 Colgate University officials are in trouble after wrongfully placing the campus under lockdown in response to a student wielding a very serious weapon: a glue gun.
It was a sticky situation.
The student, a person of color, was carrying a glue gun because he had to finish a project for an art class, but someone felt threatened by it and reported him to campus security. Soon after, administrators placed the campus on lockdown—for four hours—and sent a text alert to students warning them that an "active shooter" situation was in progress, according to Heat Street.
That was obviously a mistake. Now security directory Bill Ferguson is on leave while the school investigates whether the mistake was a result of racial bias. Some students think the connection is obvious:
"We spent all night on lockdown fearing for our lives because a young black man was doing an art project," another student wrote on Twitter. "This is racism—this is Colgate."

And Tolu Emokpae, another black student at Colgate, told the New York Daily News that the incident "shows me that I really cannot simply live."
Angel Trazo, a senior at Colgate who does not want to be "complicit regarding the events of last night and today," writes that the incident was "an example of the criminalization of black bodies."
"This is an example of the racist and prejudiced biases that exist at our institution," she wrote.
Is it? Colgate really screwed up here, and it's proper to investigate how this could have happened. Racism is certainly a possible explanation.
But let's not forget that schools are notoriously paranoid about guns. Elementary schools use absurd "zero tolerance" discipline rules to punish anyone caught with a weapon, or a lookalike weapon, or indeed anyone who brings a weapon onto school property, or anything that vaguely resembles a weapon, even accidentally. And colleges and universities are no better: administrators support "gun free zones," even though it seems unlikely that a deranged madman intent on shooting up campus would be thwarted by an unenforced and unmonitored no guns policy.
So it's possible there was more than one kind of irrational, discriminatory fear in play here.