Comey's Dismissal Shows Trump Is Really Bad at Cover-Ups
The president's ham-handed efforts to stifle interest in Russia's election meddling have only drawn more attention to it.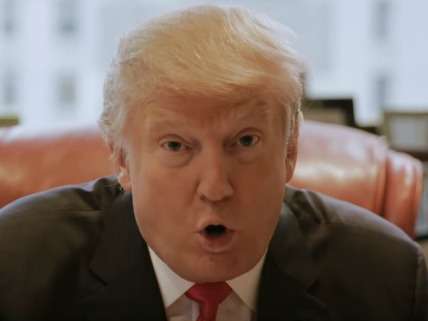 Donald Trump's official reason for dismissing FBI Director James Comey is transparently phony, and there is strong circumstantial evidence that the real reason had something to do with the FBI's investigation of Russian attempts to influence the presidential election. That likelihood should trouble anyone who values the rule of law, since it looks like Trump is trying to impede an investigation that could prove embarrassing, politically damaging, or even legally perilous for him. But talk of a "constitutional crisis" is more than a little premature. So far Trump has acted within his legal authority, albeit with questionable motives, and he cannot unilaterally block inquiries into Russia's election meddling. To the contrary, he has only succeeded at stimulating interest in the issue.
Based on the accounts of unnamed administration insiders interviewed by The New York Times and The Washington Post, the decision to give Comey the boot grew out of Trump's growing anger at what he saw as the FBI director's failures and provocations. Trump has long complained, contrary to the Justice Department memo making the case for Comey's replacement, that Comey went too easy on Clinton, who in Trump's view should have faced criminal charges based on her careless handling of classified information. As recently as last week, Trump tweeted that "FBI Director Comey was the best thing that ever happened to Hillary Clinton in that he gave her a free pass for many bad deeds!"
The president reportedly was furious when Comey testified last week that he feels "mildly nauseous" about the possibility that his handling of the Clinton investigation contributed to her loss in the presidential election, a comment that Trump thought took some of the shine off his victory. Trump also was irked by Comey's refutation of his claim that Barack Obama had tapped his phones and by what Trump perceived as the FBI's insufficient enthusiasm for investigating leaks.
But the grievance that seems to have loomed largest in Trump's mind in the days preceding Comey's dismissal was the FBI's investigation of Russian attempts to influence the presidential election, which (as Comey confirmed in congressional testimony on March 20) includes any role that people in the Trump campaign may have played in those efforts. "The Russia-Trump collusion story is a total hoax," Trump tweeted the day before firing Comey. "When will this taxpayer funded charade end?"
The Times reports, based on the accounts of "four congressional officials," that Comey recently asked Deputy Attorney General Rod Rosenstein, the same official who days later would write the memo justifying Comey's dismissal, to approve more personnel for the FBI investigation. In his May 9 letter informing Comey that his services were no longer needed, Trump bizarrely thanked him for "informing me, on three separate occasions, that I am not under investigation." If Trump's intent was to suggest that firing Comey had nothing to do with protecting himself from the FBI's investigation, the effect was just the opposite.
Trump's irritation at the FBI probe does not necessarily mean he or anyone in his campaign broke the law. But he avowedly sees the investigation as an unfair distraction from more important issues, including his own policy agenda. At least as important, the notion that Russian intelligence helped him win the election by hacking emails that made Clinton look bad or spreading disinformation about her, even without the collusion of anyone working for the Trump campaign, offends the president's outsized ego. These are reasons enough for Trump to wish that he could wave a magic wand and make the issue disappear. But he can't.
Firing Comey did not stop the FBI investigation. As Sen. Susan Collins (R-Maine), a member of the Senate Intelligence Committee, noted, Trump did not "fire the entire FBI." Collins, who is no fan of Trump, thinks "any suggestion that this is somehow going to stop the FBI's investigation of the attempts by the Russians to influence the elections last fall is really patently absurd." The Post, citing an "intelligence official who works on Russian espionage matters," says agents are "more determined than ever to pursue such cases."
Comey's dismissal left Andrew McCabe, whom Comey chose as his deputy, in charge of the FBI. Trump could try to replace Comey with a crony who will shut down the Russia investigation, but he will need the Senate's approval. If senators do their job, they will make sure that Comey's successor is fair-minded and independent.
In addition to the FBI, the Senate and House intelligence committees are investigating Russia's role in the election. As a matter of institutional pride, the perception that Trump wants to stop those inquiries should, if anything, encourage members of Congress to pick up their pace. Sen. Richard Burr (R-N.C.), chairman of the Senate Intelligence Committee, said he was "troubled by the timing and reasoning of Director Comey's termination." The day after Comey was canned, Burr's committee issued a subpoena to former National Security Adviser Michael Flynn, seeking documents relevant to Russia's interference in the election.
Sen. John McCain (R-Ariz.), an ex officio member of the intelligence committee by virtue of chairing the Senate Armed Services Committee, does not think Comey's dismissal will help Trump. "This scandal is going to go on," McCain said in a speech on Tuesday night. "I've seen it before. This is a centipede. I guarantee you there will be more shoes to drop. I can just guarantee it. There's just too much information that we don't have that will be coming out."
Maybe legislators' promises to get to the bottom of Russian meddling in the election will prove empty. Maybe they will rubber-stamp whomever Trump chooses to replace Comey and abdicate their oversight responsibilities, letting the FBI investigation quietly die without an explanation. Maybe voters won't care. But for the time being, Trump's ham-handed efforts to stifle interest in this sensitive subject has only drawn more attention to questions he wants everyone to stop asking.
According to the Nexis news database, the were 420 stories mentioning Trump, Russia, the FBI, and the election in the week before he fired Comey, when he was irate about such coverage. That's a daily average of 60. The average for Tuesday and Wednesday was more than 300.