West Virginia Cop Fired After Not Shooting a Suicidal Man Files Lawsuit
Stephen Mader didn't shoot a suicidal, gun-wielding man. For that, he says he was fired and called a coward.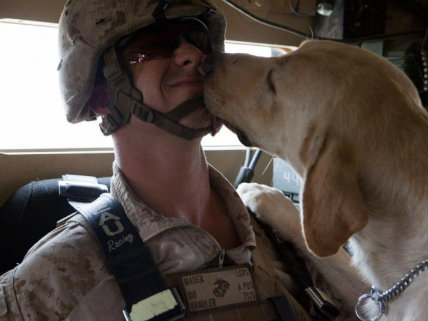 A West Virginia police officer who was fired after not shooting an emotionally disturbed man with an unloaded gun filed a civil rights lawsuit Wednesday against his former department.
Mader's lawsuit, filed Wednesday on his behalf by the American Civil Liberties Union of West Virginia and the law office of Timothy O'Brien, claims he was wrongly terminated, and that the county, city and police department violated his First and Fourteenth Amendment rights. He is seeking compensatory and punitive damages in excess of $75,000.
Mader, a former police officer in Weirton, W.V. and a U.S. Marine Corps veteran who served two tours of duty, was fired last year following a confrontation with Ronald Williams, a 21-year-old black man.
Williams' girlfriend had called 911 to report he was threatening to kill himself, and that he had an unloaded gun.
"When I arrived at the scene, Mr. Williams was pleading for me to shoot him. He didn't appear angry or aggressive," Mader said in a statement. "He seemed depressed. As a Marine vet that served in Afghanistan and as an active member of the National Guard, all my training told me he was not a threat to others or me. Because of that I attempted to deescalate the situation. I was just doing my job."
Shortly after, another officer arrived on the scene and fatally shot Williams after Williams raised his gun. The gun was unloaded. State investigators later determined the shooting was justified.
The Weirton Police Department's use-of-force policy prohibits officers from using deadly force except "in defense of himself/herself or others from an objectively reasonable belief of an immediate threat of death or serious bodily injury."
Roughly a month later, Mader was fired by the Weirton Police Department for "failure to meet probationary standards of an officer" and "apparent difficulties in critical incident reasoning," according to his lawsuit.
The Pittsburgh Post-Gazette reported last September:
Mr. Mader—speaking publicly about this case for the first time—said that when he tried to return to work on May 17, following normal protocol for taking time off after an officer-involved shooting, he was told to go see Weirton Police Chief Rob Alexander.

In a meeting with the chief and City Manager Travis Blosser, Mr. Mader said Chief Alexander told him: "We're putting you on administrative leave and we're going to do an investigation to see if you are going to be an officer here. You put two other officers in danger."

Mr. Mader said that "right then I said to him: 'Look, I didn't shoot him because he said, 'Just shoot me.' "

On June 7, a Weirton officer delivered him a notice of termination letter dated June 6, which said by not shooting Mr. Williams he "failed to eliminate a threat."
The Weirton Police Department held a press conference disputing the Post-Gazette's reporting, calling it one-sided. The department said Mader did not attempt to deescalate the situation, first yelling profanity at Williams and then freezing. City officials also said Mader was fired due to "multiple" prior incidents, including performing a search of a car without probable cause. Mader's lawsuit says those statements are false. Officials also called him a "disgruntled employee" and "a bad cop."
The officer who shot Williams texted Mader after the press conference, according to the lawsuit, and called him a "coward" who "didn't have the balls to save [his] own life."
"The City of Weirton's decision to fire officer Mader because he chose not to shoot and kill a fellow citizen—when he believed that he should not use such force, not only violates the Constitution, common sense and public policy—but incredibly punishes restraint—when given the tragic, and, far too frequent unnecessary use of deadly force," O'Brien, the lead attorney in Mader's case, said in a statement. "Such restraint should be praised not penalized. To tell a police officer—when in doubt—either shoot to kill, or get fired, is a choice that no police officer should ever have to make and is a message that is wrong and should never be sent."
Mader no longer works in law enforcement.