The AHCA Waivers Could Bring the Toxic Politics of Health Care to Every State Capitol
They might not reduce premiums and won't fix the problems plaguing the individual insurance exchanges, but they will spread the political pain.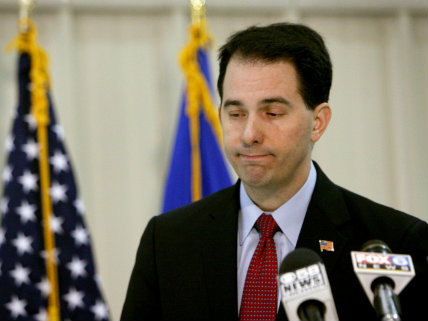 When Wisconsin Gov. Scott Walker showed up to a press conference on Friday afternoon sporting a jersey of the Wisconsin Timber Rattlers, a minor league baseball team, he probably didn't expect to face a curveball in the form of questions about the Republican health care bill from a local county official. But Walker's experience could soon become common if the American Health Care Act, which passed by a slim margin in the House last week, becomes law.
Walker was in Appleton, Wisconsin, to promote the construction of a new convention center near the Rattlers' home field and to promise that spending tax money on that sort of thing was going to promote tourism in northern Wisconsin. That's a claim that deserves plenty of scrutiny, to be sure, but the headlines about Walker's appearance ended up focusing on something he'd said the day before instead.
As the press conference wrapped up, Outagamie County Executive Tom Nelson, a Democrat, approached the podium where Walker was speaking, and, with the cameras still rolling, pressed the governor on his support for the AHCA. Specifically, Nelson pressed Walker over the comments the governor made to reporters in Madison on Thursday, saying he would "certainly consider" seeking one of the state-level waivers included in the AHCA to let states opt-out of some Obamacare regulations as long as those same states make plans to cover individuals with pre-existing conditions.
Video of the confrontation, posted online by WBAY in Green Bay, shows an awkward exchange that only gets more uncomfortable the longer it goes on. Walker appears to walk-back his support of the AHCA waivers, and concedes that he has not made any decisions on how to react to the yet-unfinished federal health care bill. Nelson refuses to relent and with the cameras still rolling, announces that he's "getting under [Walker's] skin. Walker responds by accusing the county executive, who ran unsuccessfully for Congress last year, of pulling a political stunt and says Nelson "wants to take away from tourism" by sabotaging the toothless press event with a policy question. The incident ends with both men accusing the other of playing politics with Wisconsin residents' lives.
Local eruptions are unlikely to change the course of policy in Washington, D.C., or in Madison. Still, it's a telling example of what might await state officials from coast-to-coast who are being given only a series of bad options.
As Obamacare premiums continue to increase and the number of insurers in the individual marketplace decline, the AHCA promises to free states from some federal regulations in the hope of reducing premiums and increasing health insurance options. In reality, though, it might accomplish little else besides turning one intense national health care debate into 50 of them, ratcheting up the politics of health care without bringing down the cost.
"The honest answer is that I'm not sure anyone knows how this is going to play out in state capitals," says Sabrina Corlette, a researcher at the Georgetown University Health Policy Institute. "It really puts state officials between a rock and a hard place."
While key elements of the AHCA could be changed or eliminated by the Senate, as the bill stands now, she says, state governments will be left to deal with the on-the-ground fallout for insurers and consumers. In an article that appeared this week at Kaiser Health News, Corlette suggested that fiscal pressures from the unraveling of Obamacare may force even Democratic officials in blue states to pursue waivers eventually. In our conversation, she couched that conclusion in the great deal of uncertainty surrounding the future of the exchanges and the political calculus that will detemine how states handle the AHCA's opt-out provisions.
Walker, the only governor in the country to express support for the AHCA waivers, is on the forefront of that political calculus. The waivers would let states opt-out of Obamacare's "essential health benefits" requirements, which required all insurance plans to cover certain medical treatment, and would allow insurers to price plans differently for healthy people and for those with pre-existing conditions. As a condition of getting a waiver, states would have to create a so-called "high-risk pool" to subside insurance for patients too expensive to insure through the exchange.
Doing so would be as much of a political decision as a policy one, much like how many Republican states opted out of Obamacare's Medicaid expansion while other states accepted it.
Unlike with Medicaid expansion, exercising that option this time around—or even suggesting that you might be open to the idea of asking for a waiver, as Walker did—will open state officials to criticisms, like those aimed at Walker on Friday, of trying to boot people off their current plans and leaving some people with pre-existing conditions without affordable coverage.
The Affordable Care Act continues to groan under the weight of having older-than-expected, sicker-than-expected people enrolling through the individual market without an adequate number of young, able-bodied individuals picking up the slack. That's been the driving force behind double-digit premium increases for insurance plans on the federal and state-level exchanges for the past few years and nothing seems to be changing.
So far, only three states have issued previews of expected rate increases for the 2018 insurance year. In Maryland, insurers have filed for premium increases between 18 percent and 59 percent, Bloomberg reported. In Connecticut, 10 health insurance companies have made 14 filings for individuals and small group plans with rate increases ranging from a low of 3.6 percent to a high of 33.8 percent, the state department of insurance reported this week. In Virginia, early estimates show premiums on the insurance marketplaces will climb by about 20 percent.
Things are bad, but they might only get worse under the AHCA, which kills some of the subsidies paid to insurance companies that are supposed to stabilize the individual insurance market.
And there's no reason, for now, to think that many states will actually seek those waivers. Democratic officials are so far unanimously opposed to applying for the waivers that would undermine Obamacare's basic insurance regulations, while the sole Republican state official (Walker) who said he would immediately backtracked when criticized.
Michael Cannon, director of health care policy at the Cato Institute, says the AHCA waivers won't reduce premiums and won't bring more insurance providers into the individual exchanges. All they will do is force Republicans to pay a political price for failing to fix the problems, he told Reason on Monday.
"Republican would pay such a political price for the instability they failed to eliminate (by failing to repeal Obamacare), that Democrats would take over Congress and give us single payer or a public option," Cannon wrote in an email.
If you're a Republican governor or state lawmaker in a red state, the AHCA seems to promise giving you slightly more flexibility over health insurance policy, provided you can find a way to pay for individuals with pre-existing conditions and want to take some political responsibility for the ongoing problems in the individual health insurance market—a market that might collapse with or without your help.
And, oh yeah, you'll have to face opportunistic political attacks like the one Walker confronted Friday in Appleton.