Dial * for Trump
The president's phone diplomacy disrupts the status quo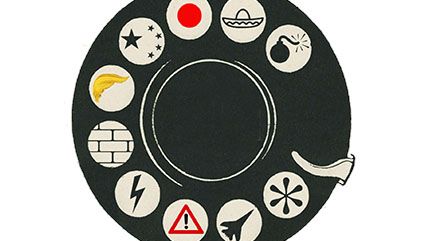 Even before taking office, President Donald Trump rattled foreign capitals. He took a call from the president of Taiwan in December, breaking decades of precedent. He accused Germany of ripping off the United States. He said the North Atlantic Treaty Organization is "obsolete."
As promised repeatedly during the campaign, Trump withdrew the U.S. from the Trans-Pacific Partnership. Japan Prime Minister Shinzo Abe called any efforts to continue the pact without the U.S. "meaningless." Abe was the first foreign leader Trump met with after his election, and then in February the president invited Abe to stay at his Mar-a-Lago property in Florida, a gesture the White House press secretary described as a "gift." Trump said the U.S. would seek new deals with Japan that were "free, fair, and reciprocal."
In January, Trump authorized the United States' first ground counterterrorism operation in Yemen since December 2014. The casualties included a Navy seal and the 8-year-old daughter of Anwar al-Awlaki, the American citizen and alleged Al-Qaeda leader killed in a 2011 drone strike. Shortly after, Yemen's government, which is embroiled in a civil war with Houthi rebels—and which enjoys the support of U.S. ally Saudi Arabia—reportedly withdrew permission for such raids.
Trump's erratic diplomacy hasn't been limited to Asia and the Arab world. His focus on limiting entry into the U.S. yielded a tense phone call with the Australian prime minister, Malcolm Turnbull. Trump was reportedly upset about a pre-existing U.S. agreement to accept about 1,500 asylum seekers and others that had arrived down under by boat. Australia had refused to allow the group to settle there, and the asylum seekers had declined resettlement in Papua New Guinea or Cambodia. Trump indicated the U.S. intended to honor its commitment but questioned the wisdom of the deal; he ended the phone call "abruptly," according to reports.
And then there was the call with Mexican President Enrique Peña Nieto that may or may not have involved a threat to deploy U.S. armed forces across the country's southern border to fight drug cartels. (The White House later insisted Trump was just kidding.) During his campaign, Trump vowed to stop Mexico from sending "bad hombres" to the U.S.
The new president's first call with the Chinese president, in which Trump reiterated U.S. acknowledgement of the One China policy that precludes official relations with the government in Taiwan, went much more smoothly.
This article originally appeared in print under the headline "Dial * for Trump".