Brickbats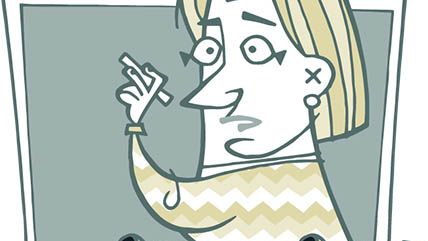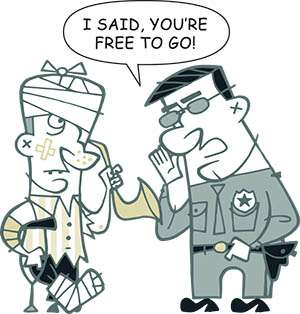 Oklahoma prosecutors have dropped charges of resisting arrest against Pearl Pearson Jr., who was beaten by state troopers for not obeying their commands during a traffic stop. Pearson said he tried to tell them he was deaf and could not understand them, but they would not listen.
The Chinese government has told local officials to stop issuing smog alerts. Officials say the move is designed to end discrepancies between the information issued by local meteorological offices and that released by the environmental protection ministry.
Bay County, Michigan, school resource officer Adam Brown has been charged with careless discharge of a firearm and tampering with evidence. While using equipment in a school robotics lab to test the trigger pull on his personal firearm, the sheriff's deputy fired a bullet through drywall into a classroom, striking a teacher. Brown did not initially admit he fired the gun, causing the school to go into lockdown. When staff gave Brown the bullet, he tossed it into a grassy area covered by leaves.
Iran has banned American wrestlers from entering the country to compete in the Freestyle World Cup. The move was in retaliation for President Donald Trump's recent executive order restricting travel from seven countries, including Iran.
Mary Jo Frazier, the former head of a Boulder City, Nevada, animal shelter, was charged with needlessly euthanizing her family dog to punish her ex-husband after their divorce. After pleading guilty to animal cruelty, she was sentenced to 90 days in jail.
The Chinese government has closed the social media sites of economist Mao Yushi as well as a think tank he is associated with. Mao, who received the 2012 Milton Friedman Prize, is a proponent of free markets and a critic of policies inspired by the late Communist leader Mao Zedong.
Two police officers in Bristol, England, are under investigation for Tasering Judah Adunbi just outside his home after mistaking him for a criminal. Adunbi is a member of a police advisory group that tries to build better relations between the community and police.
France has banned restaurants, and other places that sell drinks containing sugar or other sweeteners, from offering free refills of those drinks. This, officials believe, will fight obesity. Some restaurants have already removed or moved their drink fountains, while the burger chain Five Guys has placed microchips on drink cups that switch off their drink fountains if someone tries to refill a cup.
In Arizona, Boulder Creek High School principal Lauren Sheahan and assistant principal Jay Kopas have been placed on administrative leave while the district investigates a parody video the two made for staff members. In the video they play Donald Trump and adviser Kellyanne Conway, with Trump promising to build a wall to keep "those moron parents and weak and loser students out."
Federal prosecutors have asked a judge to order an Oregon man to take down blog posts containing information about federal informants in the Malheur National Wildlife Refuge when protesters occupied part of it last year.
Cops in Workington, England, blew up a "suspicious" car parked near a police station. They later found that other officers had parked the car there after helping its owner, who had become ill.
This article originally appeared in print under the headline "Brickbats".