Peoples Climate Movement March for Jobs, Justice and the Climate
Social justice activists hijack the problem of man-made climate change.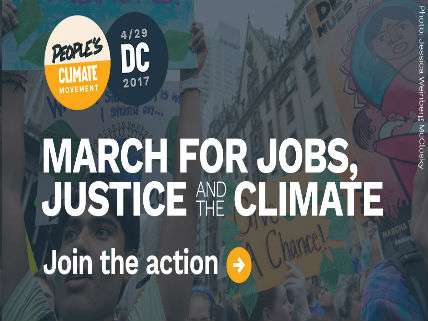 Tomorrow around 100,000 Americans are expected to join the Peoples Climate March, which plans to stream from the Capitol up Pennsylvania Avenue while demanding jobs, justice, and—oh, yes—action on climate change. The plan is to "literally" surround the White House, then stage a 100-second sit-in, symbolizing the first 100 days of Donald Trump's administration. (Perhaps President Trump will hear the protests tomorrow afternoon, but he plans to hold a rally in Pennsylvania that evening.) It's another example of social justice movements hijacking the problem of climate change and using it as a pretext for attacking our system of market-tested betterment and innovation.
Naomi Klein made this agenda explicit in her 2014 book This Changes Everything, which asserted that climate science has given progressives "the most powerful argument against unfettered capitalism" ever. Canonical Marxism predicted that capitalism would collapse under the weight of its class "contradictions," in which the bourgeoisie profit from the proletariat's labor until we reach a social breaking point. In Klein's update, capitalism will collapse because the pollution produced by heedless overconsumption will build to an ecological breaking point. "Only mass social movements can save us now," she declared.
Tomorrow's march is a reprise of a 2014 Peoples Climate March in New York City, in which some 400,000 people participated. As in 2014, progressive economic and social policies are at the top of the marchers' agenda. The demonstrators are demanding emissions cuts deep enough to keep the planet from warming more than 1.5 degrees Celsius over the pre-industrial global average temperature. (By at least one calculation, that would mean that global carbon dioxide emissions would have to peak by 2020 and fall to zero by 2050.) But they also want "an equitable and sustainable New Energy and Economic Future." Among other things, this entails a $15 per hour minimum wage, the right to form unions, and investments targeted to give low-income Americans and people of color access to good jobs. Paul Getsos, national coordinator for the Peoples Climate Movement, also demands that the White House "immediately stop attacks on communities of color and immigrant, Muslim, indigenous and LGBTQIA communities." How this helps solve climate change is not at all clear.
The pre-march line-up confirms the organizers' social justice aspirations. Heading off the parade are the "protectors of justice," which includes native youth and youth of color, the indigenous women's delegation, and Black Lives Matter activists, among others. Next up are the "creators of sanctuary," which includes immigrants, LGBTQI, women, Latinos, Waterkeepers, and food sovereignty and land rights marchers. Third in line stand the "builders of democracy," who are representatives from labor, government workers, voting rights, and democracy organizations. The fourth contingent is the "guardians of the future," who speak for kids, parents, elders, youth, students, and peace activists. Fifth come the "defenders of the truth," representing scientists, educators, technologists, and the health community; sixth are the "keepers of faith," consisting of religious groups. The "reshapers of power" are seventh: anti-corporate, anti-nuclear, anti­–fossil fuel, and pro–renewable energy activists, plus bicyclists and other transportation advocates.
The final place in the lineup is called "many struggles, one home." It's reserved for environmentalists, climate activists, the business community, and everyone else.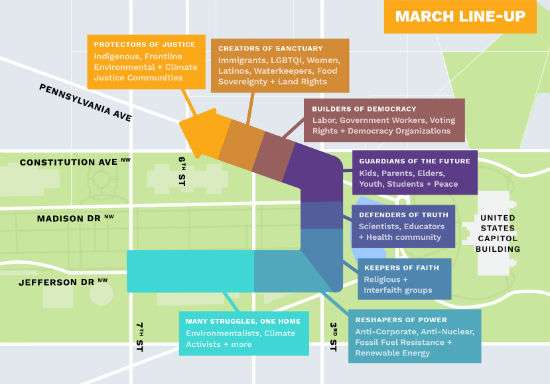 The Peoples Climate March will alienate tens of millions of Americans who accept that man-made climate change poses significant risks but do not agree that the only solution is to try to transform the global economy into a post-capitalist utopia. Rather helping solve the problem, the march will help ensure that the issue remains politically divisive and intractable.