ESPN Will Get Better, or Fail Trying
Recent lay-offs, mostly of on-air talent, are a response to increasing competitive pressures.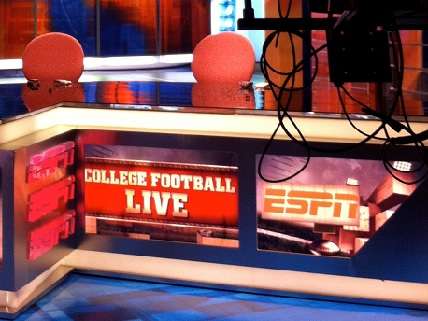 ESPN, which has lost millions of subscribers in recent years, announced it would be laying off 100 employees, mostly on-air talent, as The Hollywood Reporter reports—they are not the first big layoffs at the sports network, but represent ESPN's continuing efforts to respond to increased competitive pressure as fortress cable's hold on Americans' viewing habits continues to weaken.
ESPN makes the majority of its money—two thirds of its revenue in 2013—on carriage fees. If you have a cable or satellite package with ESPN on it, the network gets a cut of your monthly bill whether you watch or not. The rest comes from advertising.
In 2015, cable companies lost 1.1 million subscribers, four times the number they lost in 2014. Last year, 1.8 million people cut the cord. According to Disney, which owns ESPN, the network lost 3 million subscribers in 2015, and is down to 92 million from 99 million at the end of 2013. Competing cable networks don't always benefit—in February Fox Sports 1 lost even more subscribers than ESPN, and from a smaller base.
Nevertheless, ESPN has the kind of long-term contracts for broadcasting rights other cable sports networks aren't saddled with. It spends more on content a year, $7.3 billion, than Netflix, which spends $5 billion. It's spending $166 million a year through 2036 on the ACC alone. According to Motley Fool, ESPN last year had $33.27 billion in long-term broadcast rights contract obligations for MLB, the NBA, the NFL, and the college football playoffs.
ESPN has been successful for a long time, and according to Disney revenue and operating income for its cable networks still rose three percent in the first three quarters of 2016, as Motley Fool reported, a slowdown from previous years. ESPN enjoyed the benefits of being the first network to do what it did—dedicate its broadcasts entirely* to sports—and the benefits of the cable monopolies.
Almost since its inception, the cable industry has been regulated at the local, state, and federal level. As a 1984 Cato report explained, federal regulations brought the cable industry to a near halt between 1966 and 1975. After courts and bureaucrats started rolling back these regulations, local governments stepped in with new regulations and controls. Clint Bolick noted in the 1984 report the danger posed by local regulation and franchising prompted by the fallacious idea that cable was a natural monopoly. Such predictions of natural monopoly formation, Bolick explained, tended to be self-fulfilling prophecies because of the government intervention they yield.
By 2005, the Federal Communication Commission (FCC) was concerned in the other direction, spending several years trying to combat the rising cable prices enabled by local government franchise regulations and the expansive bundles that came with them—George W. Bush's FCC wanted to force cable companies to offer more a la carte choices, but in the end, as Peter Suderman noted in 2015, it was market forces, and the internet in particular, that yielded the "great cable unbundling."
ESPN's broadcasting rights binge may have been a response to those trends. Actual games are the currency of sports broadcasting. But ratings are down in many sports too. NFL ratings fell 9 percent last year (ESPN is paying $1.9 billion a year for the broadcasting rights to Monday Night Football through 2021). Major league has seen some ratings improvements after years of decline.
At the same time as going all-in on being the home of broadcast sports, ESPN has moved away from the idea of all-sports coverage. Its own public editor reported of regular complaints about the network's foray into politics (generally of a specific left-wing variety). "Like it or not, ESPN isn't sticking to sports," Jim Brady wrote earlier this month. He repeated his assertion that disentangling sports and politics was a "fool's errand" while acknowledging that looking back at the last 20 years of ESPN's flagship news show Sports Center it was "noticeable how little politics and culture intruded into the tsunami of highlights and witty banter that once marked that show."
Brady continued: "That was reflective of the overall newsier focus ESPN had in those days." Perhaps there's a connection between ESPN moving away from content that made it unique—high-energy sports news—in favor of political rehashed rehash available at all kinds of other outlets on the internet and other platforms and the problem of viewership loss. Nevertheless, such effects are on the margins compared to the broader structural problems.
In the end, ESPN is subject to competitive pressures, and as the internet breaks down various government-constructed barriers to entry, those pressures will increase. ESPN came on the air nearly 38 years ago. If it can continue to adapt, it can continue. If it refuses to, it won't. A little bit of creative destruction could go a long way, an exciting prospect for an arguably stale network.