Ed Krayewski Talking Iran Nuclear Deal on the Tom Brown Show
Today at 12:05pm ET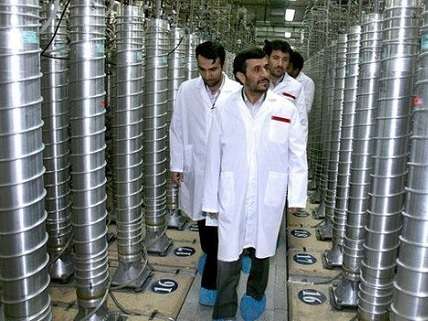 I'll be on the Tom Brown Show today, broadcast on AM 1350 WEZS in Laconia, N.H., and over the internet, to talk about the latest developments on the Iran nuclear deal, which I wrote about yesterday.
A number of Republican presidential candidates promised to rip up the nuclear deal on day 1, but despite criticizing it on the campaign trail, Donald Trump was not one of them. Ninety days into his term, his administration, and specifically Secretary of State Rex Tillerson was required by the legislation that enforces the nuclear deal to certify to Congress whether Iran was in compliance with the deal.
Tillerson was free to inform Congress that he could not certify that Iran was in compliance, or to even ignore the deadline all together and kick off the process of withdrawing from the multilateral executive agreement. Instead, he certified Iran was in compliance while ordering a "comprehensive review" of whether the deal-related suspension of sanctions was in America's national interests.
Tillerson called the nuclear deal a "failed approach," but the Trump administration's confrontational rhetoric on Iran has not yet translated into policy. So far, the rhetoric is a kind of "if you like your doctor, you can keep your doctor" exercise—meant for public consumption, not policymaking. Nevertheless, such rhetoric could still empower hardliners in Iran, who are looking to take the presidency in next month's election in the Islamic Republic. and given the unpredictable nature of Trump's foreign policy so far, the disconnect between rhetoric and policy could change any time.