National Hotel Lobbyists Backed the Local Wars on Airbnb, Documents Reveal
Documents show how the national trade group helped push anti-homesharing rules in several states and cities last year.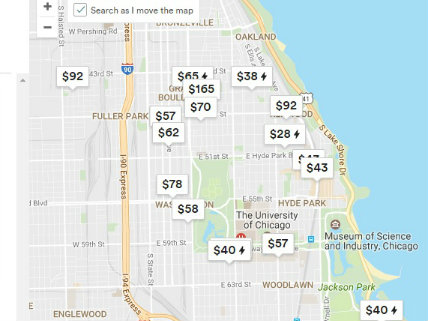 Last summer, Chicago became the first major American city to declare war on short-term rental services like Airbnb.
The complicated ordinance passed by the city council and signed by Mayor Rahm Emanuel imposed new taxes on short-term rentals, required Airbnb users to open their homes to inspection even without any suspicion of wrongdoing, and gave landlords and condo associations the authority to ban Airbnb rentals by registering with the city.
Lobbyists from the hotel industry were behind it all.
Later in the year, when New York Gov. Andrew Cuomo signed into law new rules that curtailed short-term rentals in multi-home dwellings and made it illegal to even advertise those rentals, the same lobbyists from the hotel industry were the driving force once again.
And when some states tried to go in the opposite direction—like Tennessee, which earlier this year attempted to pass a law prohibiting local governments from banning Airbnb within their jurisdictions—the hotel industry and their teams of lobbyists were there once again, putting a stop to pro-roomsharing rules that would undercut hotel profits and open up more competition in the lodging marketplace.
Even Sen. Elizabeth Warren (D-Massachusetts), famous among progressives for her skeptical view of capitalism and her critiques of the influence of big business in government, was co-opted into the anti-Airbnb campaign by those same hotel lobbyists.
At least that's what top trade association for the hotel industry, the American Hotel and Lodging Association, is telling its members behind closed doors, according to documents leaked from a November conference of the AHLA and first reported by The New York Times on Monday. Some of the same documents obtained by Reason show the trade group patting itself on the back for scoring "notable accomplishments" in local fights to limit or ban Airbnb in Chicago, New York, San Francisco, and elsewhere during 2016.
In New York, where the Airbnb advertising ban was signed into law last year, the documents show that AHLA "provided resources and support to the Hotel Association of New York City and other parties advocating for this legislation." In Chicago, where the anti-Airbnb ordinance was championed by a city official with long ties to the hotel industry, the AHLA "played a pivotal role in the passage" of an ordinance that "heavily regulates" short-term rentals."
At the federal level, the hotel industry claims to have acquired a powerful ally by recruiting Warren to their side. The Democratic senator from Massachusetts wrote a letter (along with fellow Democratic Senators Brian Schatz of Hawaii and Dianne Feinstein of California) to the Federal Trade Commission last year asking for an investigation into the business practices of short-term rental platforms.
"Senator Warren's status as one of the more prominent lawmakers among progressive activists has helped mobilize additional grassroots and political support," the AHLA documents note.
Reason has previously reported on the alliance between the hotel industry and groups on the left, which seem to be a key element of the AHLA's anti-Airbnb strategy. Last year, the New York Motel and Hotel Trades Council, which represents some 35,000 hotel workers in the city, wrote a $100,000 check to the Hotel Association of New York City to support the organization's effort to pass the new short term rental restrictions.
Airbnb has grown quickly since its founding in 2008. By the end of last year, Airbnb had more than 3 million listing in more than 65,000 different cities around the globe, according to the company's website. It raised more than $1 billion in a recent round of funding, according to multiple media reports in March, and SEC filing from earlier this year say Airbnb is worth approximately $31 billion, which would make it the second most valuable start-up in the United States, trailing only fellow sharing economy wonderkind Uber.
As it has grown (along with other, smaller roomsharing services like HomeAway and VRBO), Airbnb has become a greater threat to the hotel industry that for decades has dominated the market for lodging.
Vijay Dandapani, chief executive of the Hotel Association of New York City, told The New York Times this week that Airbnb has brought hotel pricing down in many places during holidays, conventions and other big events when room rates should be at their highest and the industry generates a significant portion of its profits.
Since Airbnb has added to the supply of lodging, it's made it harder for hotels to jack-up prices when demand is high.
"The hotels that used to be able to gouge you by taking the price way up, because of limited supply, don't have that same ability anymore because of the additional inventory that Airbnb has brought online," Steve Hafner, CEO of travel booking website Kayak.com, told Bloomberg last year.
Data provided by Airbnb suggests hotels are right to be worried, according to data provided by Airbnb. The homesharing service claims to have helped lower lodging prices during major events like New Year's Eve and this year's Super Bowl.
That's good for travelers who get more options and potentially lower prices because of Airbnb's competition with hotels. The hotels, though, don't like it, and the AHLA documents show that the industry is fighting back by leveraging the power of government to drive Airbnb and other forms of roomsharing out of the market.
"This is rent-seeking at its worst. Rather than compete fairly, hotel lobbyists are scrambling for the chance to use government force to benefit themselves and outlaw their competition," says Christina Sandefur, vice president of the Goldwater Institute, the Arizona-based free market think tank that has teamed up with the Illinois-based Liberty Justice Center to challenge Chicago's Airbnb rules.
"These anti-home-sharing laws benefit the most politically well-connected at the expense of most hardworking or the most needy," she told Reason via email.
And the documents suggest the fight is only just beginning.
For 2017, the AHLA outlined a lengthy agenda, including plans to "actively coordinate with state and local hotel associations, along with affordable housing, neighborhood and tenant groups, consumer groups, labor, and others to drive common sense laws forward in key cities and states." The trade group also plans to push federal legislative efforts and to "work with attorneys general to encourage action and/or enforcement in their jurisdictions."
The federal legislative effort will lean rely on regulations like the Americans with Disability Act to subject "operators of short-term rentals to ADA requirements." The AHLA also wants to see Airbnb rentals held to the same fire safety standards as hotels and plans to pressure Congress to prohibit federal workers from staying in short-term rentals.
In other places, "primarily those with Republican legislative majorities," the AHLA is focused on stopping Airbnb's efforts to pass laws prohibiting local officials from banning Airbnb. Florida is currently engaged in a legislative fight over exactly such a bill, as Reason has previously reported.
At the local level, the trade group says it plans to focus on five cities—Los Angeles, San Francisco, Boston, Washington, D.C., and Miami—and other places where "the right political conditions exist for us to push legislation across the finish line."
Throughout the leaked documents, the AHLA maintains that their goal is to "level the playing field" to ensure that Airbnb and other roomsharing apps are abiding by the same rules hotels must follow.
Sandefur says that's not really true, in practice. In Chicago, for example, the anti-Airbnb ordinance requires homeowners to pay the city hotel tax and an extra 4 percent tax that does not apply to hotels.
"It's clear that these special interests aren't interested in 'leveling the playing field' so much as they are seeking to use the power of the government to crush their competition," she says. "This discrimination is not only unfair policy; it's unconstitutional."