MOABs, Russkies, Prog Rock, Jesus, Jackie Robinson, and the F-word: Matt Welch Hosts on Sirius XM 9-12 AM ET
Lots o' loose talk, w/ Dave Weigel, Michael Brendan Dougherty and more, on channel 121. Call in at 1-877-974-7487.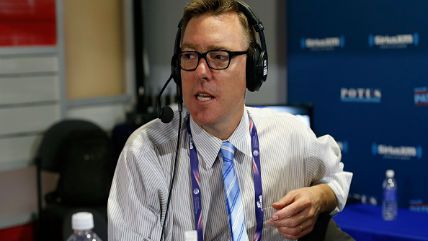 This morning from 9-12 ET I will be guest-hosting on Sirius XM Insight's Stand UP! with Pete Dominick show, which you can find at 121 on your channel-finder. (I will also be hosting next Monday and Tuesday at the same time, and in fact hosted Tuesday of this week as well.) It's a loose-limbed and interactive format, so call anytime at 1-877-974-7487 to give me some ideological backup (and fashion critiques), though of course it will also be jam-packed with guests. To wit:
* Delaware Dave Weigel, the beloved if commenter-controversial former Reasoner-turned WashPost politics guy. We will be talking mostly about his marvelously named forthcoming book The Show That Never Ends: The Rise and Fall of Prog Rock, with maybe some politics sprinkled in.
* Michael Weiss, editor in chief of The Interpreter, and author of ISIS: Inside the Army of Terror. We will be talking about the Russkies.
* Benjamin K. Bergen, cognitive scientist and author of the new What the F: What Swearing Reveals About Our Language, Our Brains, and Ourselves. We will be talking about self-censorship in book titles.
* Michael G. Long and Chris Lamb, academics and co-authors of the new book Jackie Robinson: A Spiritual Biography: The Faith of a Boundary-Breaking Hero. We will be mashing up Good Friday and Jackie Robinson.
* And finally, Michael Brendan Dougherty of The Week and The Slurve. We will be discussing our own personal Jesuses.