Mississippi Gov. Phil Bryant Signs Major Licensing Reform
New law prevents licensing boards from issuing anti-competitive rules without approval from governor, attorney general, and secretary of state.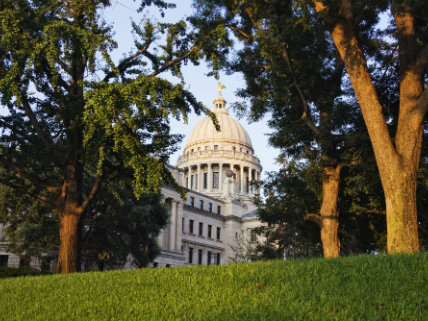 A major reform aimed at curbing the power of licensing boards was signed into law by Mississippi Gov. Phil Bryant this week, after clearing the state legislature last month.
As Reason has previously detailed, the passage of this law makes Mississippi the first state to respond to a 2015 Supreme Court case that opened the door to potential litigation against licensing boards that approve rules designed to limit competition or restrict entry into a market for reasons unrelated to health and safety. Unless licensing boards are "actively supervised" by another branch of the state government—which many aren't—then those boards could be subject to legal challenge under federal antitrust laws, the Supreme Court ruled in FTC v. North Carolina Board of Dental Examiners.
The newly signed law in Mississippi removes the threat of lawsuits by bringing the boards under the direct supervision of the governor, attorney general, and secretary of state. Any new licensing rules approved by the state boards can be vetoed by a majority of those three executive branch officials.
Bryant "is confident it will remove barriers to market entry and encourage economic development, while shielding the state from liability," said Clay Chandler, a spokesman for the governor, in an email to Reason.
In place of one-size-fits-all licensing rules that can be corrupted and abused by incumbent professionals to block competition, Mississippi's legislation offers a variety of alternative measures that protect the public from fraudulent or untrained practitioners without imposing high costs on qualified individuals. Market competition, third-party or consumer-created ratings systems like those available through apps such as Yelp, and private certifications are offered as potential solutions. If none of those work for a certain profession, the state can move along to mandatory inspections, impose bonding and insurance requirements, and even authorize the state attorney general to target frauds.
Only after all that has been tried, and failed, should a new licensing law be created.
"This bill marks a watershed moment," said Lee McGrath, legislative counsel for the Institute for Justice, a libertarian law firm that has challenged licensing rules in several states and advocates for reforms. "When it comes to innovative labor policy, Mississippi lawmakers can proudly say 'follow our lead.'"
A 2012 report from IJ found that with 23 percent of Mississippians needing a license to work, roughly in line with the national average, but the qualifications for getting a license in Mississippi can be challenging. On average, a license for low- or middle-income occupations in Mississippi requires completing 155 days of training, passing two exams and paying nearly $200 in fees, according to IJ's research.
Occupational licensing reform has been a hot issue in state legislatures this year, but Bryant's signature allows Mississippi to join Arizona as the two states to have enacted the biggest licensing fixes. Arizona's new law requires that any occupational regulation—including occupational licensing laws but also regulations on people already in the business—must be proven by the state to be "necessary to specifically fulfill a public health, safety, or welfare concern. In addition, Gov. Doug Ducey issued an executive order giving all licensing boards until June to submit a report to his office explaining why they should be allowed to continue existing.
Important, but less far-reaching reforms have been passed in Utah, Nebraska, and Kentucky. Idaho's state legislature also passed a series of licensing reforms, but Gov. Butch Otter vetoed the bill.