Lawsuit: Cornell 'Afflicted By Anti-Male Discriminatory Bias,' Suspended Student Who Claimed Female Punched Him
Justice under Title IX is first come, first innocent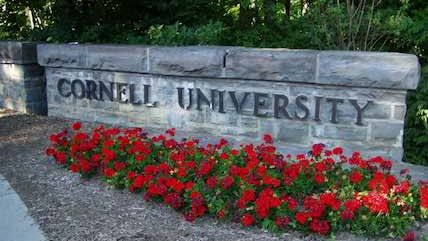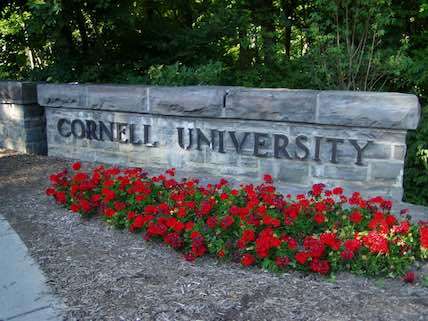 Cornell University suspended a male student for a year after finding him responsible for sexual misconduct. It was an incredible verdict, given that the male student had accused his accuser—a female student—of actually attacking him while they were in bed together: after he tried to end the encounter and she refused, she punched him in the testicles, he claimed.
Cornell wasn't interested in investigating this sexual assault claim. It was only interested in the woman's claim—that the male, "James Doe," had choked and raped her.
That's according to Doe's lawsuit against the university. He is being represented by Andrew Miltenberg, an attorney who specializes in these kinds of cases. (Read my interview with Miltenberg here.)
The lawsuit argues that Doe was denied any opportunity to defend himself. "Adversarial hearings (including confrontation, cross-examination by the parties, and active advocacy by attorneys) are not permitted during the investigation process," according to Cornell policy.
The dispute is as follows: after a night of mild partying and drinking on September 19, 2015, Doe and "Sally Roe," who had just met, went back to Doe's room in his fraternity house. Neither were intoxicated—in fact, Doe served Roe a non-alcoholic drink.
According to the lawsuit, Roe initiated the encounter by laying down on Doe's bed and inviting him to join her. They began kissing, but then Roe escalated things by climbing on top of Doe and holding his wrists down. This triggered some painful memories for Doe—who claims to have been sexually assaulted previously—and he pushed Doe away. She retaliated by punching him in the testicles, "causing residual pain that would last for weeks," Doe claimed in the lawsuit.
Within days, Roe had filed a Title IX complaint against Doe. Doe learned that he was being temporarily suspended before he was even made aware of the accusations against him. That very same day, the university ordered him to move out of his fraternity house, though it backed down after the police department pointed out that the residence was on private property.
Doe recounted his version of events to the investigators, and made clear that he was filing a formal complaint against her. But investigators disagreed that his oral testimony could be considered a complaint, so they refused to investigate it. Keep in mind that at this point, Roe's complaint—which the investigators were already, well, investigating—was nothing more than oral testimony either, according to the lawsuit.
In his defense, Doe asserted that Roe could not have been "debilitatingly afraid" of Doe, as she claimed, because she spent the rest of the night in question inside a different room at the fraternity house, and then returned the very next night.
Of course, we can't know for certain which student is lying, and which student engaged in violence. But 135 days after the incident, Cornell suspended Doe for one year, confident that he was responsible for sexual assault. No hearing took place.
The College Fix laments that Cornell has a particularly bad track record:
Cornell University is having a terrible year when it comes to perceptions of how it handles sexual-misconduct complaints.

It accused a male student of stealing a female student's underwear with "no evidence whatsoever."

Students and parents recently told federal investigators visiting campus that the administration mistreats accused students.

It's facing six federal investigations, the most for any school in the nation, one of which concerns a no-contact order that was bumped up to a suspension allegedly because of the student's sex.

And in January, a state judge ruled Cornell "directly contradicted" its own policy when it refused to investigate a male student's rape claim against a female, apparently because she accused him of the same.
That last item refers to a different case, so there are at least two male Cornell students whose misconduct claims were ignored. My colleague Eric Boehm described this kind of justice as "first come, first innocent," because it seems like university administrators automatically side with the original complainant. But the lawsuit against Cornell is reminiscent of several other lawsuits against various colleges in which an accused male student alleges that the institution ignored his claim to victim status. Doe's lawsuit contends that Cornell is "afflicted by anti-male discriminatory bias," and it's hard to disagree. (See Amherst and Drake for more examples of this.)
Related: "Lawsuit: Male Student Accused of Sexual Harassment for Rejecting Gay Advances Commits Suicide After Title IX Verdict"