U.S. Carbon Dioxide Emissions Fall 3 Percent
Global emissions flat for 3rd year in a row despite strong economic growth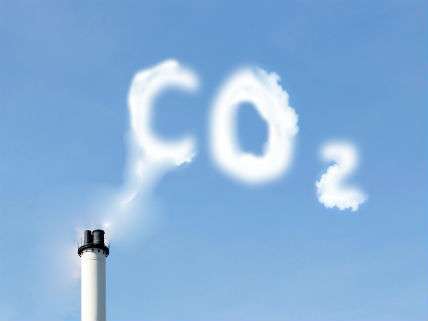 The International Energy Agency is reporting data showing that economic growth is being increasingly decoupled from carbon dioxide emissions. Basically, human beings are using less carbon dioxide intensive fuels to produce more goods and services. The IEA attributes the relatively steep drop in U.S. emissions largely to the ongoing switch by electric generating companies from coal to cheap natural gas produced using fracking from shale deposits. Renewals also contributed a bit to the decline. From the IEA:
Global energy-related carbon dioxide emissions were flat for a third straight year in 2016 even as the global economy grew, according to the International Energy Agency, signaling a continuing decoupling of emissions and economic activity. This was the result of growing renewable power generation, switches from coal to natural gas, improvements in energy efficiency, as well as structural changes in the global economy.

Global emissions from the energy sector stood at 32.1 gigatonnes last year, the same as the previous two years, while the global economy grew 3.1%, according to estimates from the IEA. Carbon dioxide emissions declined in the United States and China, the world's two-largest energy users and emitters, and were stable in Europe, offsetting increases in most of the rest of the world.

The biggest drop came from the United States, where carbon dioxide emissions fell 3%, or 160 million tonnes, while the economy grew by 1.6%. The decline was driven by a surge in shale gas supplies and more attractive renewable power that displaced coal. Emissions in the United States last year were at their lowest level since 1992, a period during which the economy grew by 80%.

"These three years of flat emissions in a growing global economy signal an emerging trend and that is certainly a cause for optimism, even if it is too soon to say that global emissions have definitely peaked," said Dr Fatih Birol, the IEA's executive director. "They are also a sign that market dynamics and technological improvements matter. This is especially true in the United States, where abundant shale gas supplies have become a cheap power source."

In 2016, renewables supplied more than half the global electricity demand growth, with hydro accounting for half of that share. The overall increase in the world's nuclear net capacity last year was the highest since 1993, with new reactors coming online in China, the United States, South Korea, India, Russia and Pakistan. Coal demand fell worldwide but the drop was particularly sharp in the United States, where demand was down 11% in 2016. For the first time, electricity generation from natural gas was higher than from coal last year in the United States.

IEA
In addition, China's emissions fell by one percent, suggesting that its use of coal to generate electricity may be close to peaking. This is good news for those who think that man-made global warming could become a signifcant problem later in this century. In any case, whatever else the Trump administration may say, domestic coal use ain't never coming back.